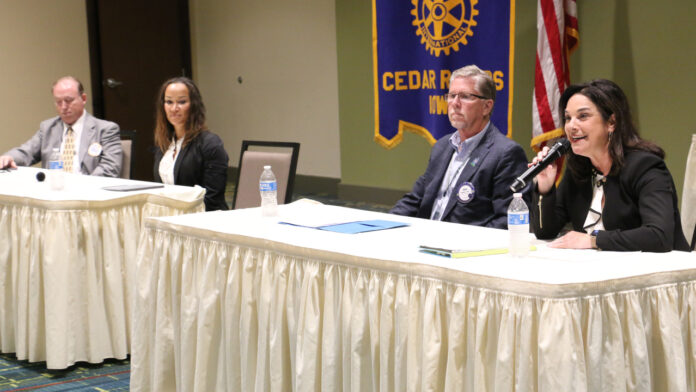 The four candidates for Cedar Rapids mayor provided divergent appraisals of the city's recent history, and visions for its future, at a forum Monday (Oct. 11) at the DoubleTree Cedar Rapids Convention Complex.
The forum, hosted by the Cedar Rapids Rotary Club, included all four declared mayoral candidates – incumbent Brad Hart, who recently retired from his business law practice at Bradley & Riley; Tiffany O'Donnell, longtime local television anchor and CEO of Women Lead Change; Amara Andrews, director of strategic communications and business development for the transportation division of TrueNorth; and Myra Colby Bradwell, a longtime Quaker Oats employee.
In making his case for re-election, Mr. Hart focused on a number of issues addressed since his election in 2018, including obtaining federal funds for the city's flood protection system, spending an estimated $18 million per year on street improvements as part of the Paving for Progress program funded by local-option sales tax funds, and issuing city building permits over the past three years totaling more than $1 billion, many of which he said have "retained and grown high-paying jobs."
"We faced some hurdles in these last four years that none of us could have predicted," he added, referencing the COVID-19 pandemic and the August 2020 derecho, "but this city is incredibly resilient and generous."
Ms. O'Donnell said she feels Cedar Rapids needs to "fix and finish" city initiatives such as street improvements – an issue she said is raised at "virtually every door I knock on" – and progress on flood protection for both sides of the Cedar River, asserting that "13 years to finish flood protection isn't good enough."
She also said she hears from many local employers about ongoing shortages of qualified workers to fill local job vacancies.
"I've heard from plenty of you in this room who've said to me, 'Get me people, I need people,'" she said. "One business owner was actually upset when FedEx came because he was worried that it was going to poach people from his teams. Another one said they had to turn down a $3 million project because they just didn't have the people to get the job done. So we've got to make sure that people who are here are set up to be successful and we support those programs that help make that happen at the city level."
Ms. Andrews said she agreed that flood mitigation efforts are a top priority for the city, and also stressed the need for continuing derecho recovery.
"There are many neighborhoods that have recovered and have moved on, but there are so many that have not," she said. "In particular, what I have seen is that there are landlords who are abusing the system. There are many landlords who have received insurance claims, but then they have not fixed their rental properties. There are people with windows still blown out. There are homes that have the backs blown off. We need to ensure that we are recovering and that the communities who have suffered most are addressed."
Other top issues, Ms. Andrews said, include expanding entertainment options ("we need a more inclusive Cedar Rapids, more engaging things to do") and addressing housing concerns. "We have a homeless population that doesn't have a place to go," she said. "We need more shelter space, and we need more affordable housing throughout the city."
Mr. Bradwell said he feels property taxes in Cedar Rapids are too high, saying his son, who owns a $650,000 home in the city, pays around $11,000 in property taxes annually, while his daughter, who owns a comparable home near Nashville, pays just $2,000. He also said the city needs to be safer, noting that properties he owns have been targeted numerous times by gunfire, and that the city's currently-chartered system of government needs to be changed.
"I think this part-time mayor and (full-time) city manager has not worked," he said. "I think we have declined … To make a change, we've got to get something different in there."
As the forum concluded, Ms. Andrews said her vision is for Cedar Rapids to become "the Austin of the Midwest, with a bustling entrepreneurial ecosystem (and) great entertainment where people are coming to visit from across the country, a riverfront that is engaging and inclusive with diverse food options … a small gem of the Midwest."
Mr. Hart said he envisions diverse new neighborhoods that will draw people to Cedar Rapids instead of neighboring communities, as well as a substantially completed ConnectCR project that includes dramatic recreational improvements to Cedar Lake. "We're already the most diverse community in Iowa," he said, "and we're going to continue to make Cedar Rapids a home for everyone who wants to be a part of our great community."
Ms. O'Donnell said she favors expansive new retail and recreational opportunities for the city. "I've been talking since day one of this campaign about 15 minute neighborhoods," she said. "Downtown needs to be that place, walkable, bikeable and busable – your market, your restaurants, your barber, all within a 15 minute walk. And then we've got this river that runs right through us. What an opportunity for us to not only have recreation on that, but how about we find things to do on both sides of the river."
The election will be held Nov. 2.