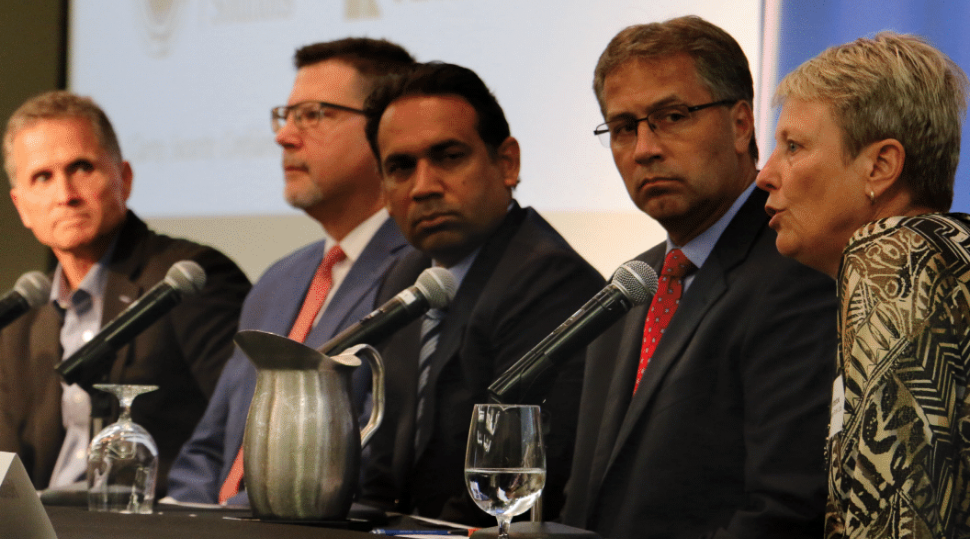 Panelists Lee Eilers, Brad Johnson, Pankaj Monga, Kent Statler and Heidi Vittetoe discuss trade, workforce and technology challenges as part of the CBJ's Mid-Year Economic Review on June 27 in Cedar Rapids. PHOTO ADAM MOORE
By Katharine Carlon
katharine@corridorbusiness.com
Even with continued growth in corporate profits, the beginnings of job growth after decades of stagnation, a strong construction market and one of the longest bull markets on record, panelists speaking at the CBJ's Mid-Year Economic Review on June 27 say the first six months of the year have also posed their share of challenges.
Tariffs and trade volatility have injected uncertainty into the market, while the continuation of a longstanding problem in the region – attracting and retaining a skilled workforce – is keeping the local economy from flourishing as much as it could.
"When you're talking about how hard it is to attract engineers and highly-skilled people, it's also hard to attract people to rural Iowa and it's hard to attract people to labor jobs, especially when so much messaging has been built around knowledge work," said panelist Heidi Vittetoe, general manager of J.W. Vittetoe Pork Ltd., speaking on the hot button issue of immigration during free-ranging discussion at The Hotel at Kirkwood Center in Cedar Rapids. "That makes us dependent on entry-level workers as an industry … but there's a big chill right now. People are nervous about coming to the United States … and whether that's good or bad, we need a workforce."
Moderated by Jack Evans, president of the Hall-Perrine Foundation, and presented by Bankers Trust with support from Strategic Financial Solutions and Knutson Construction, the panel line-up included Ms. Vittetoe; Lee Eilers, president and CEO of Marion Process Solutions; Brad Johnson, vice president and general manager of Knutson Construction; Pankaj Monga, president and CEO of Channel Fusion; and Kent Statler, executive vice president and chief operating officer of Rockwell Collins.
Here, in lightly edited form, are some of the best takes from the CBJ's panel of experts:
ON TRADE AND TARIFFS:
Heidi Vittetoe: The pork industry is very export dependent. [Last year] we exported 26 percent of all of our production, which makes us – and the soybean industry – the most export dependent of the ag commodity markets. The tariff situation may indeed lead to something that's really good, but in the meantime, it's creating a great deal of uncertainty. With that level of uncertainty, one of the biggest challenges is that investors or managed money that would otherwise be taking the opposite side of the transactions when we want to sell our future production have a big disincentive because of the risk right now.
If you look at the hog industry right now, somebody could say, 'Well, the prices don't look so bad,' and that's true. But we're in the time of year when the prices are at their best and their best lags last year by about 10 percent. The way the profit cycle in pig production is, you need to make your money in the second and third quarter because you're going to lose money in the fourth quarter and hold it together in the first quarter. So when the second quarter is truncated and the fourth quarter doesn't offer the kind of opportunity to lose less, that is very demoralizing – it's bad math.
Lee Eilers: We could see the winds of change blowing last summer to the steel crisis edging up. For us to get ahead of that curve was very important. We have seen an overall increase in steel, especially stainless – about 60 or 70 percent of our business is stainless steel and the other is carbon – and both of those steels have increased between 15-35 percent. That's a substantial increase.We're very fortunate in that we're a custom shop, so when we have a price increase on the materials side, we pass it along to our customers in hopes that our competitors are doing the same thing. At the same time, the majority of our costs are in labor, so we have those pressures as well, not just on the steel side.
Brad Johnson: Our industry lags what happens in the economy, so we're not going to see any type of uptick or downtick [as a result of trade–related issues] that quickly. Raw materials have been relatively stable with the exception of steel. Steel pricing has fluctuated the early part of this year, from January through March, whether it was the result of tariffs or otherwise. I would say the wood market took a large spike in March and April. It seems like it's backing off a little bit … but that's primarily where we've seen the increases at this point.
ON WORKFORCE:
Kent Statler: Our biggest challenge continues to be both the attraction and retention of employees. We continue to hire even with all of the changes going on as we speak. Over the last nine months, we've brought on over 230 engineers, and we currently have [openings] for 150, primarily in the STEM fields. Quite frankly, finding enough candidates to fill those is one of the biggest challenges that we have … I think it starts by making sure we're a lot more inclusive than we've historically been. I think there's still people that come into Cedar Rapids who feel like they're in the minority. They have trouble finding the places to shop, the places to get their hair done, the places to worship. It's upon all of us to focus on the inclusion part of things. No matter where they come from, whether the United States or outside, that when they come to Cedar Rapids, this is the place they want to make home.
Brad Johnson: Whether it's STEM workers or the people working in our job sites, we have a very strong economic engine both in Cedar Rapids and Iowa City, and economically, my perception is we're doing very well. We focus a lot on how to retain people, but we need to bring in more workers. Our opportunities as a community and our opportunities to grow as a company are going to be somewhat limited if we can't find the people to work here, whether it's people who want to swing hammers or work in a concrete operation or somebody who wants to work in an office on AI. If there's any limiting factor in Eastern Iowa, it's that. We have to find a way to solve it, whether it's through immigration or otherwise.

Lee Eilers: Our fabricators are incredibly skilled. They do very high-end work. And a lot of those teammates have gone from being pups to being absolute Picassos in their craft. They've hung with us and we've hung with them for decades. Attracting new talent is when the investment we made in culture five years ago is now being paid off. I think that's an intentional decision you make as a company to create that culture – that when people come in, they can smell it, they can feel it. They can see that there's energy, there's enthusiasm. There's opportunity to succeed.

ON TECHNOLOGY:
Pankaj Monga: A big portion of what we need is intellectual capital. A good example is we're focusing significantly on three areas going forward – data, mobile and digital – so we need to have the resources locally to be able to handle those kinds of emerging markets. For example, for one of our clients, the [auto] dealers, if they want to do some promotions, they can log into our portal and build a direct mail piece for a Fourth of July promotion, for example. They can pinpoint exactly the 1,000 people they want to target that to. So they customize the piece, it's printed, fulfilled, then they can upload the list of who it needs to go to. They can have e-mail addresses that can show up in your Facebook timeline as you go through. Within a two-hour period, a dealer can build a campaign … so we need people with that level of technology and service resources that is hard to find, and we see that headwind here.
Heidi Vittetoe: When we're talking about labor, one of the things that comes to mind, of course, is if we can't get the people, we substitute robotics … But one of the unique things in agriculture is the world we live in has a very high penchant for food that comes from the hands of people. When we make improvements that would seem in any other industry to be cutting edge or forward looking, those things make us be called 'factory farms.' So all of a sudden, technology in many of its forms, might be economically beneficial, but it's attitudinally not well accepted.
Kent Statler: We've all heard the stories of companies being hacked, but when you start talking about an aircraft being hacked, it takes on some personal fear factors. We spend literally hundreds of millions of dollars a year developing the aviation electronics that go across about every aircraft that you fly in. One of our fastest-growing skillsets is cyber security engineering because it's so inherent – where everything you're seeing in your home is taking place in aerospace. If you think back not many years ago, you enabled your home through a computer. It then was even further enabled by the broadband that was connected to that computer, and then all the apps and services that have now totally transformed – at least my kids tell me – their lives. That's all taking place in aerospace now. Every aircraft is a node on the network … With all that great efficiency comes the need for cybersecurity. [Cybersecurity] is going to be extremely fast growing, not only for Collins but across the aerospace side, and it's an exciting field to be a part of. That said, any rumor there's ever been a hacked aircraft – we test our avionics literally on a daily basis and all I can do is give you my personal assurance that it is very safe to fly.