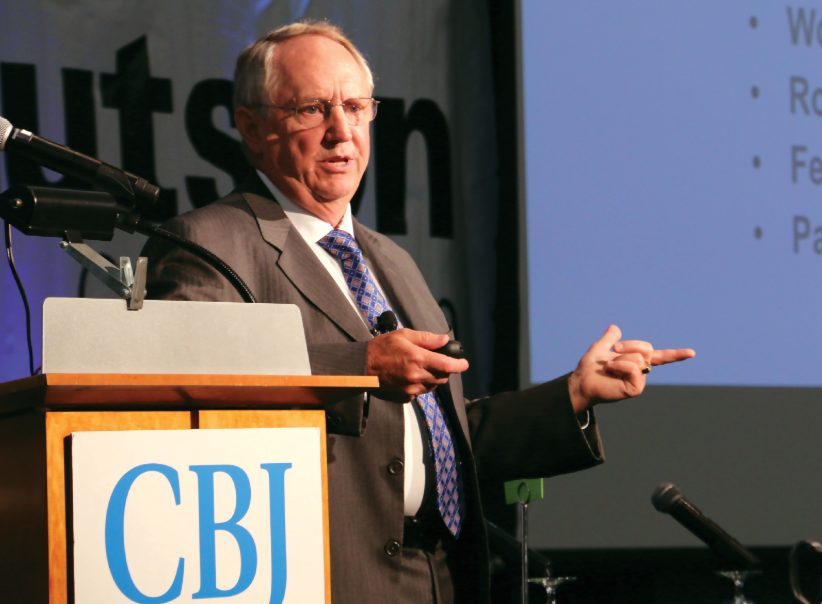 Robert Baur, chief global economist for Principal Global Investors, speaks at the CBJ's June 27 Mid-Year Economic Review. He sees the current bull market pulling out of an early-year correction later this year, but likely giving way to a bear market in 2019. PHOTO ADAM MOORE
By Dave DeWitte
dave@corridorbusiness.com
The United States' economic expansion will roll on to become the longest on record next year, Principal Global Investors Chief Global Economist Robert Baur predicted at the CBJ's Mid-Year Economic Forecast Luncheon, although Wall Street's bull market likely won't last that long.
"The United States economy is in great shape," Mr. Baur said, citing low unemployment, strong corporate earnings, strong consumer and small business confidence, and predictions of GDP growth of 3-3.5 percent for 2018.
Watch for that growth to continue until at least the third quarter of 2019, Mr. Baur told business leaders during the June 27 event at The Hotel at Kirkwood Center. That's when it will break the previous 120-month record for a U.S. economic expansion, set in the 1990s.
"The world economy will continue fairly vigorous and healthy, with some deceleration over the next few years," he predicted.
Mr. Baur said a recession in the United States is not a certainty in the foreseeable future. Threats to a continued expansion include trade and social or political upheaval, but he doesn't believe the Federal Reserve will push the economy into recession by tightening interest rates too much, and he thinks the United States can get through it.
"The risk is these trade issues, this populist movement," Mr. Baur said. "We don't know how it will turn out."
If the impact doesn't result in a serious recession, he suggested the United States could be poised for another prolonged period of "inflationary growth" like the 1950s and 1960s, which followed a similarly long period of deflation as the United States transitioned from the Great Depression to World War 2.
The divergence of stock market returns and economic growth is a story of interest rates, Mr. Baur told the event's more than 300 attendees. Following the financial meltdown in 2008, the Fed began one of the longest periods of extremely low interest rates in the nation's history.
That left investors who wanted a decent return looking for riskier investments than traditional interest rate-driven instruments like treasury bonds and certificates of deposits. They flocked to stocks, Mr. Baur said, reaping exceptional returns averaging 17.2 percent between March 2009 and December 2017.
The low interest rates "raised the price of just about everything," said Mr. Baur. Even with that stimulus, however, the recovery was one of the slowest on record.
With economic growth becoming more robust, the Fed has begun raising interest rates to help stave off inflation. The stability and returns on bonds are becoming more attractive as investors grow wary of stock valuations. The Fed is likely to raise interest rates once or twice this year, and again in March 2019, he said.
"If interest rates were the driving force in the stock market, we're not in that interest rate environment anymore," Mr. Baur noted, adding "we could see a moderate bear market next year, after the first quarter earnings come out."
A bear market could potentially bring the S&P 500 Index down between 20-30 percent, he predicted, and leave investors with sparse returns for two or three years.
Mr. Baur expects stocks to rebound from their recent corrections, however, with the S&P 500 returning to the record level it achieved in late January before retreating again. He said the rebound will provide an opportunity for investors to retreat into more defensive investments, among which he included high-quality short- to medium-maturity bonds, and possibly commercial real estate.
Global outlook
Mr. Baur titled his speech "Life Beyond Globalization." He acknowledged the widespread concerns about how trade wars could hurt the economy, but said he's not convinced they'll have a serious impact.
Globalization has helped bring wages in some of the poorest countries back into balance with the rest of the world in recent decades, he said, but many industrial workers in the United States and other advanced economies have lost ground.
The United States' unequal trade relationship with China was the largest cause mentioned by Mr. Baur. He said China engaged in currency manipulation and other unfair trade practices, and that the United States lost about 6 million industrial jobs in a period that began with China's admittance to the World Trade Organization as global corporations found cheaper sources of goods in its low-wage economy. In some the hardest-hit regions of the U.S., American workers not only lost their occupations, but couldn't sell their houses to move to more prosperous areas because nobody would buy them.
"In the United States, about the only leverage we've got is tariffs," Mr. Baur said. "I'm not a fan of tariffs, but I want to see reciprocal trade."
The potential impact of counter-tariffs announced by China and other trading partners has to some extent been exaggerated, Mr. Baur said, including a recent report that Chinese tariffs on Iowa soybeans could cost the state's economy $624 million.
"Tariffs do not change the global supply or the global demand for soybeans," he said, suggesting that China might shift its huge soybean purchases to Brazil after imposing tariffs that make soybeans from the United States more expensive. But "the people who used to buy from Brazil might buy from the United States – it's not like the soybeans are going to sit out on the farm and rot."
Mr. Baur spotlighted rising wages in the United States as a trend that will drive the economy in future years. With a tight labor market in the United States, a more controlled trade policy and China no longer a "low-wage" economy after years of strong wage increases, he sees a brighter future.
"I think the United States is becoming more competitive," he said, mentioning several companies that have moved production back to the United States. "We've added 1.25 million manufacturing jobs in the last year."
The CBJ Mid-Year Economic Review was presented by Bankers Trust, with support from Strategic Financial Solutions and Knutson Construction.