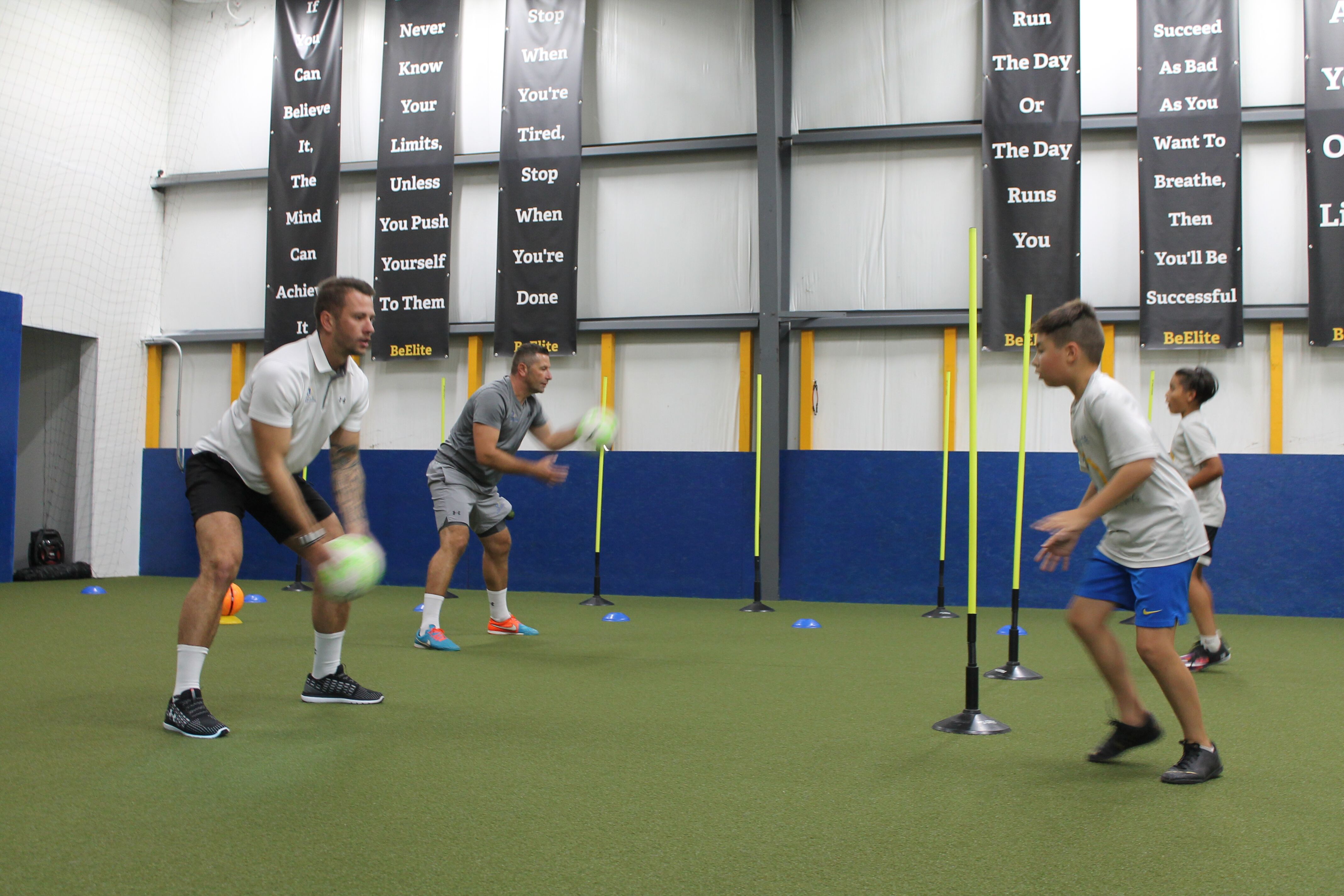 Instructors Haris Hadzalic (left) and Sanel "Sonny" Dzafic work on a drill with students Oscar Gates (foreground) and Zach Santos at Total Elite Soccer Training in Coralville. PHOTO DAVE DEWITTE.
By Dave DeWitte
dave@corridorbusiness.com
After selling cars all day in Iowa City, Sanel "Sonny" Dzafic and Haris Hadzalic get down to a totally different kind of business: soccer training.
Shortly before 7 p.m., they show up at the back side of a business complex at 2000 James St. in Coralville, where they converted 2,500 square feet of warehouse space into a state-of-the-art soccer training facility called Total Elite Soccer Training last November.
"When I walk in here, it's a different life," says Mr. Dzafic, who quickly forgets about his day job and focuses entirely on his players.
Total Elite Soccer is the only school of its type in the area, according to the duo, offering individualized skill assessments and instruction. In less than two years, it has grown to 40 students – the maximum number the school can handle until Mr. Dzafic or Mr. Hadzalic go into the business full-time.
On a recent Wednesday night, the music was loud and upbeat, but not so loud that students couldn't hear the instructors shouting a steady stream of instructions, corrections and praise. Rusty Gates, a parent from Iowa City, sat watching his son, Oscar, go through drills.
"It's only one hour, but it's intense and demanding, and it's a hard workout – very focused," said Mr. Gates. He recommended the program to one of his son's 11-year-old teammates, and now Rachel Santos is sitting next to him, watching her son Zach work out, too.
Students at Total Elite Soccer learn and sharpen skills like agility, using both feet with confidence, tactical awareness and anticipation skills referred to as "right place/right time."
One of the things most parents know about Mr. Dzafic and Mr. Hadzalic is their unusual story. Besides being auto salesmen by day, they're both Bosnian immigrants whose families left behind the grim realities of war and ethnic cleansing following the breakup of Yugoslavia.
As children they played pickup soccer games on the streets; a pickup soccer game is where the two men first met in the Corridor a few years back. When Mr. Hadzalic got a job at Carousel Motors, where Mr. Dzafic was a top salesman, he began mentoring under Mr. Dzafic. Despite a nearly 15-year age difference, they had a lot in common.
"We are both driven and we are both athletes," said Mr. Dzafic. "If you are competitive, you're going to be driven."
Both played soccer in high school and under scholarship at Iowa colleges, Mr. Dzafic at Grandview University in Des Moines and Mr. Hadzalic at Mount Mercy University in Cedar Rapids. For about five months, Mr. Hadzalic also played semi-professional soccer in Europe for a Czech Republic team.
Providing individual soccer instruction had become a side hustle for both men, and they began talking on the sales lot about opening an individualized training school. Mr. Dzafic, 40, had more considerations, because he was near mid-life with a family and numerous responsibilities. He impressed on Mr. Hadzalic that the stakes were too high for him to consider a halfway effort.
The two men decided to trust each other and go for it.
"We looked into each other's eyes, and said, 'the number one thing is to show up,'" Mr. Dzafic recalled. "When parents walk in, look professional and ready to go."
That isn't always easy for them, but Mr. Hadzalic believes they have more motivation than most entrepreneurs.
"When you grow up poor with nothing and you get an opportunity, you're always scared to lose it," he said.
That upbringing included fleeing into the hills with his father as a little boy when bombs began landing in his city, and eating bread with sugar on it when the family's food stocks became depleted.
When Mr. Hadzalic was five, his parents divorced and his father, who fought in the war, moved to the United States, where he started a new family. Mr. Hadzalic spent the rest of his childhood living with grandparents, and was brought over to finish high school, but he spent part of his teenage years on his own.
"If I were back in Bosnia right now, I would probably be working in construction," he said, adding that unemployment there is high.
Like Mr. Hadzalic, Mr. Dzafic has endured difficult times. His family survived attempts to force them out of their community by turning off their power and water supplies. They escaped to live with relatives in Germany, taking only three suitcases and leaving behind a home and a lifetime of belongings and memories.
The partners didn't take any salaries out of the business for the first year so they could minimize borrowing and reinvest. They completed the buildout of the training facility almost entirely on their own, working late into the night for several weeks between their regular training sessions and their day jobs.
Interest in youth soccer and individualized instruction has grown rapidly, the partners say, mainly because of concerns about concussion injuries in American football and the realization that soccer is a sport most people can enjoy for a good part of their lifetime.
"When I came here 20 years ago, it was so much different than it is now," said Mr. Dzafic, whose children are bilingual, and who get plenty of home-cooked Bosnian foods made from their grandparents' garden.
Total Elite Soccer Training benefits from minimal competition for individualized soccer instruction, and with good word-of-mouth advertising has managed to attract students from as far away as Moline and Ankeny. Most of the current students are repeat sign-ups who've come to like what it has to offer.
A female student from northeast Iowa went on to play professionally for a team in Iceland, and to celebrate Mr. Hadzalic and Mr. Dzafic went to her small community and, with her help, put on a free clinic for other students.
The partners plan to continue growing Total Elite Soccer Training into a full-time business, but Mr. Dzafic says it's not a single-minded pursuit.
"We want to grow, but with quality not just quantity," he said. "I don't want any parent to say, 'It's all about numbers and about money.' We are offering the same quality of workouts we had with five kids today with 40 kids."   CBJ