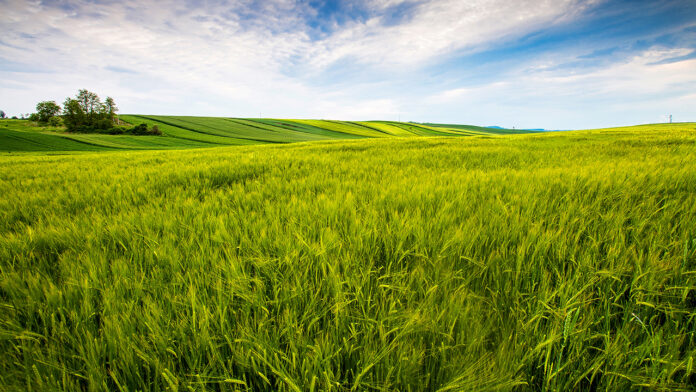 As a key part of our business, we collect and analyze trends in real estate values. Our data covers nearly two-thirds of Iowa and includes land that is at a minimum 75% tillable.  
The Federal Reserve Bank of Chicago reported land values rose 22% in the second quarter of 2022, adding to double digit gains in the previous two quarters. In Iowa, land values were up 36% from July 1, 2021.
Drivers of escalating prices
When evaluating land value trends, we find a few key drivers:
Commodity prices are the strongest they have been in years, resulting in record high farm income levels. When commodity prices are high, it is often due to lower yields; however, this is not the case in the current market. With current commodity prices, a farmer can estimate a per acre Gross Farm Revenue of nearly $1,300 for corn with an average yield. This is roughly double recent year revenue of approximately $700.
Supply of land for sale. Our comparison of the number of acres on the market from our proprietary database for July-September 2021 and 2022 shows that supply has increased by 37%, and by 53% since April 2021. The market has been able to absorb this in the face of increasing prices and interest rates.  
Lenders are lending and have capacity to lend more. U.S. banks' loan-to-deposit ratio rose in the second quarter as loan growth continued to accelerate and deposit growth slowed. That increase marked the first time the industry's loan-to-deposit ratio surpassed 60% since the fourth quarter of 2020. Total loans and leases at U.S. banks were up 3.7% quarter over quarter and up 8.4% from one year ago. In the second quarter, U.S. banks saw the largest quarterly increase in their net interest margins since 2010, aided by the Federal Reserve's aggressive tightening.  
Growing global demand. Growing demand for grains along with uncertain weather conditions have increased commodity prices, generating a positive view for net farm income for the next several years. The Russian invasion of Ukraine pushed food and agriculture into the spotlight, highlighting global demand for good cropland. Ukraine has 102.5 million agricultural acres, a little more than double the combined acres of Illinois and Iowa. Uncertainties grew from disruptions in input supply chains and the world food and grain trade. 
Factors working against value inflation
Fed policy. Clearly, the Federal Reserve is attempting to get in front of inflation. The Fed can drain money from the economy by increasing the Fed Funds rate and by reversing the Quantitative Easing begun in 2008 by selling securities (taking money out of the economy) rather than buying them (adding money to the economy). Starting in September, the Fed doubled how many Treasury and mortgage-backed securities it's rolling off to $95 billion. That is nearly 80 times the amount of land sold so far in 2022 in the 68 counties in the Growthland database.  
Long-term fixed rates have responded with rapid escalation. There are predictions that this will lead to a global recession, reducing the value of stocks and real estate. Producers are becoming increasingly worried about the impact of rising interest rates on their farm operations with more of them citing it as a reason why they think now is not a good time to make large investments.
Agricultural input costs. Higher input costs are the No. 1 concern among survey respondents to the Purdue Producer September Survey, with the shift in U.S. monetary policy rising to the forefront as an issue among U.S. producers. Thirty-eight percent of producers expect input prices to rise from 1% to 9%, compared to 18% who felt that way in April. Nearly a fourth of producers expect input prices to rise from 10% to 19%.
For the next six months factors would seem to support a plateauing of the value of farmland in Iowa. 
Maurie Cashman is a certified valuation analyst at Growthland.