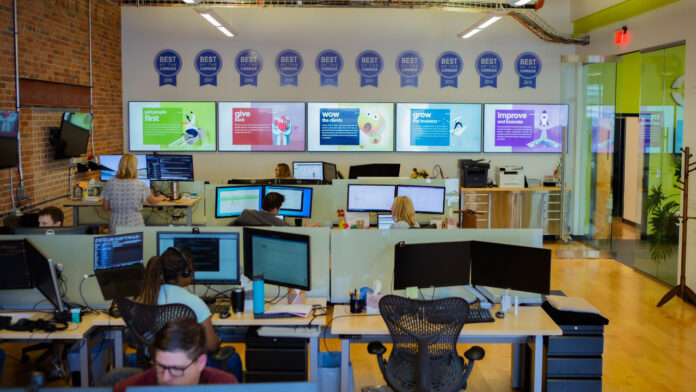 Informatics Inc., a digital marketing and web company based in Cedar Rapids, has become the  first company in the state of Iowa to become a Workhuman Certified Enterprise. The status distinguishes organizations  that are committed to investing in and demonstrating progress toward making work more human, and providing an  environment where all people are valued and can do their best work. 
"It has been a passion of ours to create a workplace that makes life better for all who choose to work at Informatics,"  Chief Experience Officer Stacie Osako stated in a release. "By becoming a Workhuman Certified Enterprise, we are demonstrating the  importance of the work experience we provide our people and being accountable to live what we say we believe. It is a  validation and commitment to adapt and continually improve the experience we create. The eight tenets of a human  workplace fit our company values perfectly and help us continue to identify ways we can provide the best experience  possible." 
Workhuman is an international organization dedicated to transforming workplace culture through cloud-based  solutions. More than 6 million people in 180 countries have joined the organization's commitment to improving the  workplace, including major companies like Cisco, LinkedIn and JetBlue. 
With a database of more than 100 million points of human connections in the workplace, Workhuman has identified key  workforce shifts and the eight fundamental tenets now essential for a human work experience. Workhuman Certified status recognizes the progress Informatics Inc. is making across these eight core areas, including: 
Purpose-Driven Work: Employees understand their impact and feel a direct connection between their  jobs and company values. 

Appreciation: A percentage of payroll is allocated to ensure all employees regularly experience  meaningful recognition moments. 

Work-Life Harmony: The full humanity of every employee is acknowledged and celebrated.

A Culture of Belonging: Employees are valued as their authentic selves at work, with mental  health/wellbeing and flexibility initiatives prioritized. 

Opportunities for Growth: Employees at all levels have opportunities to learn and develop, with  feedback and guidance that helps map their future inside (or outside) the organization. 

Fair Pay: Employees have confidence that decisions affecting pay are unbiased and fair. 

Safety: Employees feel a sense of inclusion and safety when it comes to learning, contributing, and  challenging the status quo. They have control over their personal information and feel secure that their data  is protected. 

Environmental and Social Stewardship: Employees feel pride in how the organization cares for society  and the environment. 
"As a Workhuman Certified Enterprise, Informatics Inc. is showing the world that it is reshaping the future of work by  committing to building and promoting a humanity-focused workplace," Lisa Ratner, VP, Workhuman Certified, stated in a release. "It is  our hope that Informatics will serve as an example for other organizations in Iowa as they continue to prioritize a  people-first culture and reap strategic business benefits such as improved engagement and retention."