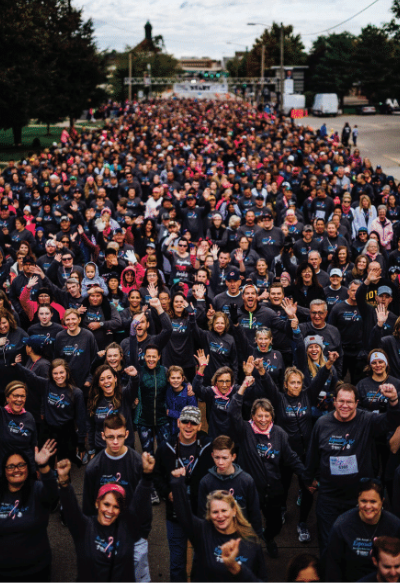 5 TIMES ON LIST
The Especially for You Race Against Breast Cancer is dedicated to the memory of Sandy Knight, who lost her fight against breast cancer in 1991, but the annual run through downtown Cedar Rapids honors all whose lives have been touched by the disease.
"The Especially for You race provides a unique opportunity to celebrate survivors and honor the many individuals that have been affected by breast or gynecological cancer," said EFY Community Liaison Christina Djerf.
The race helps those in need via the Especially for You Fund, which provides breast and gynecological cancer screenings, testing and other services. The event attracts individuals and large groups walking in memory of someone impacted by cancer, said Ms. Djerf, adding that 80 percent of race participants are part of a family or business team.
Although Especially For You has been helping women since 1991, the race still manages to stay exciting for its more than 15,000 participants.
"An interesting part of our race is the ever-changing shirt color," Ms. Djerf said. "In 28 years, EFY hasn't had two of the same color. Our race participants proudly wear them race day and throughout the year."
– Alex Carlon
1ST RUNNER UP: CRANDIC Marathon
2ND RUNNER UP: JDRF One Walk