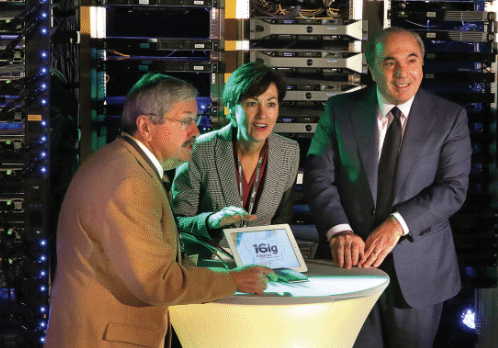 4 TIMES ON LIST
Mediacom earned its fourth Best of the Corridor award this year in a perennially tough category. The secret, according to communications director Phyllis Peters? Speed.
The company's new gigabit platform serves up lightning fast web access, and allows customers to have a large number of devices connected to the network without compromising reliability, Ms. Peters said. Mediacom also offers a range of high-tech features, including support via Amazon's virtual assistant Alexa.
"In the coming weeks, 'Alexa Support' will be available to customers using Mediacom's TiVo platform," she added. "The addition of this feature allows customers to give verbal commands such as 'Alexa, pause,' or 'Alexa, watch ESPN.'"
Ms. Peters said the cable giant's future plans include strengthening partnerships with local communities and the University of Iowa.
"The services we deliver will continue to contribute to the region's exciting growth and vitality," she said.
– Alex Carlon
1ST RUNNER UP: ImOn Communications
2ND RUNNER UP: South Slope