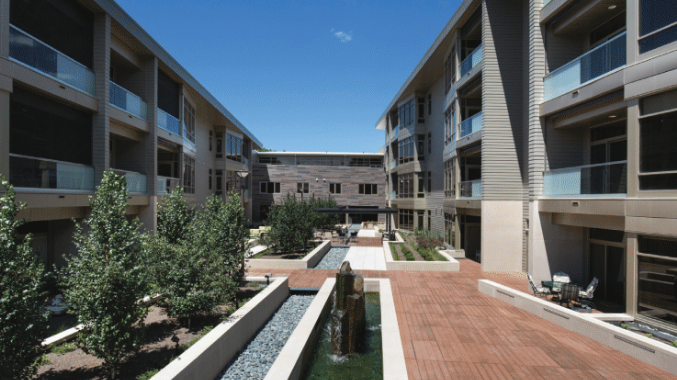 FIRST TIME ON LIST
When Iowa City's Oaknoll Retirement Residence, opened its Spring Street addition in 2015, "our waitlist exploded," recalled Director Steve Roe.
In 2016, Oaknoll celebrated 50 years of providing a safe living environment for residents with nursing care when needed. And while its values haven't changed over that time, younger residents are coming with new expectations, Mr. Roe said. The light-filled Spring Street addition, connected to Oaknoll's Ben-ton Street campus via skywalk, "is a nice, modern apartment building that lots of prospective residents can imagine themselves calling home."
Oaknoll offers independent living units ranging from efficiencies to two and three-bedroom apartments, along with assisted living and long-term care at its Health Center.
"One of the things we're especially proud of is the number of second generation or even third generation residents we're seeing," Mr. Roe said. "It really comes from the quality of care.
Transportation is one of the most important and visible of the many amenities Oaknoll provides, shuttling residents to grocery stores, libraries, churches and cultural and entertainment venues.
The full continuum of care and the guarantee "that we will always have space available and your cost will stay exactly the same" sets Oaknoll apart from other facilities in the area, Mr. Roe said.
-Emery Styron
1ST RUNNER UP: Meth-Wick Community
2ND RUNNER UP: Cottage Grove Place