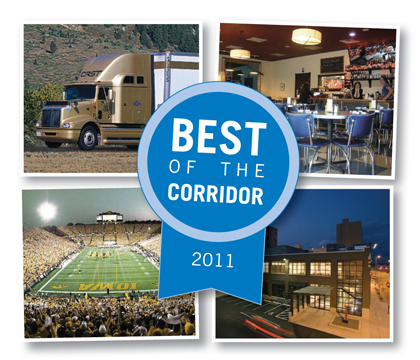 Sixth-annual  subscriber survey recognizes business excellence
By John Kenyon
CORRIDOR – When looking at this year's Best of the Corridor survey results, one could be forgiven for thinking that it is a list of the usual suspects, that the same companies and organizations that top the list every year did so again.
It's easy to think so when you see Rockwell Collins once again leading off the list as Company with the Most Promising Future or its president, chairman and CEO, Clay Jones, as Best Business Leader.
But while those categories have remained the same for a few years – four and five, respectively – others have seen more variability, and others have someone completely new in the top spot.
Of the 50 categories surveyed, there are eight with a brand new winner. These are:
-Best  Place for a Business Breakfast, Bluebird Diner in Iowa City
-Best After-Work Bar, Zeppelins in Cedar Rapids
-Best General Contractor, Ryan Companies US in Cedar Rapids
-Best PR/Advertising Firm, MindFire Communications in Cedar Rapids
-Best Caterer, Braise and Catering by Charlotte (tie)
-Best Staffing Service, Skywalk Group
-Best Video Production Company, MVP Video Production
-Best Hospital, University of Iowa Hospitals and Clinics
The winners in another eight categories have won just once before in the six years the survey has been conducted.
In 23 of the categories, the winner has dominated, winning it at least four times. These are the businesses that seem to be there every year because, save for a year or two along the way, they have been. Some categories have not been surveyed for the entire six-year run, so some companies have enjoyed their own dominance over a shorter stretch.
And then there are the companies and organizations that have so dominated their category that they have been the only winner. RSM McGladrey and its sister company, McGladrey & Pullen have won their respective categories – Best Business Consulting Firm and Best Accounting Firm – six years in a row. Informatics has won the Best Web Site Developer category six years in a row as well, while Brown Deer has been named Best Golf Course for six years.
Others in this league are United Way for Best Charity to Support (5/5); Tallgrass Business Solutions (as itself and pre-merger Pioneer Workspace Solutions and Frohwein/Office Plus) for Best Place to Buy Office Furniture (5/5); Staples for Best Place to Buy Office Supplies (5/5); City Carton for Best Recycling/Waste Management Firm (4/4); John's Grocery for Best Place to Buy Wine (4/4); and Nesper for Best Sign Company (4/4).
BEST OF THE CORRIDOR 2011
Best Thing to Happen to Business this Year
Economic Recovery
Best Golf Course
Brown Deer
Best Place for a Business Lunch
Zins
Best Place for a Business Dinner
Zins
Best Bank
Hills Bank & Trust
Best Auto Dealer
McGrath Automotive Group
Best Engineering Firm
Shive-Hattery
Best Commercial Real Estate Agent
Scott Olson
Best Commercial Real Estate Agent
Hills Bank & Trust
Best Web Site Developer
Informatics
Best Cultural Attraction
Cedar Rapids Museum of Art
Best Networking Group
Cedar Rapids Area Chamber of Commerce/Impact CR
Best Place to Buy Wine
John's Grocery
Best Office Furniture Company
Tallgrass Business Resources
Best Charity to Support
United Way of Johnson County
United Way of East Central Iowa
Best Place to Buy Office Supplies
Staples
Best Developer
Moen Group
Best Commercial Printer
Cedar Graphics
Best Customer Service – Retail Outlet
Von Maur
Best Insurance Agency
TrueNorth Companies
Best Staffing Service
Skywalk Group
Best Hospital
University of Iowa Hospitals and Clinics
Best Caterer
Braise
Catering by Charlotte
Best Catered Lunch Provider
Panera
Best Video Production Company
MVP Video Production
Company with the Most Promising Future
Rockwell Collins
Best Business Leader
Clay Jones
Best Corridor Tourist Attraction
University of Iowa Football
Best Place for a Business Conference
Coralville Marriott
Best Business Breakfast
Bluebird Diner
Best Coffee Shop for a Business Meeting
Blue Strawberry
Best Sporting Event for Entertaining a Client
University of Iowa Football
Best After-Work Bar
Zeppelins
Best Business Consulting Firm
RSM McGladrey
Best Law Firm
Shuttleworth & Ingersoll PLC
Best Accounting Firm
McGladrey & Pullen
Best Personal Investment Services Firm
MidWestOne
Best Architectural Firm
OPN
Best General Contractor
Ryan Companies
Best PR/Advertising Firm
MindFire Communications
Best Real Estate Management Company
Skogman
Best Trucking Company
CRST
Best Fitness Facility
Core Fitness
Best Recycling/Waste Management Firm
City Carton
Best Local Company Web Site       
Neumann Monson Architects
Best Sign Company
Nesper
Best Wellness Plan Company
Health Solutions
Best Copy Machine Company
Erb's
Best Commercial Cleaning/Janitorial Service Company
Midwest Janitorial
Best Local Internet Service Provider
IMON