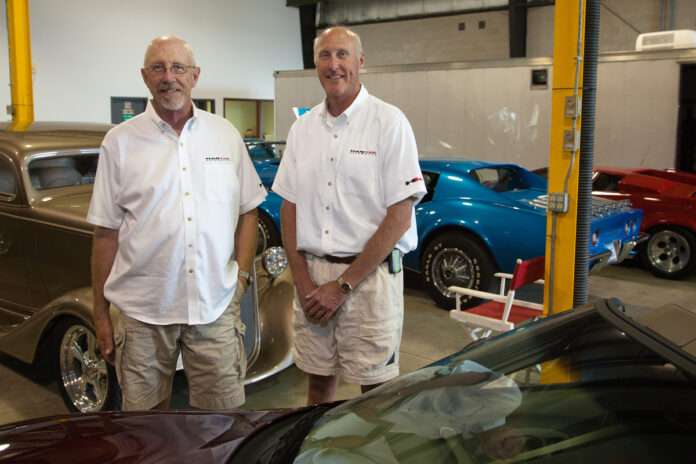 By Gigi Wood
IOWA CITY — It was time.
One of the first car dealers in the state, the Hartwig family has been in the auto business since 1912, when Henry Hartwig started one in Clutier, a small town in Tama County.
"Without capturing the cliché of 'gasoline in your veins,' I guess we've probably have inherited a lot of that interest," said Kevin Hartwig, president of HARTek Automotive, 4161 Naples Ave. SW in Iowa City.
Mr. Hartwig and his brother, Gregg Hartwig, sold their previous dealership, Hartwig Motors, in January. Hartwig Motors, now Deery Brothers Chrysler Dodge Jeep Ram, is still located at 629 S. Riverside Dr. The Hartwigs had operated their dealership on Riverside Drive since 1961.
"I think last year was a big year for local dealers to determine whether they wanted to go forward or not with the new Walmart type (dealerships)," he said. "It's taking a lot of franchises to make a new car dealership viable. In our situation, we were faced with how to add more franchises to what you had."
Now the Hartwigs operate HARTek Automotive, a sports car dealership, which opened April 1. The name is a combination of Hartwig and the word technical, to denote the new company's emphasis on servicing "prestige," or classic, muscle and sports cars. Last week, the service and repair shop staff were working on a 1967 Chevy Camaro, a 1933 Ford Roadster, a right-hand-drive Mini Cooper and 1968 and 1969 Chevy Corvettes. A single Ferrari is displayed in the showroom.
Changing industry
The Hartwig family has adapted their business and love for cars to a changing industry. For decades, the success of car dealerships was an important indicator of the local economy. The traditional car dealership operated not only a new car showroom, but often a service shop and used car lot, as well. The businesses employed dozens of people, were supported by national manufacturers and sold what many would call a necessary household item. When car dealerships faltered, so did the local business community.
Car dealers struggled in recent years, getting hit on two sides, as auto manufacturers declared bankruptcy and consumers opted for repairing the family minivan over buying new.
Two major Midwest auto dealers entered the Iowa City market during the past few years, making generous offers to buy family-owned auto franchises. Billion Auto of Sioux Falls, S.D., bought Chezik-Bell's Honda franchise, McEleney Autoplex and Community Motors. Deery Brothers, ofWaterloo, bought Hartwig Motors and Chezik-Bell Ford Lincoln Mercury.
"We were faced with the situation of adding more franchises to what we had because surviving with a standalone franchise like Chrysler, we just felt was probably wouldn't be in our best interest moving forward," Mr. Hartwig said.
Chrysler declared bankruptcy in 2009 and drastically curtailed the number of dealerships in the country. Previously, McGurk Meyers Motors of Coralville was the Chrysler dealer. That dealership was flooded, reopened and committed a significant investment in Chrysler, only to have Chrysler take away the franchise less than a year later. The franchise was awarded to Hartwig Motors, which for years had sold used Chryslers. The reshuffling of Chrysler franchises happened across the country in an arrangement few dealers were happy with. McGurk Meyers closed last year, after trying to make a go servicing cars and selling all-terrain vehicles.
"I'm not wishing Chrysler any ill; they've obviously been good to us for many years," Mr. Hartwig said. "We'd been approached by a number of chain stores over the last couple of years and then I think with Chrysler's bankruptcy, that really put a whole new light on how we were going to have to go forward with this company. In my time there, I had gone through already two near bankruptcies of the corporation and it always came out strong."
But the industry is different now. High-volume, chain car dealerships are dictating how business is done now, he said.
"Chrysler is a fighting company, but they are succumbing to the same thing that business like I had there succumb to also, was Chrysler's now really a foreign-owned company, short of the union's involvement and ownership of it," he said. "It's the same thing we had to address here. Businesses are changing and single-point stores are going to have a very hard time going, so you might as well start considering, do you want to hook up with somebody who has a lot of these or do you want to try to get something on your own. The Deery family made us a very good offer and we thought, maybe it's time to do what we really want to do."
Deery Brothers Chrysler Dodge Jeep Ram is now run by A.J. Perez, a long-time family friend of the Hartwigs and employed many of the workers at Hartwig Motors.
"We really look at it as a win-win for everybody," Mr. Hartwig said.
New pursuit
Instead of retiring, 60-year-old Mr. Hartwig and his brother decided to pursue their long-sidelined passion, sports cars.
"The seasonality of theMidwestand the lack of population for these types of cars kind of curtailed it," he said. "We just couldn't come up with a business plan that worked. But now with the Internet, there're no seasonal boundaries and we're pretty centrally located for shipping and receiving cars, so we're going to give it a shot."
That single Ferrari in the showroom recently sold for roughly $500,000. The high value of many of the cars at HARTek takes the volume sales pressure away, allowing the company to sell considerably fewer cars to operate. Many buyers consider the cars an investment, with more stability than their 401ks, he said.
"And to a car person, this is as good a piece of art as what you'd find in the galleries downtown," Mr. Hartwig said. "Everyone has a different way of expressing (themselves)."
Although HARTek typically deals with high-dollar cars, the dealership will take trade-ins of everyday cars and sell them to other dealers in the area. And the business plans to spend the winter months repairing classic and sports cars. Car enthusiasts often have projects to improve their vehicles, like changing upholstery or fixing the engine.
"We've got one individual who's terrific electronically; he's a brilliant young kid who's got a great deal of electronic skill," he said. "One of the other individuals we have has been with me for 23 years and he brings a lot of what we need from the archives. He brings this knowledge of how cars evolved through the 60s, 70s, 80s and 90s with him."
HARTek has a network of parts suppliers across the country to locate hard-to-find parts for classic and sports cars.
"If we need weather strips for a Fiat that's 25 years old, that's not something we can call a dealership or a parts store and get," Mr. Hartwig said.
The dealership also does four-page, post-sale inspections of cars, a service that is commonly sought after when someone inherits a car from an estate or buys from an out-of-state dealer.
"Somebody's got a car in grandpa's garage and need to know its value or if somebody's paying six-figures for a car, their expectations are exceptionally high, they want to know what they're getting for their money," he said.
HARTek hopes to also host Cars and Coffee events, which involve a meetup of prestige cars and their owners while relaxing with a cup of coffee on a weekend morning.
Ironically, HARTek's location onNaples Avenue, across the street from the new Menards store, is where McGurk Meyers was housed temporarily post-flood. It is on the southern edge ofIowa City's auto mile along Highway 1.
"It just fit what we needed to do. We didn't need a big lot with huge signs," he said.
Fifty years ago, the Hartwig family started selling Dodge and acquired Datsun, which later became Nissan. They also sold Lincoln-Mercury for a short time and eventually picked up Jeep and of course, Chrysler.
"My father and uncle were destined to be in the car business in some way; I give them credit for, nothing against Clutier, Iowa, but for realizing that probably wasn't where they wanted to stay. Ultimately we ended up in Iowa City," he said.
The garage from the first Hartwig dealership, in Clutier, is reportedly still standing.