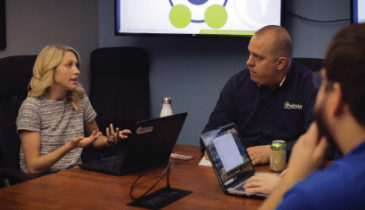 FIRST TIME ON LIST
Coralville-based ProCircular continues to win over customers through its effective approach to cybersecurity.
The firm's founders are all from Iowa, says COO Solomon Smith, and its customer service approach reflects the state's values.
"We really strive to have that customer relationship, that partnership, that conversation with everybody," Mr. Smith said. "The people part of cybersecurity is sometimes more important than the technical piece."
ProCircular focuses on three, and only three, areas: Educating and informing people about best security practices, managing technical risks of intrusions, and ensuring regulatory compliance and proper management practices. That narrow specialization helps differentiate the firm and gives it an edge in protecting its clients.
"We have stayed pretty true to our core values and services," said Mr. Smith, who is also chief information security officer. "We want to be only a cybersecurity company. That's our niche, our expertise. It takes a lot of time and effort to maintain and stay current on what the threats are and what the bad guys are doing out there."
-Dave DeWitte
1ST RUNNER UP: RSM US LLP
2ND RUNNER UP: SecurityCoverage