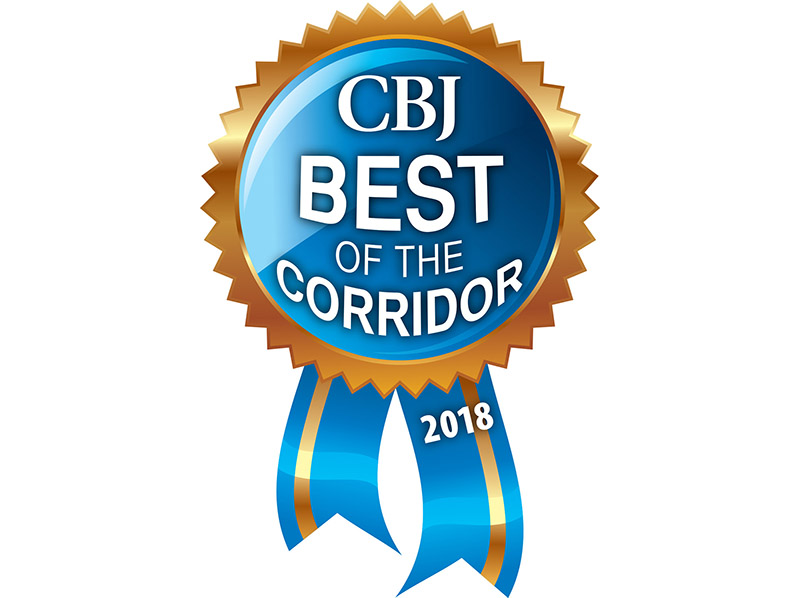 Many of our readers take pride in knowing who's the best of the best in the Corridor – the perfect restaurant for that business lunch, the firm that nails it every time, the cultural spot that never fails to impress. And why not? In an information age, the advantage lies with those who know the business landscape.
That's the reasoning behind our Best of the Corridor competition, now in its 13th year. Our latest edition started with an open call asking readers to vote for their favorites among 50 categories, ranging from the region's best professional firms to the best eateries. Nearly 3,000 people responded – one of the best turnouts in the history of the competition – and we have tallied the results to bring you this year's list of the best the region has to offer, presented in two consecutive issues (both viewable below, or at our page-turning digital edition).
This year's list includes the usual mix of established names and newcomers, with the write-in format of the competition keeping things interesting from year to year. The McGrath Family of Dealerships, de Novo Marketing and Skogman Companies were among the biggest standouts of this year's class, with each winning titles in three Best of categories.
Extra recognition is also due to Midwest Janitorial Service and RSM US LLP, both of which notched their 10th win in their respective categories this year. That's enough to induct them into the CBJ's Best of the Corridor Hall of Fame, which was created in 2016 to honor local companies for their hard work and dedication to customer service.
Of course, part of the fun is discovering new businesses. Fong's Pizza, the central Iowa transplant arriving in NewBo, was named this year's Best New Restaurant, while Coralville-based ProCircular takes the first-ever title as Best Cybersecurity Firm. AlphaGraphics, HR Green, Pigott, Oaknoll Retirement Residence and Siebke Hoyt Jewelers are among the other new names you'll read about on the (web) pages that follow.
We've also listed the first and second runners up in each category polled this year, because everyone likes options. Try all three companies honored in each category and decide for yourself!
– Adam Moore
Hall of Fame Members
Best Architectural Firm: OPN Architects
Best Bank: Hills Bank & Trust Co.
Best Engineering Firm: Shive-Hattery
Best Golf Course: Brown Deer Golf Club
Best Office Furniture Dealer: Tallgrass Business Resources
Best Sign Company: Nesper Sign
Best Trucking Company: CRST International
Best Website/App Developer: Informatics
Part I
Best Accounting Firm: RSM US LLP
Best Auto Dealer: McGrath Family of Dealerships
Best Auto Fleet Dealer: McGrath Family of Dealerships
Best Auto Service Dealer: McGrath Family of Dealerships
Best Bank: Cedar Rapids Bank & Trust
Best Business Consulting Firm: Honkamp Krueger & Co. PC
Best Commercial Cleaning/Janitorial Service: Midwest Janitorial Service
Best Cultural Attraction: National Czech & Slovak Museum & Library
Best Cybersecurity Company: ProCircular
Best Engineering Firm: HR Green
Best Fine Arts Venue: Hancher Auditorium
Best Home Health Care Agency: CarePro Health Services
Best Information Technology Support Company: RSM US LLP
Best Landscaping/Nursery: Culver's Lawn & Landscape
Best Law Firm: Shuttleworth & Ingersoll PLC
Best New Restaurant: Fong's Pizza
Best Office Furnishings & Design: Pigott
Best Photographer/Videographer: de Novo Marketing
Best PR/Marketing/Creative Firm: de Novo Marketing
Best Printer: Cedar Graphics
Best Residential Interior Design (tie): Dwell Home Furnishings & Interior Design
Best Residential Interior Design (tie): Phelan's Interiors
Best Senior Living Community: Oaknoll Retirement Residence
Best Wealth Management Team: HK Financial Services
Best Website/App Developer: de Novo Marketing
Part II
Best Architectural Firm: Shive-Hattery
Best Banquet/Event Facility: The Hotel at Kirkwood Center
Best Brewery: Big Grove Brewery
Best Business Insurance: TrueNorth Companies
Best Business Leader: Duane Smith, TrueNorth
Best Commercial Real Estate Firm: Skogman Commercial Group
Best Commercial Real Estate Lender: Hills Bank & Trust
Best Credit Union: UICCU
Best Developer: Ahmann Companies
Best Golf Course: Cedar Rapids Country Club
Best Home Builder: Skogman Homes
Best Hospital: UnityPoint Health – St. Luke's Hospital
Best Jewelry Store: Siebke Hoyt Jewelers
Best Local Internet Service Provider: Mediacom
Best MBA Program: University of Iowa Tippie College of Business
Best Office Equipment & Supplies: Tallgrass Business Resources
Best Optometrist/Eye Center: Iowa Eye Center
Best Place to Buy Wine & Spirits: Hy-Vee Wine & Spirits
Best Residential Real Estate Lender: Hills Bank & Trust
Best Residential Realty: Skogman Realty
Best Shop for Corporate Gifts: Marketing Innovations
Best Sign Company: AlphaGraphics
Best Specialty Marketing Products: Marketing Innovations
Best Staffing/Recruiting Agency: Aerotek
Best Trucking Company: Heartland Express
Best Walk/Run Event: Especially for You Race Against Breast Cancer