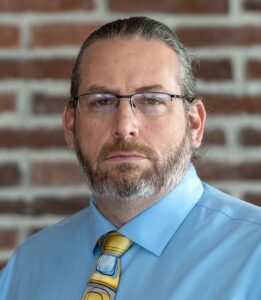 Geonetric, a Cedar Rapids-based digital marketing agency, has announced co-owner Ben Dillon will be transitioning to the role of chief executive officer.
According to an Aug. 4 news release, Mr. Dillon, who currently serves as the company's chief strategy officer, will succeed the company's current CEO Linda Barnes effective Aug. 18.
Ms. Barnes has been named the interim director of Orchestra Iowa in Cedar Rapids, orchestra officials announced Aug. 2.
"Geonetric has been my home for 23 years, and I'm thrilled for the opportunity to lead this organization that I love," said Mr. Dillon. "Our expertise in digital marketing, strategy and experience combined with our dedication to HIPAA compliant solutions has never been more important to healthcare. As CEO, I look forward to growing our talented team and expanding on our software and agency services to maximize the value we deliver to our clients."
Since joining Geonetric in 2000, Mr. Dillon has played a pivotal role in the company's growth, serving most recently as the firm's chief strategy officer, the release states. During his tenure at Geonetric, Mr. Dillon helped shift Geonetric's focus to healthcare and has been responsible for the company's vision and strategy. He is the former SHSMD board president, a 2022 Healthcare Internet Hall of Fame inductee, and serves on the editorial advisory board for eHealthcare Strategy and Trends.
"This combined with his outstanding strategic perspective and deep industry expertise makes him the ideal CEO to lead Geonetric into the future." said Geonetric founder and Board Chairman Eric Engelmann. "I would also like to the take this opportunity to thank Linda for her leadership of Geonetric. She has created an award-winning culture, built a strategy for recruiting and retaining the brightest staff, and helped build one of the most innovative companies in Iowa. Her influence leaves Geonetric well-positioned for success and we wish her all the best in her new role."