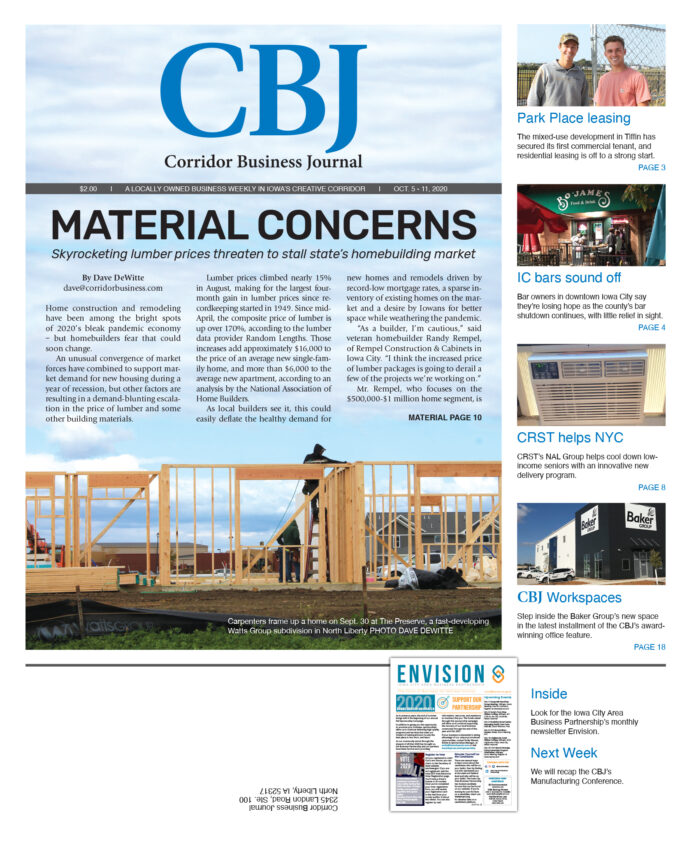 Home construction and remodeling have been among the bright spots of 2020's bleak pandemic economy – but homebuilders fear that could soon change.
An unusual convergence of market forces have combined to support market demand for new housing during a year of recession, but other factors are resulting in a demand-blunting escalation in the price of lumber and some other building materials.
Lumber prices climbed nearly 15% in August, making for the largest four-month gain in lumber prices since recordkeeping started in 1949. Since mid-April, the composite price of lumber is up over 170%, according to the lumber data provider Random Lengths. Those increases add approximately $16,000 to the price of an average new single-family home, and more than $6,000 to the average new apartment, according to an analysis by the National Association of Home Builders.
As local builders see it, this could easily deflate the healthy demand for new homes and remodels driven by record-low mortgage rates, a sparse inventory of existing homes on the market and a desire by Iowans for better space while weathering the pandemic.
"As a builder, I'm cautious," said veteran homebuilder Randy Rempel, of Rempel Construction & Cabinets in Iowa City. "I think the increased price of lumber packages is going to derail a few of the projects we're working on."
Mr. Rempel, who focuses on the $500,000-$1 million home segment, is having a decent year despite the pandemic. He says home shoppers tend to be mesmerized by the low interest rates, and don't quite get the full picture until they see updated price quotations at today's prices, which can be $50,000-$100,000 higher than they would have been last year.
The concerns about a sudden escalation in home prices aren't limited to meeting the down payment requirement, or even affording monthly payments. At a certain point, a sudden jump in prices can result in mortgage lenders refusing to finance them.
"If the same exact home up the block sold this spring, and this home costs $15,000 more, we're afraid the banks aren't going to accept the appraisal," explained Adam Hahn, general manager of commercial construction at Watts Group in Coralville, which both builds new housing and develops property. "People in the banking industry aren't taking this [lumber prices] into account."
Mr. Hahn describes the current new home market as "warm," which is good considering the economy and time of year. The sales season usually tails off in August, he said, but this year Watts Group was still seeing good activity into September, including some shoppers making offers on new homes going up that haven't even been listed yet.
The material price situation is also affecting the market for home addition and remodeling plans, according to Joe Ahmann, owner of Ahmann Design in Hiawatha, which develops house plans for builders, buyers and owners.
One client had a house plan that would have cost $400,000 to build at the beginning of the year, Mr. Ahmann said. After the Aug. 10 derecho swept through Iowa, he said material and other costs had escalated to the point where it would have cost about $500,000. The client is now holding off on the project.
More than new home plans, the pandemic brought Ahmann Design a surge in demand for home remodel plans, including plenty of pool houses and gazebos. Americans who were unable to travel due to the pandemic wanted to invest that money into projects to make their time at home more enjoyable.
As material prices escalated, Mr. Ahmann said a surprising number of the home plan clients realized their projects would cost so much that they'd be better off getting a new or existing home with what they wanted. It wasn't always a matter of the remodels being unaffordable, Mr. Ahmann said, but in some cases the remodels would place the value of the home outside the range buyers would pay in their neighborhood.
Mr. Ahmann said high building material prices – and for that matter, the needs of sheltering at home during the pandemic – don't seem to be affecting the size of homes buyers are looking for. The ratio of larger and smaller homes seems to be about the same, even though a smaller home could reduce material costs, and a larger home might be more comfortable for some families stuck at home.
Lumber prices and labor availability have also posed challenges for derecho repairs in the Corridor, according to Jim Sattler, of Jim Sattler Custom Homes in Cedar Rapids.
"Nationwide, lumber went from $250 per 1,000 board-feet and skyrocketed up to $900," Mr. Sattler said early last month. Media reports predict prices will decline this fall, he said, but for now, just finding certain types of lumber on short notice can be a challenge because of the derecho demand.
An unusual stimulus
Robust new home construction isn't the norm during the recession, as consumers tend to worry about their job security and refrain from borrowing. But it's different this time around.
The average interest rate on a 30-year fixed-rate mortgage slipped to a record low of 2.86% in the second week of September. On Sept. 29, Bankrate.com's survey found the average rate for a 15-year fixed rate mortgage was 2.54% and the average rate on a 30-year fixed-rate mortgage was 3.07%.
At the same time, home shoppers are finding a dire lack of existing home listings, and existing home prices are up significantly. In August, the state's inventory of homes for sale was down more than 26% from the same month of 2019, according to the Iowa Association of  Realtors. The median sales price was up nearly 11%, to nearly $192,000.
Higher home prices and low selection are ample reasons to consider building new. But Skogman Homes, the largest homebuilder in the Cedar Rapids market, had a different explanation when asked why its new home sales are at a 15-year high for the first nine months of 2020, at about 100.
"We are attributing most of it to COVID," Skogman Vice President of Marketing Jeff Janssen explained in an email. "When COVID hit, everything slowed to a crawl. Even our real estate business dried up. But then about May, it exploded, and the same thing happened with our remodeling business, D&B Remodeling. We believe that people had so much time at home that they started looking to improve their living situation – move up, remodel or build new as the economy remained strong."
The lumber price equation
It's getting hard to keep track of the factors pushing lumber prices ever higher. Trade wars with Canada have resulted in a 20% tariff on Canadian softwood lumber imports, builders note, but that's nothing new this season.
What is new is a record rate of hurricanes that cause massive and widespread destruction of homes. Through Sept. 21, there have been 23 named hurricanes this year, forming earlier in the year than usual, according to Weather.com. The nine mainland U.S. landfalls of hurricanes tied the previous record, which dates all the way back to 1916.
Adding to the demand has been an unusually active wildfire season on the West Coast, which has burned hundreds of thousands of acres. In Oregon, fires have burned over 987,000 acres, according to the Salem Statesman Journal, including 486 homes and 837 other structures in just one of many fires.
The Aug. 10 derecho that swept across several hundred miles of the Midwest created hurricane-force damage in some communities like Cedar Rapids and Marion that will take months to repair.
One of the biggest factors affecting lumber supplies is largely invisible, however. Lumber mills cut back production at the beginning of the pandemic, fearing an overhang of excess inventory should a recession develop.
"A lot of the lumber companies and their workforces have been slowed because of COVID," Mr. Rempel said. He said that many mills are running only one or two shifts instead of three due to the pandemic, reducing their production rate substantially.
That slackening of output from lumber has also disrupted the supply chain for products like windows that include wood components.
Finding a solution
The National Association of Home Builders held a virtual meeting with U.S. Commerce Secretary Wilbur Ross on Sept. 25 to discuss approaches to the growing shortages, according to the NAHB blog.
At the meeting, Mr. Ross said lumber mill operators are concerned that the surge in new home construction is temporary, and are reluctant to make the investments needed to expand output. The NAHB senior leadership assured Mr. Ross that demand is sustainable.
Outside of lobbying the Trump administration, the NAHB has urged Congress to seek higher targets for timber sales from national forests and other publicly owned lands, and open up more forest lands for logging in a sustainable way. It is also asking members of the U.S. Lumber Coalition to boost production and offered its cooperation to help address lumber shortages.
The market eventually tends to recover from supply and demand imbalances, Mr. Ahmann noted.
"It [the cost of materials] will come down again with time," he said. Builders are just hoping that the time it takes will be short enough to help them keep building up demand, so they can continue meeting homebuyer needs and supporting the economic recovery by buying materials and developed lots, and hiring employees and subcontractors.