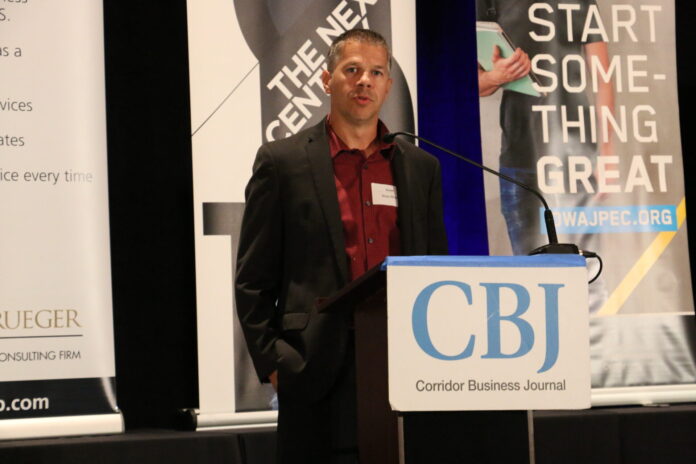 The CBJ's 14th annual Fastest Growing Companies event was held June 10 at an in-person ceremony held at the DoubleTree by Hilton Cedar Rapids. The event was also livestreamed to an online audience.
Despite a tumultuous year due to the economic ramifications of the COVID-19 pandemic, the list of 25 companies showed remarkable stability as it welcomed back 18 previous honorees, including 14 firms that appeared on last year's list.
But just as in 2019 and 2020, it was a newcomer – Iowa City-based Axiom Consultants, LLC – that took the top spot with 339.34% growth over the two-year period from 2018-2020. 
Brian Boelk, who co-founded the firm specializing in civil, structural, mechanical and electrical engineering in 2018 with business partner Rob Decker, said that becoming the Fastest Growing Company in the Corridor wasn't even on the radar. Rather, the company focuses on strong relationships among the staff and with clients, which has also gained Axiom the title of Best Engineering Company in the CBJ's Best of the Corridor awards in 2019 and 2020. 
Hotelier Angela Harrington was honored as the CBJ's 2021 Thomas L. Cardella Entrepreneur of the Year for her tenacity in keeping The Highlander in Iowa City and Hotel Grinnell in Grinnell afloat despite the pandemic putting a halt on traveling and events. 
She said she used lessons learned from the 2008 financial crisis that claimed her once-thriving restaurant operation to weather the storm of the pandemic that continued much longer than first anticipated when it took hold in March 2020.  
"This has been a true test of every entrepreneur in the world. The duration of it was hard mentally, physically, financially. Most entrepreneurs can get through 90 days, but not 14 months," she told the CBJ.
The June 10 event was sponsored by Honkamp Krueger & Co. PC, Nyemaster Goode PC, BankIowa, MediRevv, the John Pappajohn Entrepreneurial Center and TLC Associates.