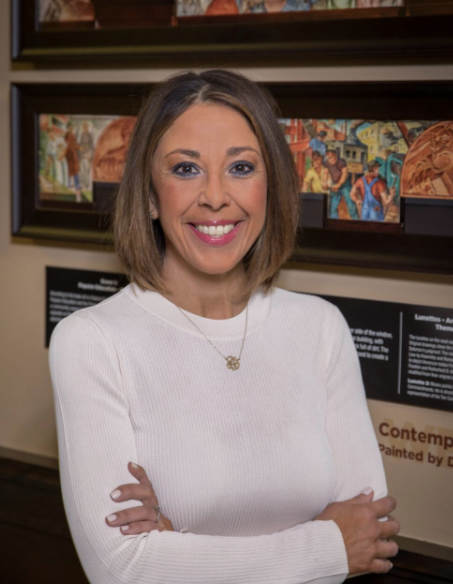 Assistant to the City Manager
City of Cedar Rapids
Among those working behind the scenes to enable the dramatic progress Cedar Rapids has made in recent years, Angie Charipar's name is one that always rises to the top.
As assistant to City Manager Jeff Pomeranz, Ms. Charipar works on political action with state legislators, helps gauge the sentiment and priorities of the city council, and works across departments and committees to advance the city's agenda.
"Angie is often on the sidelines, yet she has incredible influence and has used that to better the Cedar Rapids community," wrote Tiffany O'Donnell, executive director of Iowa Women Lead Change, in her nomination letter. "In her role at the city of Cedar Rapids, Angie is often given the job of implementing the big ideas and initiatives necessary to move a city forward. She quietly serves on the boards and commissions that make Cedar Rapids an inclusive and progressive place to live and work. This, many will tell you, is where the real work gets done."
It's a role Ms. Charipar approaches with gratitude, humor and a deep reservoir of energy.
"I get to work with all the departments in the city, really problem-solving and finding ways to make things better for the community, and every single day it's another challenge," she said.
Ms. Charipar joined the city staff as legislative liaison eight years ago, moving from a role as political action committee coordinator at Transamerica. The city council needed a point of contact to work with federal and state officeholders on the litany of projects that required support from those governments after the flood of 2008, and Ms. Charipar was ready for a new challenge.
With the election of Ron Corbett as mayor, Jeff Pomeranz was recruited as city manager because of his accomplishments in West Des Moines. It was a time of near-daily meetings on flood recovery and other pressing issues at the temporary city hall, and Ms. Charipar would show up uninvited at meetings that interested her.
"Sometimes you just have to barge your way into opportunities," she laughed.
Mr. Pomeranz and Ms. Charipar found they worked well together, which led her to roles in important projects and opportunities to prove her abilities. After the promotion of Sandi Fowler to assistant city manager, Ms. Charipar was named assistant to the city manager, with an official seat at many tables.
It's not a role Ms. Charipar envisioned growing up in Omaha, with a much younger sister and a brother with a rare neurological disorder. Her parents divorced in her eighth-grade year, and Ms. Charipar moved with her mom and siblings to Cedar Rapids, where they had relatives. As her mother began her career at mid-life, Ms. Charipar took on more family responsibilities. She adjusted to leaner times in a new city by taking a part-time job at a neighborhood cafe and becoming a cheerleader for Washington High School.
Without much of an academic record, she had a slow start to her college career, eventually enrolling in Kirkwood Community College and transferring to the University of Iowa to study political science. It led to a part-time college job as an aide to former U.S. Sen. Jim Leach, which gave Ms. Charipar the first real chance to showcase her abilities.
When a full-time position on the district staff opened up, District Director Gary Grant of Mr. Leach's staff encouraged her to apply.
"He was the first person who saw something in me," Ms. Charipar said. "He gave me work that was hard. He was very patient, answering questions. I couldn't even think of what I would have done if he hadn't encouraged me."
Mr. Pomeranz has been a similar influence. The work in city hall has challenged Ms. Charipar to constantly learn, delegate responsibilities and even to be vulnerable and ask for help when the situation warrants.
For women considering a career in local government, she said it's important to believe strongly in service. Even though the demands of government work can outweigh the monetary rewards, she said the personal rewards of making the community a better place to live are amazing. At the very least, the work is interesting.
"Sometimes when we're sitting across the table, Jeff [Pomeranz] will say, "You know, Angie, we just couldn't make this stuff up."
– Dave DeWitte