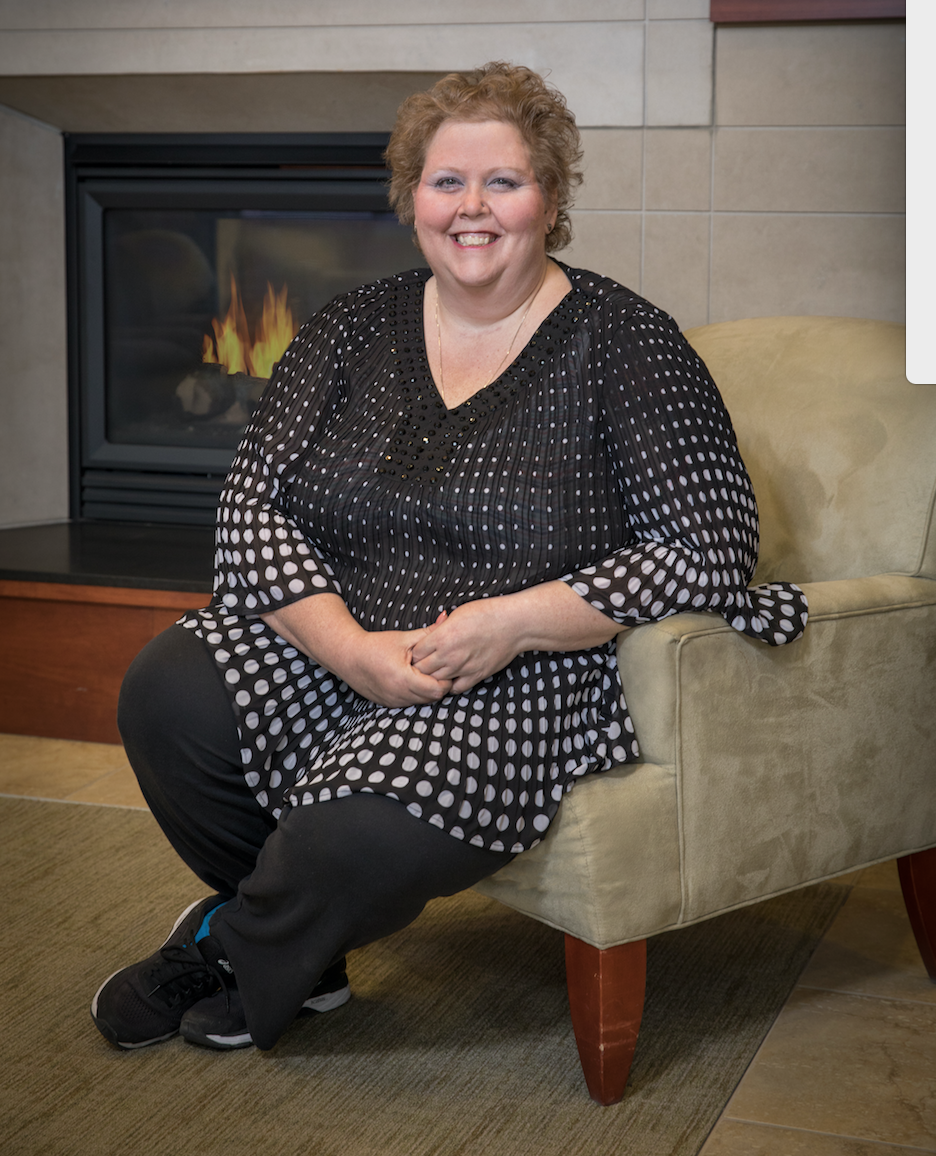 Administrator
Oaknoll Retirement Residence
Today, Kim Bergen-Jackson leads Oaknoll Retirement Residence, one of Iowa's most respected senior living communities. She's known as an expert in adult care.
But once upon a time, Ms. Bergen-Jackson was alone, struggling to find her way and making self-destructive decisions on a regular basis.
She was able to right herself with two major strengths: an emphasis on what is possible, and the guiding influence of a strong woman, her grandmother.
Ms. Bergen-Jackson now tries to provide that can-do spirit and maternal influence in all of her leadership duties at Oaknoll.
"Nobody says 'no' at Oaknoll," Ms. Bergen-Jackson said, describing special events she has organized at the living center including camp trips and games for residents. "I like to take a little idea and just blow it up!"
Always going for awesome and striving for the best define Ms. Bergen-Jackson's approach to her job as administrator. Her pursuit of perfection is exemplified by a focus on hiring students coming through the administrative nursing degree program at the University of Iowa. She has mentored 16 graduate students since earning her doctorate in 2012, and countless other undergraduates.
"I love introducing students to what is possible," Ms. Bergen-Jackson said. "Oaknoll is not a place to go die. You can still have a full, robust life here in spite of disabilities."
She has had a passion for geriatric care since she was a child. She was raised mostly by her grandmother after her mother became bedridden because of illness, and her grandfather died when she was five.
Life grew even harder for Ms. Bergen-Jackson at the age of 14, when her grandmother died. Four years later, her mother succumbed to her illness.
Just as she was approaching graduation, Ms. Bergen-Jackson found herself facing the most difficult time of her young life. She began to drink and hang with the wrong crowd.
"Back then, there wasn't anyone to say, 'Look, you've just gone from straight A's to barely passing. What's going on?'"
Ms. Bergen-Jackson found a path to recovery through volunteerism and her  passion, senior care. She started at Oaknoll in 1986 as a certified nursing assistant. She also joined the Job Corps, where she met her wife of 28 years.
The two have since raised two adopted daughters, in addition to living and working in both Seattle and Iowa City.
Ms. Bergen-Jackson has built a strong reputation for standing up for high-quality geriatric care in the state and nationwide.
"Kim has worked tirelessly to elevate gerontology and geriatric care in our community and our state," wrote Marianne Smith, co-director of the University of Iowa Center on Aging, in her nomination. "Kim's advocacy for older adult care, and particularly care and treatment of frail older people who need assistance and support to function, makes an enormous contribution in our youth-oriented society."
"A unique style that skillfully combines leadership and camaraderie" is how Mary Palmberg, a volunteer at Oaknoll, describes the honoree.
It's a description Ms. Bergen-Jackson would echo. "I really feel like relationship-building and conversation are part of my job," she says. "It's very important that we all understand and that we're all on the same page."
Ms. Bergen-Jackson's devotion to geriatric care is demonstrated by the many panels on which she's served. They include the Pioneer Network, devoted to "person-directed care" among seniors; the Iowa Person-Directed Care Coalition; and the Johnson County Task Force on Aging.
Ms. Bergen-Jackson has also been honored with the Governor's Award for Quality Health Care in 2016, and was among 100 Great Nurses named nationally in 2013.
She hopes her ability to build a successful career in spite of a rough start in life will inspire others who feel like they're struggling under life's challenges.
"Whatever happens to you in life, it doesn't need to hurt you or define where you will go," she said. "I'm the first person in my family to have a degree, to own a house, to go to college … You have to believe in yourself, that you can do whatever you want to do, and that you can keep going."
– Christine Hawes