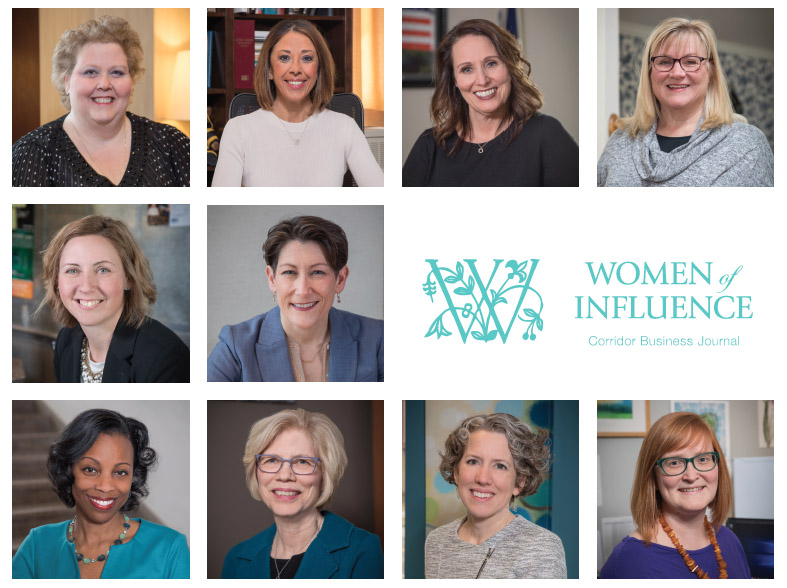 Intro by Adam Moore
adam@corridorbusiness.com
Photography by Brian Draeger
As the Corridor Business Journal's annu­al Women of Influence awards program stretches into its second decade, it's inter­esting to consider how some things have changed, while others stay the same.
When the Women of Influence awards debuted in 2005, it marked the arrival of a truly unique event for the Cedar Rap­ids-Iowa City corridor – a regional celebra­tion of the top women leaders in business and philanthropy. Although the broader conversation around women's leadership and inclusion was still taking shape, that first class of women, including high-pro­file leaders such as Dee Baird and Donna Katen-Bahensky, showed the depth of the region's roster of women leaders.
Fast-forward 13 years, and there are more organizations, honors and oppor­tunities for women leaders in the region than ever before. Companies are begin­ning to recognize the fact that they can achieve more when women are at the ta­ble, and taking action, from hosting wom­en's power lunches to participating in the EPIC Corporate Challenge, an initiative of Iowa Women Lead Change that challeng­es companies to commit to growing and retaining women at all levels of leader­ship. That's an excellent thing, and we're proud to see how the conversation around women's leadership has evolved.
What hasn't changed over the past 14 years we've been privileged to host the Women of Influence awards is the quality of those nominated. Many people ask us if our honorees are still as outstanding as our earliest classes, considering that the CBJ has already awarded more than 100 women leaders over the years, and the an­swer is an unequivocal yes.
Each year we are impressed by the names that come in through the nomination process, and at least once a year a member of our selection committee – comprised of last year's WOI honorees – will say something to the effect of "I'm glad I got in when I did, because this year was really tough." Indeed, there is no shortage of leadership talent in the Corridor, and we're excited to share our latest class with you in this special edition.
Interestingly enough, each class in our Women of Influence program seems to develop its own collective identity or trademark as we work through our inter­views and profiles. This year's class sets it­self apart by the broad reach of its impact, whether in government, education, health care or philanthropy.
Janet Godwin, of ACT Inc., was instru­mental in helping to develop the nonprof­it's early computer-based testing program for college-bound students, while Mary Ann Osborn, of UnityPoint Health, is transforming patient care for millions of people through her role overseeing nearly 6,000 nurses in Iowa, Wisconsin and Illi­nois. Mary Ferentz has personally raised more than $1.5 million for the University of Iowa Stead Family Children's Hospital through her philanthropic work, while Angie Charipar has worked tirelessly be­hind the scenes as assistant to the city manager to help rebuild Cedar Rapids fol­lowing the flood of 2008.
Even this year's youngest honorees are making an outsized impact. Brooke Fitzger­ald, owner of The Early Bird in downtown Cedar Rapids, has become a fundraising force for causes ranging from cancer to ed­ucation; Pheobe Trepp, executive director of the Willis Dady Homeless Shelter in Cedar Rapids, has worked to revamp the nonprof­it's programs and funding streams so it can better serve those in need.
"Phoebe is an unsung hero within our community. She advocates for those who find themselves in the shadows, existing at the margins and without a voice," wrote Ben Rogers, of the Linn County Board of Supervisors. "She will not only move mountains to find the services and sup­ports that a person needs, but she also cares deeply about the human condition. Phoebe's greatest strength is helping peo­ple find hope when all seems lost."
We hope you'll be inspired by the sto­ries of these 10 women while reading the profiles in this special issue, and take time to thank and support the strong women in your life.
2018's Women of Influence:
Kim Bergen-Jackson
Angie Charipar
Kim Downs
Mary Ferentz
Brooke Fitzgerald
Janet Godwin
Lena Hill
Mary Ann Osborn
Jenny Schulz
Phoebe Trepp