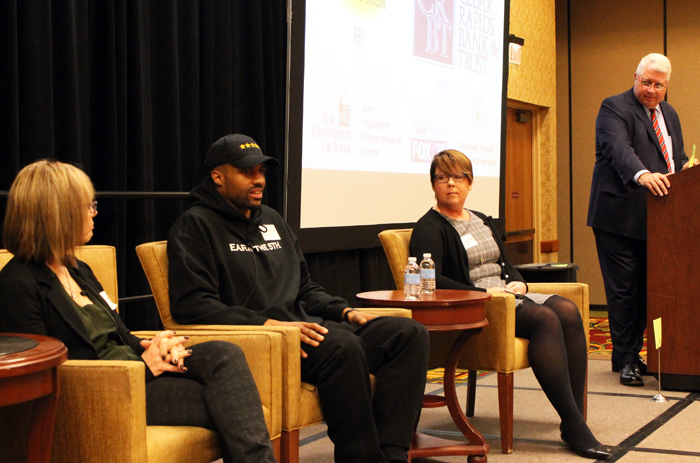 Panelists Cheri Hochstetler, Kevonte' Martin-Manley and Stephanie Nesseth discuss entrepreneurial challenges during the CBJ's Dec. 7 event. At right is moderator Larry Helling, of Cedar Rapids Bank & Trust.  PHOTO ADAM MOORE
By CBJ News Staff
news@corridorbusiness.com
The value of mentorship both within and outside one's own company permeated throughout the Corridor Business Journal's annual Entreprenurial Forum.
Held Dec. 7 at the Cedar Rapids Marriott, the event included the awarding of the CBJ's Entrepreneur of the Year award to Gerald Beranek, of BeraTek Industries, and a pitch competition among Corridor startups Organizer, AssetRover and the winning company, WRITTEN Apparel.
It also featured an in-depth Q&A session six entrepreneurs from a variety of industries, from Fred Timko, of construction and development company Down to Earth Development LLC, to Stephanie Nesseth, of home cleaning service Absolutely Clean.
The panelists also came from companies at vastly different points in their lifecycles: Mike Johnson represented Timberline Manufacturing, the Marion-based electrical component manufacturer founded in 1993 that now employs nearly 150, while University of Iowa football alum Kevonte' Martin-Manley spoke of the recent challenges of getting his fashion and lifestyle brand, TwoStar Clothing, off the ground.
Yet, throughout the morning, speakers and panelists consistently cited the importance of having mentors to provide professional, and sometimes personal support, in addition to the patience needed to position a company for long-term success.
"Finding the right mentors is something you should all look to do," Mr. Beranek said in receiving his award. "I asked some of the people I see out here in the audience for advice and help. Keep trying, and ask a lot of questions."
Below is a sampling of edited takeaways provided by the panelists at An Entrepreneurial Forum. The event was presented by Cedar Rapids Bank & Trust, and sponsored by CBS2/FOX 28, the John Pappajohn Entreprenurial Center and Kirkwood Training & Outreach Services.
What's the biggest mistake, or opportunity, that you made in your business?
Fred Timko, Down to Earth Development
"I was really close to trying to buy an existing construction company … To do that probably would have been OK, but I probably would have started out $1 million in the hole … [Instead, I said] I'm going out and starting my own company, and I think that was for me the better choice, because the fact is it's only as good as the next deal."
Cheri Hochstetler, Dwell Home Furnishings & Interior Design
"Probably our biggest mistake was hiring somebody or partnering with somebody who was not the right choice, so be very careful to choose people who share your passions and share your interests, because you're going to develop the business with them."
Stephanie Nesseth, Absolutely Clean
"My job is marketing and community involvement and mentoring these women … It's about business ultimately, but when people are your product, your emotions sometimes get in the way and will complicate that."
As an entrepreneur, work is life. What do you do to achieve work-life balance?
Stephanie Nesseth, Absolutely Clean
"I make sure to give myself at least one trip for a week every single year where I can completely disconnect. … I go scuba diving. Nobody talks in your head when you're underneath the ocean."
Kevonte' Martin-Manley, TwoStar Clothing
"Once I disconnect from that and put away those devices, I'm pretty much back to being myself and [with] my true interests and what I'd like to be."
Mike Johnson, Timberland Manufacturing
"Just learn when to say 'no.' You can't say 'yes' to everything. … You only have time for so much. So if your family is a big part of that … you just have to work around that."
Are there competitive advantages for your business being in Iowa?
Pankaj Monga, Channel Fusion
"Iowa is in fact a place where you find people who don't look at it as a job, but as something they've always been invested in."
What advice would you give a student about to graduate who wants to be an entrepreneur?
Fred Timko, Down to Earth Development
"For those of you that do start a business, you're going to make some real money, but always reinvest it and get it back into something else and build equity, because … you'll soon find that you are far better off than you were when you were making that big salary."

Kevonte' Martin-Manley, TwoStar Clothing
"There's going to be a lot of emotions, and a lot of ups and downs, and a lot of nights of being really, really frustrated. … Keep persevering and stay focused, and keep going. Keep going. Keep going."
How do you define success?
Pankaj Monga, Channel Fusion
"Success to me is making a difference in our employees lives. … I've done orientations for every singe employee from day one to now, and I thank them for making the choice that they did, because they could have gone in a different direction and taken a different job. For me, it's important that if they're committing to us … I want to make sure that this is something that is fulfilling to them."
Fred Timko, Down to Earth Development
"I would say, in the construction business, make a sale, make some money, but most importantly, make a friend. If you can do business with somebody and at the end of the process, they're your friend, I think you have success at that point in time."