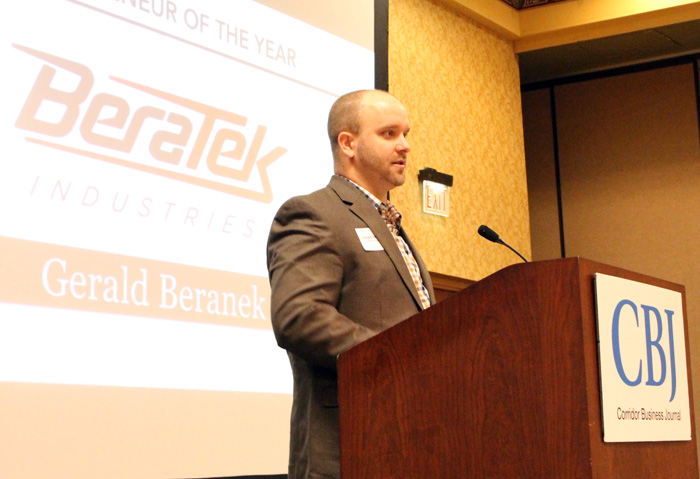 Gerald Beranek, of BeraTek Industries, accepting the 2016 Entrepreneur of the Year award from the CBJ.  PHOTO CHASE CASTLE
By Adam Moore
adam@corridorbusiness.com
Gerald Beranek, founder and CEO of BeraTek Industries, was named the CBJ's Entrepreneur of the Year for both growing his own business and helping other entrepreneurs bring their products to market.
Located in Cedar Rapids' New Bohemia district, BeraTek offers product design, tool design, molded part manufacturing and fulfillment services. The company has launched several of its own products, including the Hold & Go Slow Cooker and the Café Wall Caddy, many of which can now be found at Bed, Bath & Beyond, Target, Walmart and Home Depot. The firm has also helped Corridor entrepreneurs design and launch products, including the Repour wine stopper, introduced by Cedar Rapids entrepreneur Tom Lutz earlier this fall.
"My first plan when I opened the doors of BeraTek was to manufacture and sell my own products. However, when talking to other local entrepreneurs I quickly recognized there is a great need for our services," Mr. Beranek said in a release for Repour. "Our focus is on reducing the time needed to get products to market and at a lower cost than outsourcing overseas."
Mr. Beranek grew up in Anamosa and graduated from the University of Iowa in 2010 with a bachelor's degree in mechanical engineering, with a focus on product design. He worked at CIVCO, a Coralville-based producer of medical devices, and Schneider Electric in Cedar Rapids before starting BeraTek in 2014.
During his last two years at CIVCO, Mr. Beranek bought his own 3-D printer and installed a CNC milling machine in his garage in North Liberty, so that he could start designing products for himself and other people.
"I kept reading books and reading articles, and over the years, I realized I could do this," Mr. Beranek told the CBJ in 2015.
The company has grown rapidly in the two years since its launch, driven by increased demand for domestic contract manufacturing. BeraTek now counts 10 employees, and has gained a reputation for its rapid prototyping and production of injection-molded products. The firm recently brought a product concept to production in two weeks, and had it selling well on Amazon.com in three.
"Most of the time it's a patented product they don't even want to send over there [to Asia], because they know it will be ripped off," Mr. Beranek said of his appeal to clients. "They don't have to be the product manufacturer anymore."
During his brief remarks, Mr. Beranek spoke of the importance of learning from and leaning on those who have done it before.
"We kind of just snuck in and just got to work, but finding the right mentors is something you should all look to do," he said. "I asked some of the people I see out here in the audience for advice and help. Keep trying, and ask a lot of questions."
Mr. Beranek is the eighth winner of the annual entrepreneur award. Past winners have included Joe Ahmann, of Ahmann Companies; Steve Shriver, of EcoLips; Dawn Ainger, of Genova Technologies; Bruce Lehrman, of Involta; and Tim Guenther, of Clickstop.
Dave DeWitte contributed to this report.