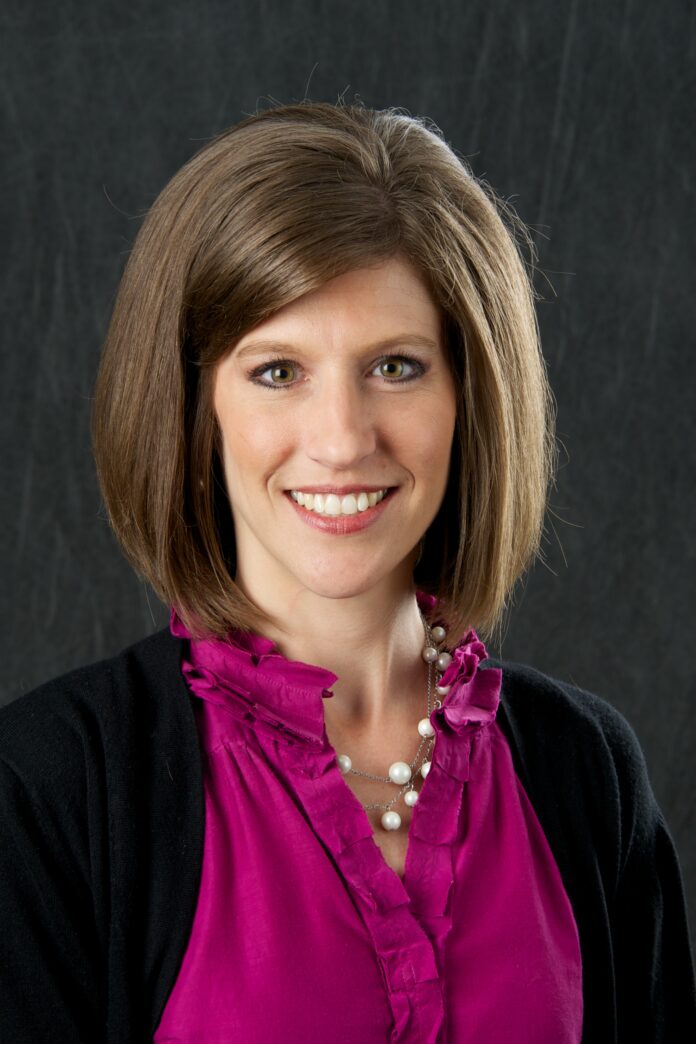 Nurse Manager
University of Iowa Health Care
Age: 39
Ami Gaarde's career is a combination of business and nursing.
Ms. Gaarde is nurse manager of the Holden Comprehensive Cancer Center Clinic (HCCC) and the Center of Excellence in Image-Guided Radiation Therapy at the UIHC.
"Cancer nursing is the most rewarding career I ever imagined," she said.
"Everyday, I know my day, no matter how hard it would be, would never be nearly as bad as anyone I see that's a cancer patient," she said.
Her honors include: finalist for the 2011 Iowa Partners in Efficiency Award; the 100 Great Iowa Nurse Award in 2008; and Improving Our Workplace Award in 2006.
Ms. Gaarde grew up in Clinton and now resides in Iowa City with her husband, Scott, and their three daughters. She received a bachelor's of science in nursing from Alverno College in Milwaukee, Wis. She is enrolled in the University of Iowa MBA program.
She led the design, development and move to the 64,000-square-foot the Holden Comprehensive Cancer Center Clinic in 2011.
"As a truly exceptional role model and positive change agent, Ms. Gaarde advocates for the 'best possible care' for oncology patients/families and for the nursing staff by her dedication to improving patient care, safety and service," wrote Ken Kates, CEO of the University of Iowa Hospitals and Clinics and associate vice president of University of Iowa Health Care, in his nomination of Ms. Gaarde.
"My grandmother was a nurse," she said. "She was very proud of that."
"I watched my grandparents all become ill. I would visit them and I thought I could take care of people the way I would want my grandparents to be taken care of," Ms. Gaarde said.
She is a member of the Oncology Nursing Society and the Eastern Iowa Oncology Nursing Society, and is a registered oncology nurse.
"There's a lot of cancer, we're constantly reminded that cancer is always around," she said. "I have the ability as a nurse to make the experience somewhat positive."
Before becoming nurse manager, Ms. Gaarde served as assistant nurse manager of the UIHC Chemotherapy Suite from 2006-2009. She has worked in various positions at UIHC since 1997.
Cancer nursing isn't easy, she said, and it can be a humbling yet rewarding experience.
"It definitely gets tough. We as a staff really rely on each other," Ms. Gaarde said.
"It's an honor to take care of somebody, and I learn so much from them every day," she said. "A lot of tears are shed, but there's also a lot of laughter."
Her family owns Rastrelli's, an Italian restaurant in Clinton. Ms. Gaarde's grandfather opened the business about 80 years ago. She grew up working in the restaurant and said that experience has taught her lessons that have helped in her nursing and management career.
She learned that hard work does pay off and that customer (or patient) satisfaction is important. She can relate nursing and restaurant management through basic business areas like efficiency, time management and budgeting.
"I don't have a definite point that I want to reach other than I know that my career is not stagnant. I feel like I'm on a path upward," she said.
She is a speaker for the chemotherapy class that is presented at UIHC quarterly and participates in planning the Scofield Annual Oncology conference.
"I don't want to stop learning. I'm an overachiever. The ultimate goal would be to build a hospice house in Iowa City," she said.
Iowa City doesn't have a standalone hospice house, and Ms. Gaarde would like to eventually change that.
"It's intriguing, it's challenging and exciting all at the same time," she said.
-Pat Shaver