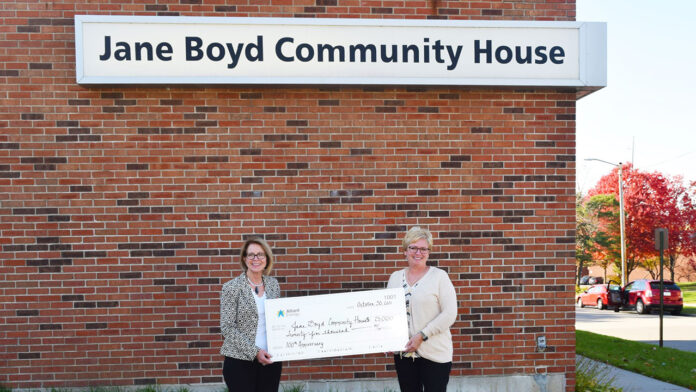 Jane Boyd Community House is nearly two-thirds of the way to reaching its fundraising goal of $100,000 for its 100th anniversary, thanks to a $25,000 donation from Alliant Energy, a long-time partner and supporter of the community organization.
Established in 1921, Jane Boyd Community House officially celebrated its 100th anniversary on Oct. 30 and has been working throughout the year to raise $100,000 for its 100th anniversary campaign.
"For 100 years, Jane Boyd Community House has provided essential services to our community supporting the success of children and families," said Leah Rodenberg, senior community affairs program manager at Alliant Energy. "This campaign ensures those services continue for another 100 years."
Throughout the past 100 years, Jane Boyd Community House has offered many services to meet the needs of the Cedar Rapids community. Today, their programming includes the Achievement Academy, which provides summer and after-school programming to children living in the Cedar Rapids Community School District; PATHS, a 6-week career development and job skills training program for young adults; and Empower, a free social impact program funded by GoDaddy that focuses on developing and supporting small business owners and entrepreneurs in the Cedar Rapids area.
"We are so fortunate to have partners like Alliant who care deeply about the future of our community," Megan Isenberg, director of Jane Boyd Community House, said. "With the help of our supporters, I look forward to continuing our work of empowering children and families for many years to come."
Founded by Jane Boyd, a teacher and pioneer social worker, the organization's mission is to enhance the academic, emotional and social well-being of children and families in Cedar Rapids.