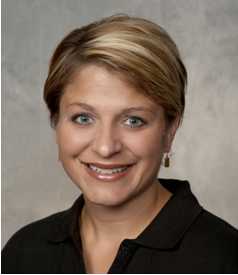 Alicia Murphy
Vice President of Organizational Effectiveness
Van Meter Industrial
Age: 37
Alicia Murphy is quick to tout the achievements of her company, Van Meter Industrial. The vice president for organizational effectiveness, however, is often slow to take credit for the advancements she has championed at the electrical distributor since she joined the company in September 2009. Her colleagues, on the other hand, believe that many of the team's successes are the result of Ms. Murphy's leadership, influence and dedication.
Ms. Murphy has spearheaded a new performance management process, an employee engagement strategy and also leads the company's transformative health, wellness and safety efforts.
"Her strongest leadership quality is her influence," Lura McBride, Ms. Murphy's supervisor at Van Meter Industrial, stated in her nomination of Ms. Murphy. "However, she has certainly shown her ability to dig in and roll up her sleeves when required."
For Ms. Murphy, who earned a master of arts degree from the University of St. Thomas in Minnesota and a bachelor of arts from the University of Northern Iowa, the culture of her workplace is paramount in her job satisfaction.
"Our company culture focuses on people and the development of our staff," she said, noting that Van Meter Industrial is the first Blue Zone Project certified work company at its facility in Sioux City.
Additionally, Ms. Murphy believes that employees' lives have been transformed by the company's health and wellness efforts, leading to significant weight loss and lifestyle changes.
"Even though I work for an electrical distributor, I feel like I make a greater difference in the community," she said. "I feel like I have a voice and impact in the company."
In the four years since Ms. Murphy relocated with her husband and two children to Cedar Rapids from Minnesota, she has also become involved in the community. She serves as a member of Four Oaks' board of directors, the Pierce Elementary Parent Teacher Association and was a member of the Class of 2012 Leadership for Five Seasons. Her first impressions of Cedar Rapids spurred her volunteerism.
"I was so moved by how everyone welcomed me with open arms," Ms. Murphy said. "I got the distinct impression that 'we are investing in you so you can invest in others.' I know it's important to give back to make sure our community is thriving."
-Molly Altorfer