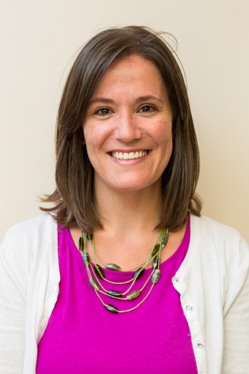 Amber Mussman
Community Relations Manager
Cedar Rapids Public Library
Age: 35
When Amber Mussman joined the Cedar Rapids Public Library staff in 2009, she had an important mission, to help spread the word of the new state-of-the-art facility replacing the building that was destroyed in the 2008 flood.
"As public information officer, Amber has excelled at bringing the value of the library to life throughout the community and beyond during this pivotal time as the library builds back stronger," Katie Giorgio, coordinator of Nonprofit Network of the Greater Cedar Rapids Community Foundation, stated in her nomination of Ms. Mussman.
In 2012, the library received a John Cotton Dana Library Public Relations Award for the rebranding campaign spearheaded by Ms. Mussman in 2011. The rebranding campaign included the launch of a new logo and website that was promoted on billboards, social media, at farmers' markets and a signature event. It resulted in a 36 percent increase in library cards issued, a 54 percent increase in program participation and a 44 increase in unique website visitors.
Then, this August, the new 94,000-square-foot library opened to much fanfare.
"The new library was incredible to be a part of," Ms. Mussman said. "The public's reception was incredible; it is so much more than they expected."
Along with 225,000 books, the library is stocked with movies, music and technology.
"The space is so bright and full of vibrancy," she said. "It's an exciting place to be."
Working at a library is a dream job for Ms. Mussman, who has also worked Henry Russell Bruce in Cedar Rapids and The Iowa Children's Museum in Coralville.
"I love books; it's a perfect fit," she said, adding her son has teased her by saying her work "doesn't sound like a real job."
She is a member of the Advertising Federation of Cedar Rapids/Iowa City, the ImpactCR board (leadership and service chair) and the Iowa Cultural Corridor Alliance Board.
"I love it," she said. "Cedar Rapids has a small-town feel. There are lots of opportunities to get involved."
Ms. Mussman earned a bachelor of arts in English with a minor in American politics from Cornell College. She lives in Cedar Rapids with her son, Presley, a fifth-grader.
-Angela Holmes