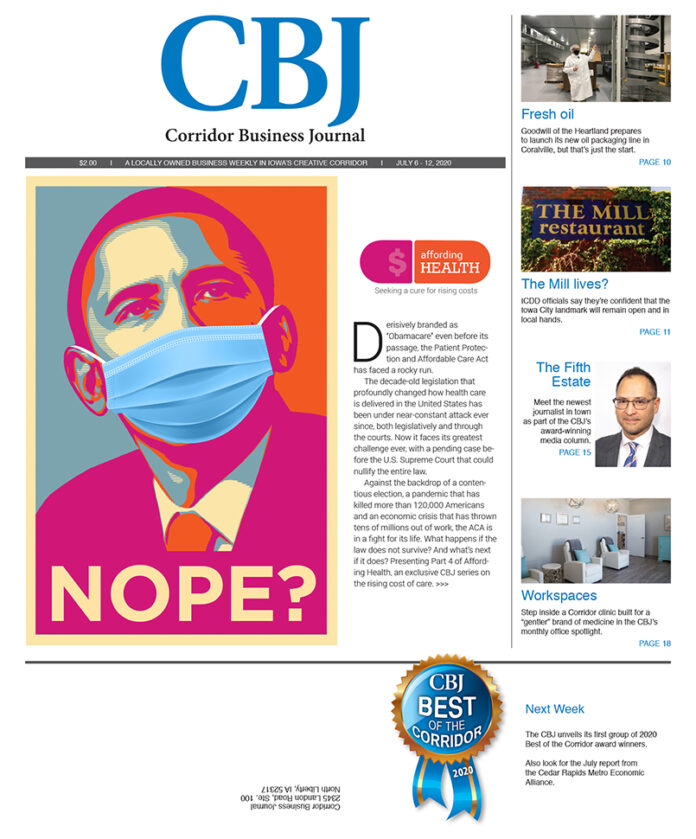 This six-part, subscribers-only series is exploring the crisis of health care affordability as it relates to employers and employees in the Corridor. This week's edition focuses on the future of the Affordable Care Act; future installments will explore corporate strategies that have (and haven't) worked for cost containment. Read the first two installments at corridorbusiness.com, and share your perspectives with the CBJ's news team on our Facebook and Twitter pages, #CBJhealth 
By Katharine Carlon
katharine@corridorbusiness.com

The Affordable Care Act has faced constant attack and had its underpinnings chipped away at legislatively since its passage a decade ago. Now, it faces a looming, existential threat from the U.S. Supreme Court, which could nullify it in its entirety just as Iowa and the nation struggle to recover from the COVID-19 pandemic.
The law's latest challenge comes from a Texas-led lawsuit involving a coalition of 18 mostly red states that could end health care coverage for millions of Americans and wipe out a laundry list of protections, from barring insurers from excluding preexisting conditions and providing subsidies to make individual health insurance more affordable, to expanded eligibility for Medicaid and coverage of preventive care with no patient cost-sharing.
The case comes as the nation faces an unprecedented public health crisis that has thrown as many as 42 million Americans – including more than 160,000 Iowans – out of work and potentially off employer-sponsored health insurance, straining an already overstretched system. And it arrives amid the backdrop of a campaign season in which health care and the fate of the ACA are already playing a starring role.
For Debbie Koopman of Cedar Rapids, it's personal. Ms. Koopman, whose daughter, Kelsi Kramer, was born with heart, rib and vertebrae deformities, has no doubt the ACA saved her daughter once and could easily do so again. After enduring a heart operation with a projected 60% survival rate at just a year old, Ms. Kramer needed a second life-saving operation at age 25.
Ironically, the doctor for whom she worked as a medical assistant did not offer health care benefits, so Ms. Koopman enrolled her daughter on her own policy as provided by the ACA, which allows young adults up to age 26 to remain on their parents' insurance.
"This is what saved my family," said Ms. Koopman, who has become an advocate for the ACA in the two years since, adding that she is fighting to save and strengthen the law now that Ms. Kramer has aged out of remaining on her policy and found a new job with her own health benefits.
"Without the ACA, how could my daughter afford the catastrophic cost of surgery as a young adult?" Ms. Koopman asked. "Right now, 24,000 Iowans are able to remain on their parent's insurance … This is America – who doesn't want to protect their children?"
When the ACA was signed into law on March 23, 2010, its main objectives were to make affordable health insurance available to more people outside of employment, improve financial security in the face of illness and help "prevent financial misery, and ultimately set this country we love on a better, healthier course," in the words of former President Barack Obama.
It has since helped insure 20 million people, improved health across a range of measures and narrowed racial and gender gaps in coverage. It has also enjoyed increasing public support in recent years, consistently hitting above 50% approval in a Kaiser Family Foundation tracking survey. According to a new study from the University of Denver's Sturm College of Law, it has also at least partially achieved its goal of preventing some Americans from going bankrupt.
Still, the ACA remains a divisive and partisan issue, with even its most ardent supporters admitting it is flawed and in need of improvement. Many community-level health outcomes have not improved, marketplace plans are financially out of reach for a number of Iowans, and though national health care spending has been lower than expected, the legislation's cost containment record has been hit and miss.
Read the full, members-only feature in the July 6 print or digital editions of the CBJ. Not a member? Join today.