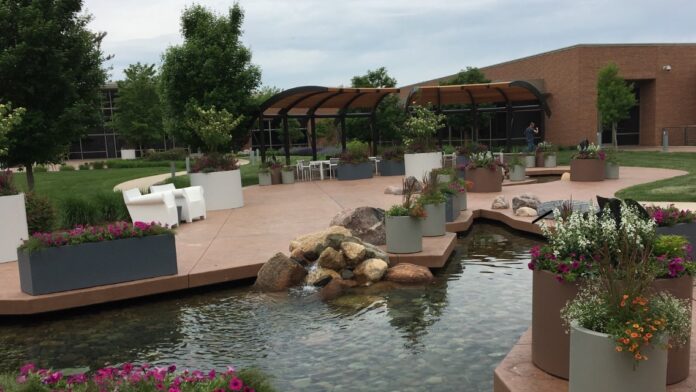 ACT has agreed to sell the Tyler Building on its main campus to the Iowa City Community School District (ICCSD) with both parties stating the agreement fulfills a long-term vision.
ICCSD will take occupancy of the building starting in July.
Purchase of the building aligns with the vision of ICCSD's Facilities Master Plan (FMP) 2.0 timeline, which was approved in April. The district wanted to acquire a multi-use facility, according to a press release.
"Acquisition of the Tyler Building will allow our district to expand services we currently provide such as the ICCSD Online program and professional learning for our staff," said ICCSD Superintendent Matt Degner in a statement. "Looking forward, this space will provide opportunities for the District to enhance student learning through expanded career and technical education and other career pathway programs."
ICCSD Online is a permanent, online-only school for students from kindergarten through high school. 
The ACT Board of Directors approved the sale June 7 and the ICCSD Board of Directors finalized the agreement one week later. Discussions surrounding the facility began in the spring.
Both ACT and ICCSD will work together to manage the transfer of property.
Selling the Tyler Building seems to indicate a shifting of priorities for ACT after COVID-19 changed work-from-home preferences among employees.
"After the pandemic, many of our team members opted to stay connected and work off-campus in remote or hybrid locations, so we determined that we could consolidate and make better use of the space on our campus," said ACT CEO Janet Godwin in a press release. 
"First, it makes sense from a space utilization perspective for ACT to consolidate because it has become clear that many of our team members plan to continue to stay connected and work off campus in remote or hybrid locations for the long term," said Jason Happel, vice president of corporate services at ACT. "Second, an early June sale afforded the ICCSD ample time to begin to prepare the building for the beginning of the upcoming academic year."
The Gazette reported the deal cost ICCSD $8.7 million and ACT is leaving behind $2 million in furniture.
ICCSD serves more than 14,000 students and is the fifth largest school district in Iowa.