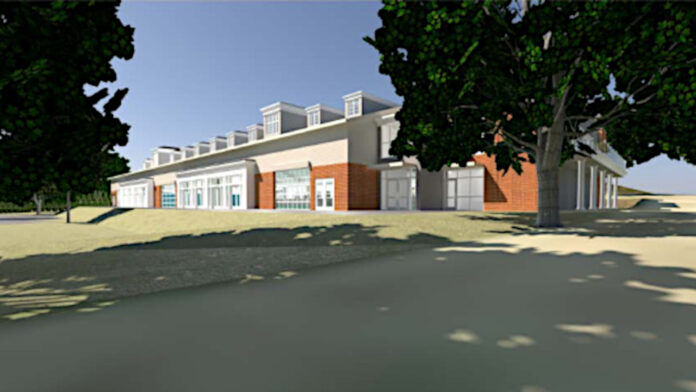 An indoor tennis facility will be constructed on the property owned by the Cedar Rapids Country Club following a successful second reading and waiver of a third reading during the latest Cedar Rapids City Council meeting. 
The council voted unanimously to approve the plan, with four council members recusing themselves due to potential conflicts of interest and legal concerns, in a vote that was identical to the rezoning proposal's first reading in May.
It paves the way for the construction of an indoor tennis facility and reconfiguration of parking areas and the club's driving range onto 185 acres along Fairway Terrace and Country Club Parkway SE, on property already owned by the club, and a separate proposal to vacate a portion of Fairway Terrace SE. Seven homes along Fairway Terrace would either be relocated or demolished to make room for the project.
The request was temporarily tabled after a mixed reception when it was first brought to the council's attention, but the council ultimately decided the updated proposal adequately addressed concerns surrounding the tennis facility's design. 67 parking spaces will be part of the country's club layout as opposed to 78.
Still, critics of the project voiced their objections to the Cedar Rapids Country Club proposal Tuesday.
"I've been really disappointed, as have my neighbors, in that the club has yet to submit any accurate architectural renderings of what the project will entail," said TL Thousand, a neighborhood resident, as she presented a homemade, 3D scaled model of the country club's proposal. "We've collected 117 signatures in opposition to this project. What we're looking at is the destruction of a neighborhood. There's nothing about this project that adds to our neighborhood. You're talking about small, single-family homes in a historic neighborhood that has been on the books since 1884." 
Workforce Housing Tax Credit applications approved
Three separate Workforce Housing Tax Credit applications, for Ginkgo Ridge, JPAC Investments and OFB LLC were approved by city council Tuesday. Details of each applications are below:
Ginkgo Ridge
A $6 million capital investment housing project at 2424 18th Street SW to build seven, four-unit row houses on 2.8 acres of land
JPAC Investments
A $958,950 housing project at 710 and 712 O Avenue NW to build a four-unit townhouse
OFB LLC
A $1.8 million capital investment housing redevelopment project at the southwest corner of 10th Avenue SE and 5th Street SE for the construction of one three-story, four-unit rowhouse and one three-story, four-unit rowhouse.
Three-story residential development green-lit
A resolution authorizing negotiations of a redevelopment agreement with 4th Avenue Properties LLC at the south half block of the property alongside 4th Avenue SW between 2nd Street and 3rd Street was also approved during the June 14 meeting.
Led by local developer Fred Timko, the redevelopment calls for a three-story, residential building with 20 units at market rate rental prices for a minimum investment of $6.7 million. The plan will relocate Kepros Physical Therapy from the People's Bank building, opening up the first floor for ImOn Communications.
"This block has really kind of languished for a long time," said Mr. Timko during open comment. "Nothing has really happened on this half block since the flood of 2008. We are undertaking this project to facilitate two of the finest companies in Kingston Village with expansion plans."
A full developer agreement will face the council again in July or August, according to City of Cedar Rapids Economic Development Manager Caleb Mason.