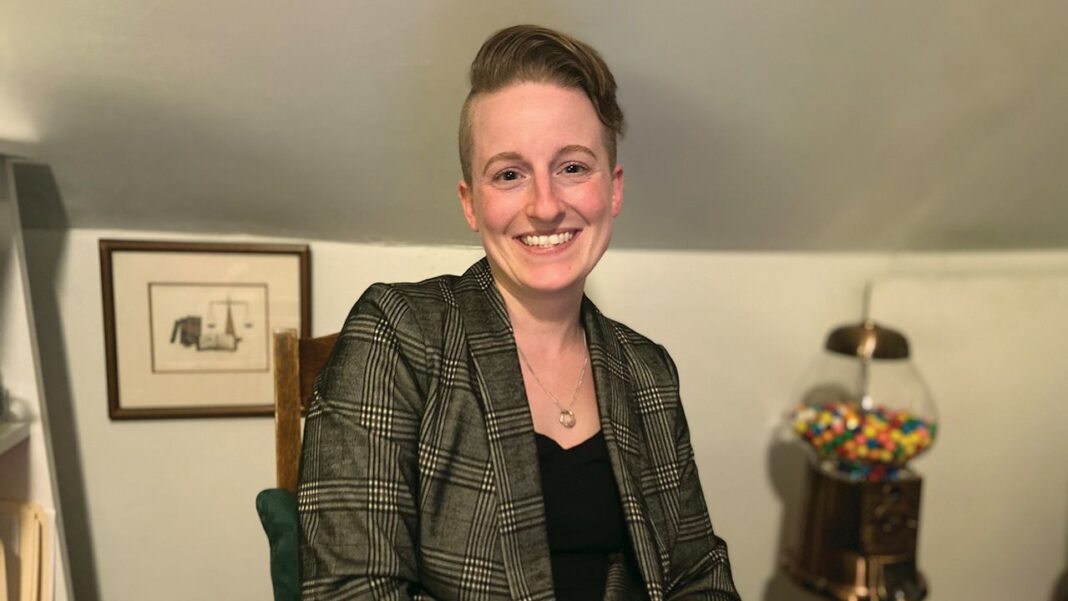 Members of the LGBTQ community routinely face many daunting legal challenges, from housing and workplace discrimination to marriage and family equality, health care access and financial issues.
Another critical issue, transgender students' participation in high school athletics, was spotlighted earlier this month, as Iowa Gov. Kim Reynolds signed a bill banning transgender women from competing in girls' sports.
Yet historically, there was no specific resource to help LGBTQ Corridor residents address any of their specific legal concerns.
Enter the Lavender Legal Center.
Executive Director Kendra Weston, who previously worked with the Kids First Law Center,  said she founded Lavender Legal as a nonprofit agency in October 2020 after seeing the difference similar organizations made in other states.
"Iowa actually has quite a few organizations that are focused on LGBTQ issues," Ms. Weston said. "But there wasn't anything devoted to providing direct legal services to people in the LGBTQ community. A couple years prior to 2020, I'd already been thinking about how we could bring this to Iowa. Then 2020 hit, and I think we all can agree that it was a really crummy year. So I talked with my wife, and I said, 'I feel like now's the time to do this. We need some hope. We need some light in our community.' And so we said, let's go big or go home. There's no better time to start something like this."
Even as Lavender Legal began providing services in February 2021, Ms. Weston said she learned more about the obstacles the LGBTQ community was confronting.
"I found that not only was there no specialized legal assistance for our community, but LGBTQ individuals were not even seeking legal services because they were so afraid of what stigma they might encounter," she said. "We just needed a safe place for LGBTQ people to go for their legal questions."
The center's name aligns closely with its core mission, as well as a variety of historic elements, Ms. Weston said.
"I love our prideful name," she said. "Lavender is very central to LGBTQ history. There was a Greek poet (Sappho) whose writings often describe violet and her love of women. You can look at the 'Lavender Scare' in the 1950s when there was a federal policy that purged LGBTQ people from the federal government out of fear that they were a national security threat. During the Stonewall riots, lesbians had also been dubbed the 'Lavender Menace,' and a lot of activists were reclaiming that word and making it a positive part of our history. So I like to think of lavender as our past, our present and our future. It's a symbol that's incredibly important to our community."
While Lavender Legal's services run the legal gamut, a few key issues arise frequently, Ms. Weston said. Among them:
Family recognition, including marriage, adoptions and guardianship. "A lot of people think that when marriage equality came to be, parental rights came along with that, and that's just not the case," Ms. Weston said. "We do a lot of confirmatory adoptions, meaning that both parents might be on the birth certificate, but one of them isn't biologically related to them. We want to get a confirmatory adoption for them. In Iowa, they actually call it step-parent adoptions. I don't really like using that term because you're not a step-parent; you're the child's parent."

Name and gender marker changes.

Wills, living wills and advanced directives, including durable power of attorney. "A lot of LGBTQ people who want to pass on their assets might not necessarily (choose) their biological family," Ms. Weston said. "It might be their chosen family or a friend because they don't have a relationship with their parents anymore."

Health care, including medical necessity denials or exclusions for insurance claims on procedures ranging from gender reassignment or facial hair removal to heart surgery.
The vast majority of Lavender Legal's services are provided virtually. The center serves clients statewide but tends to focus on Eastern Iowa due to the center's Cedar Rapids location.
Grants and donations substantially support Lavender Legal, so services are provided regardless of a client's ability to pay, Ms. Weston said.
"The reality is that a lot of (our clients) wouldn't even look for these services if there was going to be a fee, because they can't afford it," she said. "LGBTQ people are disproportionately affected by poverty, and our goal is to address the root causes of those issues. We wouldn't be able to do that if we (charged) the market rate. We have a sliding fee scale, but the majority of our clients don't have a fee, and even those that do have a greatly reduced fee so that we can continue to make sure we're accessible to the community."
The center also has an extensive referral network for issues outside its scope or capacity.
"I like to think that we take a very holistic approach," she said. "I might help clients find some safe housing. Maybe they need some financial assistance. I help school counselors; since we had kids that were doing online schooling for a year, we want to make sure they're returning to class safely and in a supportive environment. In those situations where we either don't have the capacity or a particular service in our wheelhouse, we help people find those resources."
Lavender Legal is advised by a six-member board of directors, most of whom identify as members of the LGBTQ community or have knowledge of LGBTQ issues.
"I think it provides a difference," Ms. Weston said. "My clients know that I have a wife, that I go by them and they pronouns, and I think that provides an automatic safe space because they know that I identify with them, that we're a part of the same community. We also utilize law students a lot, and when I'm reviewing applications for internships, we do say that we would have a preference for someone who either identifies or has experience with the LGBTQ community because it's important that you understand all of those nuances that are still affecting LGBTQ people negatively, especially in the legal arena. We continue to make strides, and we're moving in a good direction, but in some ways, we went backwards. There's been a lot of attacks, especially on our youth, which is why we have such priority for serving LGBTQ youth."
Currently, Ms. Weston is Lavender Legal's sole full-time employee but is open to expansion if resources are available. In the meantime, she said she relishes her ability to make a difference in the lives of Lavender Legal's clients.
"I never thought that I would feel so excited to start working at 4:30 in the morning, but I just love it," she said. "I might have done three or four name and gender marker changes in the last month, but they're all very different, and I absolutely love the challenge. Our clients are phenomenal people who deserve this access to what I consider is a basic human right, so I feel a lot of pride and joy in being able to do my dream job."