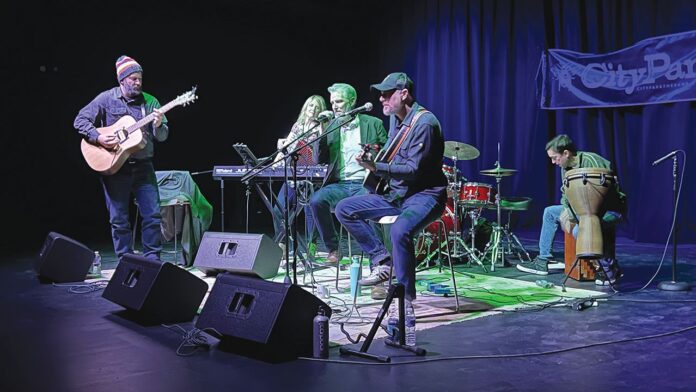 The former home of Riverside Theatre on 213 N. Gilbert St. in Iowa City has both a new name and new owners.
Now called James Theater, named after owner Leslie Nolte's father, the venue intends on being a space where local artists can build an audience.
"We designed this space with the artists in mind," said Ms. Nolte, a co-founder with her husband, Mark. 
Ms. Nolte is entrenched in the Corridor's performing arts scene as a performer herself. In 2000, she founded the Nolte Academy, a dance school for young performers. Just four years later, she became the artistic director for Affect Dance company, where top-performing Nolte Academy performers compete in national competitions.
Open Doors Dance Festival, founded more than a decade ago, is a summer dance festival credited with training and developing young performers for prestigious dance academies across the country. She also sits on the Englert Theatre board of directors. 
"I've been in this world for the last 25 years in Iowa City," she said. "With collaborators for the last two decades, as well as doing this on my own, I knew that we needed a space in this town with this amount of seats that is affordable for the artists."
"Other organizations, for a long time in this area, have said there aren't enough places to perform or to help build an audience, whether it's a new show someone might want to create or a new band that's up-and-coming," she added. "So, this is certainly a space that needs to be filled." 
The theater's grand opening was in February, and they're already receiving interest from a wide range of potential renters. She said that the space is equipped to handle dance concerts, burlesque groups, local bands, slam poets, and art competitions. 
The Willow Creek Theatre Company has already put on several comedy open mic nights, while the University of Iowa College of Engineering has expressed interest in holding a final project presentation at James Theater.
The venue will host the Curtis Taylor quartet, an award-winning trumpeter, in June. More events are expected to be announced on their website.
While James Theater is up and running and can hold up to 220 attendees depending on seat configurations, there is still some artwork and furniture that needs to come in to complete the space, as well as put the "finishing touches" on a custom-made bar.
"We did have to cancel some of our initial renters because we weren't open when we thought we were going to be open," said Ms. Nolte. "We've been rolling with the punches and moving along the finish line as well as we can."
Those delays were caused, in part, by COVID-19 related disruptions to the supply chain, as well as forcing the James Theater team to go over budget on construction costs. Other times, cost estimates were simply too low.
"We stuck to it and went over in spaces that we needed to," she said, referring to their initial budget. "We had traditional startup expenses like renovation costs, building a website, marketing, and then we had hiccups along the way."
She also sees James Theater as more than an event rental space for local artists.
"We're excited to become a pitstop for artists that are traveling through the area," she said.