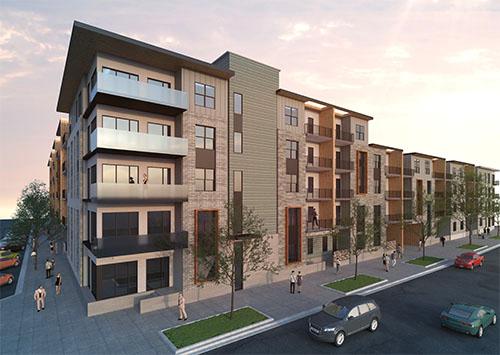 A rendering of the proposed "Banjo block" project in downtown Cedar Rapids. CREDIT City of CR
By CBJ News Staff
news@corridorbusiness.com
A project that would invest $51 million to redevelop a largely vacant downtown block east of the Cedar Rapids Public Library into a 200,000-square-foot building with at least 244 apartments was approved for city incentives Tuesday.
The city council approved a term sheet with TWG Development of Indianapolis for a redevelopment of the "Banjo block" that was formerly home to Banjo Refrigeration and the Alliant Credit Union, and then Dupaco Credit Union.
Under the agreement, TWG will receive tax increment financing rebates up to $6.2 million under a new economic development program to support projects that would ordinarily qualify for city incentives under existing programs, but need more financial support to fill a verified funding gap.
In addition to the apartments, the five-level building would have 147 covered parking spaces and owners would be required to lease 150 parking spaces from Park Cedar Rapids. It would have one small commercial space facing Green Square, and 9,179 square feet of amenity space including a pool, grilling area and dog wash room.
The project received praise for its visual design and utilization of a site long needing redevelopment. A project by Indianapolis developer S.C. Bodner for the site was dropped last year after running into difficulty securing financing, although that project had fewer and more upscale units.
The council appeared to dismiss concerns raised by at-large member Patrick Loeffler, who questioned TWG's record of contracting and labor practices, and asked for assurances that the project would be "legitimately" built. Other council members said TWG had a track record of completing good projects in the metro area. TWG officials did not speak at the virtual meeting.
The city's project term sheet would allow the city to lessen its incentives if the project receives state Workforce Housing Tax Credits. The TIF payments could extend for up to 16 years. CBJ