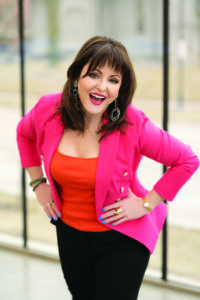 Sandy Steil's vocation and avocation have led her down markedly different paths in recent years.
A graduate of the 3D design program at the University of Iowa, Ms. Steil has worked in the land planning and business development fields for several years, including her current stint as director of business development in the Iowa City offices of Bishop Engineering, a civil engineering firm.
But she'll readily admit that her true passion, and most substantial community impact, lies in the Confidence Courses for women she's created and produced in recent years. And truth be told, she said she hopes that venture can evolve to a new career path.
"I really feel passionate about the Confidence Courses," Ms. Steil said. "And seeing the demand there, I think I would like this to become a full-time school someday."
The Confidence Courses, designed to teach women basic home improvement and construction skills, evolved from Ms. Steil's own experiences, from four years of active duty in the Air Force, which inspired confidence, to challenges with completing her college degree, which dealt a blow to that same confidence.
Throughout, she said she was often told that she was inadequate or incapable of learning hands-on techniques. And that's how she was inspired to create the Confidence Courses for women.
"When I started this idea, I didn't realize I was going to learn about shame, the feeling that I'm not worthy," she said, recounting an encounter with her father, who upon learning she didn't know how to fix her stairs, encouraged her to redouble her efforts to find a husband.
"Women are riddled with that voice in their head that tells them, 'you can't do it, you're not good enough," she said. "I'm looking at this as women getting the opportunity to learn an absolutely essential skill to humanity. If the internet went down tomorrow and there was no electricity, what would you do? Do you have enough confidence and self-reliance that you could take care of yourself? We're missing that skill, thinking that skill is only for men. So I thought, let's test that. Is that absolutely true, or is that just the voice in your head?"
The first Confidence Course was held in January 2020, teaching participants home improvement skills in areas such as plumbing, carpentry and electrical work. Demand for the courses has soared since then, leading to a second home improvement course in early 2022, and, last fall, a woodworking course at the former Dick Schwab farm in Johnson County, developing partnerships with Johnson County Conservation and Kirkwood Community College along the way.
The Confidence Course program has now achieved formal 501(c) status through the Iowa City Area Home Builders' Vocational Training Program. More Confidence Course sessions are already in the pipeline, and Ms. Steil readily admits she's learned right along with course participants.
"The bonds made in the confidence course between the women have had long-lasting effects and continue to be a support group for all involved," wrote Bridget Toomey, assistant director of the Department of Obstetrics and Gynecology at University of Iowa Health Care, in nominating Ms. Steil as a Woman of Influence. "She has helped inspire and give confidence to women, some of whom had never even held a screwdriver before, to take control of their own homes, and in many ways, their own lives. Sandy continues to build women up within the community with her work."
"I am passionate about woodworking, and I am also a woman who has experienced being talked down to, or talked over when I've been in hardware stores looking for the materials I need," wrote Frances Owen, an interpretive naturalist with the Johnson County Conservation Board. "It is those attitudes and more that can make those spaces intimidating for women. Sandy Steil wants to empower women and give them confidence to be in those spaces. She is a person who leads by doing, and she will continue to inspire more women."
Ms. Steil said she feels being named a Woman of Influence, as with other awards she's received through her career, is essentially a means to a larger end for the program she's created.
"There's something about my drive and passion that infects people," she said, "It's a way to draw attention to the Confidence Courses, so women realize that this is out there for them. And if I can create that kind of influence and get that conversation started, that's a good thing." 
---
This profile was originally published in the CBJ's 2023 Women of Influence publication. The 2023 Women of Influence are an inspiring group of community leaders who have each overcome adversity, taken chances and challenged themselves to make a positive impact in their community, despite demanding schedules in their personal and professional lives.
The CBJ will host the 2023 Women of Influence banquet from 5-8:30 p.m. Thursday, May 4, at the Hotel at Kirkwood in Cedar Rapids. Tickets are still available to this event, which includes networking, dinner and remarks from the winners. To learn more and purchase tickets, visit https://corridorbusiness.com/event/women-of-influence/