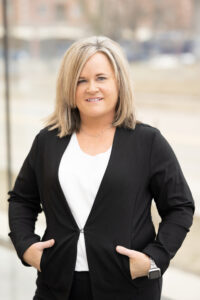 Amy Schulte chooses to give back to the community where she grew up — at the YMCA where she learned how to swim — as CEO of the YMCA of Washington County, where she has overseen two capital campaigns for projects totaling $18 million.
Much of the $18 million figure was raised through capital campaigns, an unusually large dollar amount for what she calls a "big, small town" of approximately 7,500 people.
"It's incredible to accomplish that and it's because the community has great support for the Y, for the programs," she explained. "We have legacy donors who have been members for 50 years."
The center unveiled its new YMCA in June 2020, after conducting its first feasibility study in 2013 and breaking ground in late 2018.
Now she hopes the next generation's children will learn how to swim at the new aquatic center, just as she had at the previous facility, in addition to serving people of all ages.
The $8.7 million aquatic center will have a six-lane competition pool, smaller family recreation pool, whirlpool, saunas and expanded locker rooms.
"We take for granted that we've had this pool in Washington for 99 years," she said. "And the same pool has served, you know, almost 100 years worth of kids learning. It just means so much to me to know that I get to be a part of helping bring a new pool that will serve the community into the future."
Significant funding support for the two projects came from the Washington County Riverboat Foundation, the philanthropic arm of the Riverside Casino and Golf Resort.
Getting the two projects over the finish line was no small task for Ms. Schulte, who joined the YMCA as chief financial officer in 2013 and CEO in 2017. Before that, she worked in public accounting for 15 years.
Since 2018, Y investment funds have grown 13%, membership numbers increased 56% and she authorized a 20% growth in employment.
"Over the past five to six years, Amy has taken our local YMCA from a financially struggling organization to a YMCA with multiple branch locations and financially thriving nonprofit operation," said Luke Horak, a nine-year YMCA board member, former YMCA president and principal of Horak Insurance.
The Wellman Parkside YMCA opened in 2010 and the Kalona YMCA Rec Center opened five years ago. The YMCA of Washington County manages the programs for each branch location.
"That was huge for our organization to be able to reach out to another part of the community," Ms. Schulte said. "That has really been a big boost to our membership."
But her favorite part of her job, in addition to working with a wide variety of people each day, is helping families with limited financial means appreciate and take advantage of everything the Y offers – and more.
"When I first became the CFO, one of my jobs was to review scholarship applications for families in need that couldn't afford the benefits of a YMCA membership, but it would really do them a lot of service to have," she said. The Y runs coat drives, offers scholarships and discounted memberships.
Other times she has faced tough decisions — like choosing to follow through with capital campaigns or eliminating underutilized programs — that were necessary to put the Y on a more secure financial footing, she explained.
"Our world changes so quickly that if we're not looking at programs and services and asking ourselves 'is this still creating a good service to the community?' then more than likely we're leaving something out or leaving someone behind," she said.
Always active in her community, Ms. Schulte is a member of the Rotary Club of Washington, Washington Optimist Club, and she volunteers at local events like Impact Life Blood Drive and Saturday Kitchen. 
The YMCA also works with local schools and municipalities to help manage programs and services.
"Through my role on the YMCA board and as Kalona's city administrator, I've had the opportunity to work closely with Amy," said Ryan Schlabaugh, Kalona city administrator and YMCA board member. "I am continually impressed and in awe of Amy's work ethic, quality of work and ability to bring groups together for the betterment of our communities."
---
This profile was originally published in the CBJ's 2023 Women of Influence publication. The 2023 Women of Influence are an inspiring group of community leaders who have each overcome adversity, taken chances and challenged themselves to make a positive impact in their community, despite demanding schedules in their personal and professional lives.
The CBJ will host the 2023 Women of Influence banquet from 5-8:30 p.m. Thursday, May 4, at the Hotel at Kirkwood in Cedar Rapids. Tickets are still available to this event, which includes networking, dinner and remarks from the winners. To learn more and purchase tickets, visit https://corridorbusiness.com/event/women-of-influence/