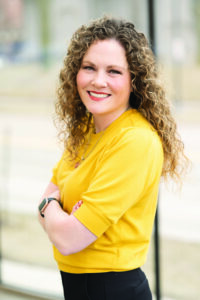 You might find something surprising about Jill Wilkins, the busy chief operating officer for the Cedar Rapids-based nonprofit New Bohemian Innovation Collaborative, Inc. (NewBoCo) and active community volunteer: she's quite shy.
Her desire to be open, friendly and kind to people drives her willingness to work on that shyness. She's figured out how to overcome being the person in the background making things happen. 
She said she has learned to make decisions by looking back on previous opportunities for what has sparked joy and allowed her to have the most impact. Still, she's more likely to say "yes" than "no" to an opportunity. That means she has served on numerous committees and boards, including The History Center and NewBo City Market. Her passions include dance and theater.
"I love that variety, that ability to be a part of different things allows me to use different aspects of my brain. I really love, from my event planning days, the logistics. I love making the well-oiled machine work," Ms. Wilkins said. 
The NewBoCo team has doubled since Ms. Wilkins started there in 2016 as events director. 
"Building an organization that can grow and thrive once it hits its stride is a different skill set entirely. Jill is the linchpin in making that happen for NewBoCo," wrote Eric Engelmann, board chair of NewBoCo. "She came to our organization with many of these skills, but I've also watched her grow into it, too, becoming a stronger, more confident leader."
Ms. Wilkins said learning to lead and build a team has been mostly trial and error. She feels fortunate that early in her career, while working on the Cedar Rapids Downtown District's small team, she learned to take on additional roles, whether she had relevant experience or not. 
"I was also fortunate in that experience to work with a really amazing group of volunteers," she said. "That group of people really gave me the opportunity to learn to lead, but also just showed me through their leadership how a volunteer or a group of people can have a big impact and work together."
Working to support entrepreneurs through NewBoCo meant learning lingo that was different from a traditional business atmosphere. Entrepreneurs move quickly and pivot often. She finds working with them exciting and challenging. 
"That fast pace and openness and willingness to really change a lot is definitely something you need for that environment," she said. 
NewBoCo doesn't "tick the same way" without Ms. Wilkins, wrote Doug Neumann, executive director of the Cedar Rapids Metro Economic Alliance, in his letter of support for her nomination. He worked with Ms. Wilkins when she was with the Cedar Rapids Downtown District and the Cedar Rapids Metro Economic Alliance. He credits her for making the Downtown Farmers Market "one of the largest outdoor festivals of its kind in the Midwest" and for playing a critical role during flood recovery for downtown Cedar Rapids. 
Ms. Wilkins grew up in Waverly and graduated from Wartburg College with a bachelor's in communications, a public relations major, and a theater minor. She now lives in Lisbon with her husband Thad, their seventh-grade son Hagen and a Schnauzer named Archie. 
Ms. Wilkins' current pet project is choreographing the Mount Vernon High School musical. This year she and a student choreographed "Beauty and the Beast."
"I have a student choreographer I've been working with, and we've been creating and choreographing together. That's been a really fun experience and a new experience," Ms. Wilkins said. "So that's been a very exciting way to end the day."
---
This profile was originally published in the CBJ's 2023 Women of Influence publication. The 2023 Women of Influence are an inspiring group of community leaders who have each overcome adversity, taken chances and challenged themselves to make a positive impact in their community, despite demanding schedules in their personal and professional lives.
The CBJ will host the 2023 Women of Influence banquet from 5-8:30 p.m. Thursday, May 4, at the Hotel at Kirkwood in Cedar Rapids. Tickets are still available to this event, which includes networking, dinner and remarks from the winners. To learn more and purchase tickets, visit https://corridorbusiness.com/event/women-of-influence/