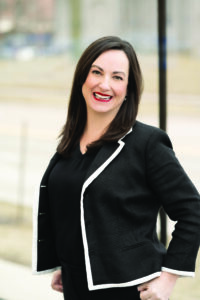 Brianna Wills was involved in the Iowa City community before she officially moved to the city. 
Ms. Wills contacted her potential neighbor at the time Cindy Meis, director of Tippie Undergraduate Career Services, via Facebook to connect and talk about life in the college town.
"Brianna lives two houses over and she originally reached out because she was coming from out of state and wanted to get a feel for the Iowa City schools, the neighborhood, things related to their move," Ms. Meis said. "We had a sort of virtual interaction before she moved here. She wanted to get involved early."
Since Ms. Wills' move from Pennsylvania to Iowa more than a decade ago, she's been working to improve her community through work and volunteer positions.
"I really enjoyed being a liaison between one group and another," she said. "One of my fundamental beliefs in life is the importance of connections. Everything in fundraising and communications and community is about relationships. Networking is critical in work and in service."
Starting in 2016, Ms. Wills has worked for multiple major nonprofit organizations in the area. She has held three executive positions, directing Old Brick, the Iowa City Veterans Affairs Medical Research Foundation, and the Iowa division of the March of Dimes over the past five years.
In December 2022, Ms. Wills joined ENGIE, the French multinational utility company that is in a public-private partnership with Meridiam and the University of Iowa for its utility system, working in communications and stakeholder relations. 
Ms. Wills spent years connecting different groups of people in her fundraising work as well as her community projects when she served on multiple PTA's at her children's schools, the Iowa City Parks and Rec Commission and the Johnson County Planning and Zoning Commission, among many others.
She continues her volunteer work now as the Exalted Ruler of Elks Lodge #590 in Iowa City. In her position. Ms. Wills is currently overseeing the extensive, multimillion dollar capital improvement project at the 637 Foster Road property in Iowa City. She is the first woman to lead the organization.
After wrapping up all her other volunteer work, Ms. Wills said she's focused on the Elks project alongside her new position with ENGIE, as both are full-time jobs for her.
"I rolled off all my other committees and said no to people asking me to join new ones or chair Rotary," she said. "Right now, this next year, I'm really focused. Typically, I've been in four to five different organizations all at once."
The new position with the energy conglomerate challenges Ms. Wills to make new connections, focusing on college students and UI organizations. She said a major part of her work is isolating where organizations can be more sustainable and how ENGIE can partner with them to be present and helpful in the university community.
"What they hired me to do is to really help with campus conversations and engage students and make connections so we as a company can add more value to the campus," she said. "An extension of that is asking how we can be great partners to the City of Iowa City or to Coralville and so on. We have a role to play to help in the sustainable actions of our region."
Ms. Wills has previously worked with one UI student organization over the course of several years, starting in 2016 when one of her four children, Calder Wills, was diagnosed with T-cell lymphoma. 
Her son passed away in 2017 from a rare form of cancer, but she said Dance Marathon has remained in the family's lives ever since.
"They do a really great job of honoring the kids who have also passed away and keeping those families close into the circle," she said.
In her personal and professional life, Ms. Wills is known to connect people, something she loves doing. Ms. Meis said her neighbor is an honest, compassionate person who is a champion for her community.
"Brianna is always willing to help," Ms. Meis said. "She prioritizes education, community, pediatric cancer, and service. I would consider her a connector to create opportunities, find partnerships and build relationships. Because Brianna is always having a conversation with someone, she's able to make important connections." 
---
This profile was originally published in the CBJ's 2023 Women of Influence publication. The 2023 Women of Influence are an inspiring group of community leaders who have each overcome adversity, taken chances and challenged themselves to make a positive impact in their community, despite demanding schedules in their personal and professional lives.
The CBJ will host the 2023 Women of Influence banquet from 5-8:30 p.m. Thursday, May 4, at the Hotel at Kirkwood in Cedar Rapids. Tickets are still available to this event, which includes networking, dinner and remarks from the winners. To learn more and purchase tickets, visit https://corridorbusiness.com/event/women-of-influence/