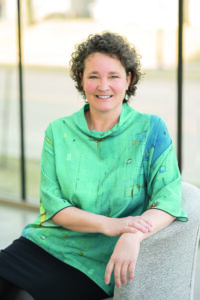 Thais Winkleblack glances at a sticky note displayed in the corner of her computer monitor as she ruminates on her journey to leadership. The note reads: "Work hard, with integrity, no excuses."
Abbreviated to "WIN," the acronym is popularly attributed to coaches Lisa Bluder and Jan Jensen and is known as the Iowa women's basketball team's mission statement.
"I think about that a lot," Ms. Winkleblack said. "Sometimes people think that when you get to a certain position, you 'arrive' at your destination…. I don't want to arrive. I want to continue to learn and expand and to try new things. I want to find new mountains to climb."
Ms. Winkleblack is the senior vice president and trust department manager at MidWestOne Bank. She has been with the bank since 1998 and has climbed a few mountains on her way to her current position.
She started at what was then known as Iowa State Bank in the wire department and then credit card department, though her time at both was very brief.
"So brief that I can't even claim to have any kind of particular understanding about those areas," she said.
Just a few months in, she caught the eye of then-president and CEO, Richard "Dick" Summerwill, with her writing and communication skills. He gave her the chance to move into her next roles at the bank, executive assistant and board of directors secretary.
"He recognized something about the way that I engaged with the clients, the customers," Ms. Winkleblack said, about Mr. Summerwill, who she considers one of her first mentors in the world of banking. "I had to ask him so many questions about basic banking terminology… But he soaked in all of my questions and took the time to give the answers I wanted."
In 2000, Charles "Charlie" Funk took over as president and CEO of MidWestOne, following Mr. Summerwill's retirement. He added "learn constantly so we continually improve" to MidWestOne's operating principles, a phrase that has inspired Ms. Winkleblack for years. She even earned a certificate of completion from the Graduate School of Banking at Colorado in 2015.
"I have known Thais Winkleblack since my first day of work in Iowa City in 2000," Mr. Funk wrote in his letter of support for her nomination. "During the past 22+ years I have watched Thais build a private banking department from the ground floor and then take over as our head of the MidWestOne trust department. She has also been a stalwart in the community."
Ms. Winkleblack describes herself as a "thirsty learner." She didn't always envision her career path taking her into banking. Curiosity, in part, is what has kept her striving for her personal and professional development.
She grew up in Marshalltown and in the eighth grade, her family moved abroad to the United Kingdom for one year.
"That was just the spark that I needed to make me interested in what is outside in the world beyond," Ms. Winkleblack said.
She went on to earn a bachelor's degree in both Russian and Spanish from Grinnell College, studying abroad in Moscow in 1990.
"A straight path to banking," she jokes.
Ms. Winkleblack's interest in international matters, as well as her love for her local community, have informed her volunteerism for years. She serves on the board of directors for the ​​Iowa City Foreign Relations Council and has gone on several trips with the Iowa Miles of Smiles team to Huehuetenango, Guatemala.
She also volunteers with 5224GOOD, a philanthropic circle with an annual giving fund and an endowment fund through the Community Foundation of Johnson County.
"I love people. You know, that's what makes my work meaningful," she said. "It's the fact that I not only have team members that I can help with their career development, but I also can help clients be successful in achieving their financial goals. In the community, I can help organizations be more successful at achieving their goals. If it weren't for the people, it wouldn't be enough for me… I'm really just a people person."
---
This profile was originally published in the CBJ's 2023 Women of Influence publication. The 2023 Women of Influence are an inspiring group of community leaders who have each overcome adversity, taken chances and challenged themselves to make a positive impact in their community, despite demanding schedules in their personal and professional lives.
The CBJ will host the 2023 Women of Influence banquet from 5-8:30 p.m. Thursday, May 4, at the Hotel at Kirkwood in Cedar Rapids. Tickets are still available to this event, which includes networking, dinner and remarks from the winners. To learn more and purchase tickets, visit https://corridorbusiness.com/event/women-of-influence/