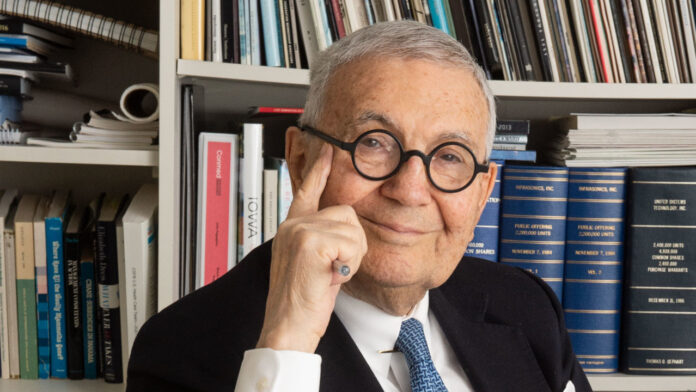 John Pappajohn, legendary entrepreneur and the namesake of the University of Iowa's business building and the school's entrepreneurial center, died April 22 at the age of 94.
"This is a great loss for the Tippie College of Business and the University of Iowa, as John Pappajohn is so much more than a name on our business school building," said Amy Kristof-Brown, dean of the Tippie College of Business, in a statement.
"His story is at the heart of what we do and inspires us every day," she added. "He lived the American dream, immigrating to the United States as a child, raising a family and using his intelligence and hard work to become a business leader. His is a success story we can all learn from."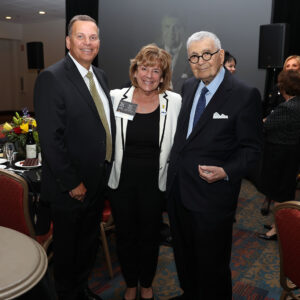 After graduating from the University of Iowa business school, he started Guardsman Life Insurance Company in 1962. Seven years later, he sold the company for $100,000 to start Equity Dynamics, his own venture capital fund focused on health care and medical technology.
Mr. Pappajohn has been involved in more than 100 startups and more than 50 initial public offerings, and has served as a director in more than 40 public companies, according to a statement from the university.
Some of the startups he invested in were acquired by major companies, including 3M Corp. and Caremark. Other Iowa businesses he helped fund flourished, such as Marion-based Syncbak, the Business Record reported.
"As one of the state's leading business builders, John serves as a daily inspiration to Iowans who want to become entrepreneurs," said Ms. Kristof-Brown. "I saw firsthand the passion he felt when he engaged with students, inspiring and guiding those who sought to follow his path."
Born in Greece in 1928, he immigrated to the United States with his mother when he was nine months old. As a child, he struggled in kindergarten because he spoke limited English, according to Iowa JPEC.
His father died when he was 16 years old. He then graduated from Mason City High School and managed the family grocery store, Brady's Supermarket, with his brothers to pay for college. It took him six years to graduate as he needed to alternate attending classes with his brothers.
His philanthropic spirit grew as his business ventures succeeded.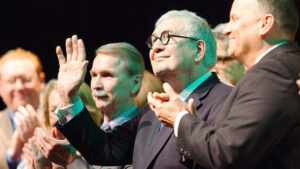 In 1992, gifted $4 million to build the John Pappajohn Business Building, a record-setting contribution at the time.
He also donated $1.5 million in 1996 to seed the John Pappajohn Entrepreneurial Center (Iowa JPEC) with additional gifts to launch four other entrepreneurial centers housed at Iowa State University, University of North Iowa, Drake University, and Northern Iowa Area Community College.
In total, he gave more than $30 million to the five Pappajohn Centers. His goal was to revive the entrepreneurial spirit in Iowa, where the economy had been battered by the farm crisis. "I want to make Iowa the most entrepreneurial state in America," he said at the time.
"John Pappajohn's unparalleled commitment to entrepreneurship education and support has transformed countless lives and sparked innovation and economic development across Iowa and the world," said David Hensley, executive director of Iowa JPEC, in a statement. "I have been truly blessed to have had the opportunity to work with and learn from John."
Through entrepreneurial competitions taking place since 2000, more than $1.3 million in startup funds have been awarded to winning students.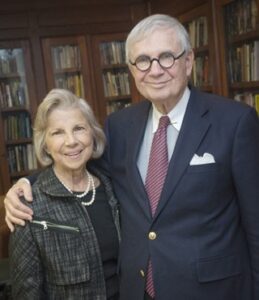 The Pappajohns have provided more than $100 million in support of philanthropic causes with particular devotion to higher education and the arts. This includes the Pappajohn Pavilion in the University of Iowa Hospitals and Clinics, the John and Mary Pappajohn Clinical Cancer Center, and the John and Mary Pappajohn Biomedical Research Building.
They also supported the John and Mary Pappajohn Educational Center in downtown Des Moines, which provides classrooms for the Tippie College's Iowa MBA and master of business analytics program, as well as several other University of Iowa programs. The center is adjacent to the Pappajohn Sculpture Park, which features 32 outdoor sculptures donated by the Pappajohns.
Mary Pappajohn died in Naples, Florida in March 2022.
Mr. Pappajohn was an honorary lifetime director of the University of Iowa Center for Advancement Board of Directors and is an emeritus member of the Tippie Advisory Board. A 1995 recipient of the Horatio Alger Award, he received an Honorary Doctorate from the University of Iowa in 2010. He received the University of Iowa Distinguished Alumni Service Award in 1991 and the Hancher-Finkbine Alumni Medallion in 2004.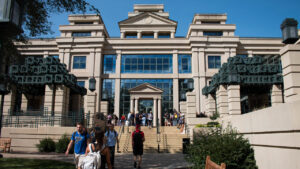 Other awards and honors include the Iowa Business Leader of the Year, Beta Gamma Sigma Entrepreneur of the Year, Iowa Region of the National Conference of Christians and Jews Brotherhood Award, Hellenic Heritage Achievement Award, Meredith Willson Heritage Award, Central Iowa Business Hall of Achievement, Iowa Hall of Fame and the Ellis Island Medal of Honor.
"His inspiration and philosophy of positive mental attitude have proven invaluable to me as a dean and deans who have come before me," said Ms. Kristof-Brown. "All of us at the Tippie College will miss his inspiration."
More tributes dedicated toward Mr. Pappajohn can be found on the Iowa JPEC website.