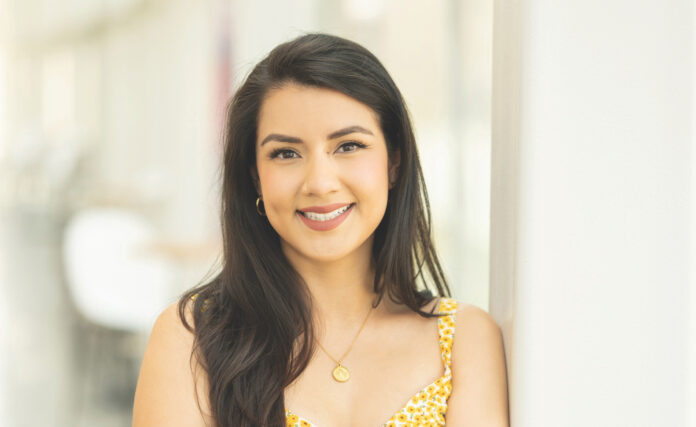 Marlén Mendoza set out for Washington, D.C. after graduating from the University of Iowa in 2016 knowing she wanted to work in public policy.
Unsure of the best path to make a difference — and inspired by her research assistant work for the UI College of Public Health — she decided she "might as well go with the big dogs" and apply for jobs in D.C. to learn more about public policy.
She landed a job with the Center for Law and Social Policy on the youth policy team. Her position centered around a disconnected demographic of 16-24 year-olds that are not in school or working, and to try to get them more involved with the community.
"In doing that work in D.C., I realized that you can't just throw money at a problem," she said. "When people say 'oh, well, let's just build a strip mall or get them to do these jobs,' usually it doesn't work. The reason is because at the heart of economic development is community revitalization."
Ms. Mendoza missed speaking with members of a community, the kind of interaction she was accustomed to during her time with the university when she traveled to rural communities to conduct surveys, in English and Spanish, on health and nutrition perceptions.
That work connected her with the League of United Latin American Citizens (LULAC). She is now the LULAC Iowa State Deputy Director.
Her time sitting through church, walking grocery aisles and meeting people in rural Iowa towns felt like a natural fit. As a daughter of immigrant parents from Mexico, Ms. Mendoza realized that her upbringing shaped her for roles in guiding public policy. 
"My mom always forced leadership on me because she worked at the Catholic Church," she explained. "She would always nominate us for things all the time. At first I hated it, but it helped prepare me."
To reclaim the level of fulfillment she could only get from on-the-ground work, she returned to Eastern Iowa.
"I took a big leap of faith and it was scary because a lot of people told me 'you're doing so good in D.C. and have already created a good reputation for yourself working for big institutions," she said. "People were afraid that I was going to set myself back."
While the transition back to Iowa was not always smooth sailing, she's making the impact she desired. Since returning to the Corridor, she's made a name for herself through networking with local leaders, as well as winning the 2020 Bravo Award from Think Iowa City and the 2021 Tom Cilek Sizzle Award from the Iowa City Area Development Group (ICAD).
One of her biggest accomplishments to date is setting in motion the Diversity Market, a seasonal opportunity for small vendors to sell their food and products at Pepperwood Plaza. As part of the South District Neighborhood Association, Ms. Mendoza was one of the guiding forces advocating for the Iowa City Council to pass a self-supporting municipal improvement district, or SSMID.
In December, she launched Emprendimiento Latino 5M, an organization she formed with four other women to assist entrepreneurs in starting and growing a small business by addressing complications specific to the Latino community.
"I want to build out 5M," said Ms. Mendoza, noting she hoped the group would soon have office space in the South District. "The history of Iowa City is that a lot of minority communities are very siloed. We want to bring that together and have people work with each other."
Still, she finds time to run her own business called Mendoza Consulting, serving on the steering committee for Johnson County's Better Together 2030 plan, and helping launch the Down to Business workshop series, a cumulation of lunch and learn networking events to connect entrepreneurs to resources.
"I want to align Emprendimiento, the Diversity Market and business support systems under one umbrella to make a one-stop shop in the South District for people to get what they need," she said.
---
This profile was originally published in the CBJ's 2023 Women of Influence publication. The 2023 Women of Influence are an inspiring group of community leaders who have each overcome adversity, taken chances and challenged themselves to make a positive impact in their community, despite demanding schedules in their personal and professional lives.
The CBJ will host the 2023 Women of Influence banquet from 5-8:30 p.m. Thursday, May 4, at the Hotel at Kirkwood in Cedar Rapids. Tickets are still available to this event, which includes networking, dinner and remarks from the winners. To learn more and purchase tickets, visit https://corridorbusiness.com/event/women-of-influence/