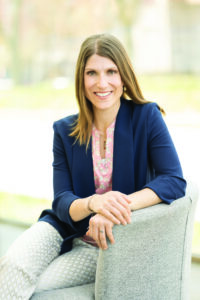 After serving children at the University of Iowa Stead Family Children's Hospital for the past 13 years, Kelly Wood has a reputation for being a relentless advocate and phenomenal mentor.
Dr. Wood serves as a pediatric hospitalist and the director of the newborn nursery at the Stead Family Children's Hospital, while teaching as a clinical professor of pediatrics for the UI. Her colleague at UIHC, Anna Schmitz, said Dr. Wood takes her job very seriously so her patients can always count on her.
"She is a fierce patient advocate and really takes the role of being the provider and advocate for patients very seriously," Dr. Schmitz said. "That is at the center of everything she does, taking the best care of children."
Dr. Wood was born and raised in rural, northwest Iowa, before venturing to Iowa City for her undergraduate years and medical school at the UI. She did her residency in Minnesota and spent some time in Utah before her and her family moved back home.
Dr. Wood said one of her biggest accomplishments in her current position was creation of the Suicidal Adolescent Family Empowerment program (SAFE). She's a cofounder of the program, which began as pamphlets and online information for families to effectively care for their children's mental health or substance abuse once they leave UIHC and a doctors' direct care. It has since grown significantly.
"It is now available on the hospital's website and it's a holistic program for caregivers of these patients and it helps them talk about suicide and normalize them," she said. "… We were able to get money to make some low-budget patient vignettes, both in Spanish and English, so I'm proud of that and the whole program. It took a lot of effort and it turned out to be very rewarding."
The SAFE program is not the only way Dr. Wood has revolutionized medicine. Her research also plays a large part in changing the medical world for the better. Dr. Schmitz said the program facilitates and communicates ways for families to make their home safer for their loved ones. 
Dr. Wood said she began working on the program to normalize forward-thinking care for adolescent patients who have thought about suicide or tried to hurt themselves, as suicide is the second leading cause of death for 10 to 14 and 25 to 34, according to the Centers for Disease Control and Prevention.
Since she's a hospitalist, her work never takes place in a clinic. Her role allows Dr. Wood to care for children with a wide variety of medical needs and illnesses, even some that are acute, who are in the Stead Family Children's Hospital, she said. 
Dr. Wood's research, academic work, and practices are focused on improving the patient experience. 
"I'm just trying to improve care in my work," she said. "I want to make sure what we're doing isn't us just continuing to do things the way we've always done it, but rather that we can say this has been studied and is what we should be doing. The people coming here are trusting us and they deserve top-of-the-line care."
Another area where Dr. Wood has paved the road at the hospital, Dr. Schmitz said, is for women to lead.
"She was really instrumental in helping me define my career, showing me opportunities that I could excel in, and how to advance myself professionally and throughout the hospital," she said. "… Young professionals, and especially women, see her as a leader and mentor. When Dr. Wood first started out, she was probably one of the few female physicians and leaders throughout the hospital." 
Dr. Schmitz, however, knows Dr. Wood's impact goes beyond the two's relationship. In 13 years of working and teaching at the Stead Family Children's Hospital, Dr. Schmitz said she has helped build the next group of doctors from the ground up. 
"She's been a mentor and a teacher to hundreds and hundreds of medical students and residents, to the next generation of health care providers, while advancing the field of health care significantly in research," she said. "Doing all of that can seem unseen, but that's how she's really made a difference."
Dr. Wood often tells her students that she would do it all over again if she could. With the support of her husband, who stays at home with the two's children, Dr. Wood said she feels lucky to work in the community she does.
"It can be hard but I'm lucky, because medicine fascinates me," she said. "I get to be a lifelong learner. I work with amazing people. My job never gets boring. I get to help others. I get to watch the next generations of providers progress and mature and, lastly, I get to meet and care for amazing patients and caregivers every day. The relationships and interactions with patients and families are so rewarding. It's amazing how quickly a trusting relationship can form."
---
This profile was originally published in the CBJ's 2023 Women of Influence publication. The 2023 Women of Influence are an inspiring group of community leaders who have each overcome adversity, taken chances and challenged themselves to make a positive impact in their community, despite demanding schedules in their personal and professional lives.
The CBJ will host the 2023 Women of Influence banquet from 5-8:30 p.m. Thursday, May 4, at the Hotel at Kirkwood in Cedar Rapids. Tickets are still available to this event, which includes networking, dinner and remarks from the winners. To learn more and purchase tickets, visit https://corridorbusiness.com/event/women-of-influence/