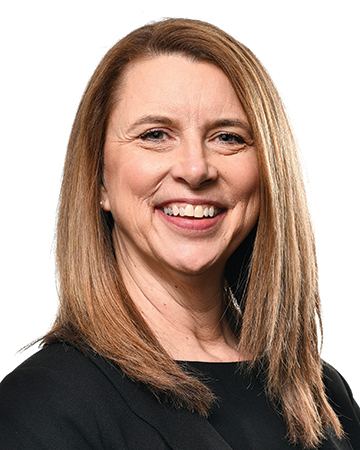 Sue Freeman
Executive Vice President, Human Resources
GreenState Credit Union
Chief Human Resources/Diversity Officer of the Year – Nonprofit
Nominated by Sarah Farnsworth, human resources manager
It's no secret that Iowa employers are facing a shortage of skilled workers, but Sue Freeman knows it better than most.
As executive vice president of human resources for GreenState Credit Union, Ms. Freeman oversees and directs all human resources and training functions for the largest Iowa-based financial institution. That means caring for more than 500 current employees while also adding roughly 100 a year – sometimes on short timeframes and in entirely new markets, as GreenState expands throughout the state.
It's a challenge that Ms. Freeman and her team have taken head on through numerous operational and benefit enhancements designed to make GreenState one of the state's premier employers.
"I believe really great people have choices where they work, and GreenState is committed to hiring great people," she told the CBJ. "With that commitment, we've had to focus on creating a world-class work environment where these amazing professionals feel valued and have the opportunities to learn and grow."
Under her leadership, GreenState has implemented a variety of new employee benefits, including flexible time off, sabbatical opportunities, internship and mentoring programs, a corporate wellness program, a diversity group and a "Robin Hood" insurance incentive, in which all full-time staff earning less than $50,000 are reimbursed for 15 percent of all paid health, dental and vision premiums based on the prior year's total premiums paid.
That laser-focus on the employee experience is paying off. GreenState has been recognized by the CBJ, the Des Moines Register, the Credit Union Journal and Gallup as being one of the region's top workplaces, and the average staff tenure has doubled. Staffing efficiency efforts have led to compensation costs ranking as one of the lowest of GreenState's peer credit unions in the state, while compensation per full-time employee is among the top of those same peers.
For Ms. Freeman, who started with the credit union 31 years ago as a teller and helped run the earliest iteration of its HR Department, the accolades and process improvements are exciting and welcomed – but that certainly doesn't mean her work in done.
"I know that I've still got so much learning and growing to do that every chance I get to watch and listen to my crazy successful colleagues … I'm not only making my life better, but those around me," she said. "Taking the best from the best and applying it to what I do each day has truly shaped and influenced my career."
Thinking about the next generation of C-suite leaders coming up, Ms. Freeman advises them to learn to embrace change with enthusiasm, communicate well and make plenty of mistakes.
"If you're not making enough mistakes, then you're not taking enough risks and likely not learning and growing as quickly as those around you," she offered. "Push yourself out of your comfort zone and never stop learning."
– Adam Moore