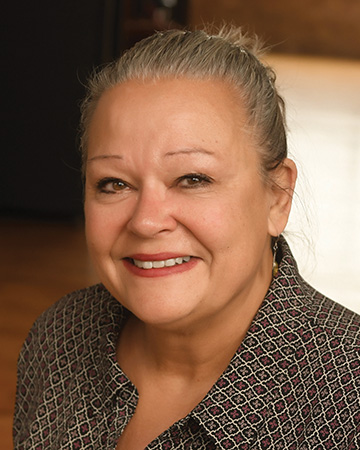 Brenda Lou Werner Willson
Chief Human Resources Officer
BankIowa
Chief Human Resources/Diversity Officer of the Year – For-Profit
Nominated by Alison Urbina, President and CEO
After decades of nurturing careers, assisting with personal and professional challenges, and ensuring employees get the recognition they deserve, finally "it is Brenda's turn to be recognized."
So says nominator Alison Urbina, BankIowa's president and CEO, of Brenda Lou Werner Willson, 2019's for-profit Chief Human Resources/Diversity Officer of the Year and a 44-year veteran of the bank.
"You just really have to like people," said Ms. Willson, who started as a teller at the former Farmer State Savings Bank in Independence in 1976 and worked her way up to chief human resources officer and senior representative of the bank's first Corridor office on C Avenue in Cedar Rapids.
It's a role she has cherished – but not one she necessarily planned for. The opportunity came about when former President and CEO Rob Robinson decided to make departmental changes to reflect the bank's rapid growth, and asked Ms. Willson, "If you could have any job in the bank except for mine, what would it be?"
"It just came out. I said, 'I'd like to be the human resources officer at this bank,'" she recalled. "We both kind of sat back, and I'm thinking, did that really come out my mouth? But that was that and I've loved it."
Ms. Willson dug in and built BankIowa's HR department from scratch, first centralizing employee files, insurance and payroll, then moving on to develop an onboarding process, training programs, a tuition reimbursement scheme and several unique initiatives. For employees, those include an emergency fund to help those experiencing temporary setbacks, a scholarship program for graduating children and the addition of pet insurance to the bank's list of benefits.
When it comes to building staff, Ms. Urbina said Ms. Willson has a knack for recruiting from a diverse pool of applicants and coming up with creative out-of-the-box strategies like posting job openings in church bulletins. She added that Ms. Willson is not afraid to mix it up, jumping in to work at the service counter when her branch is short-handed, and always ensuring employees are recognized for their accomplishments.
"Brenda has always been a champion of professional development and has provided career progression guidance for many people," said Ms. Urbina, recalling an instance in which she provided interview and job coaching to one employee over the course of two years to position him for a new role at the bank. "She is an asset who has contributed not only to BankIowa, but to the entire financial services industry throughout the Corridor."
Ms. Willson is modest about her career, remembering her challenges learning payroll software and marveling at how much the banking world has changed since 1976.
"When I started, there weren't ATM cards, there were very few direct deposits, and people would come in on a Friday night … and they would line up four-deep at the teller stations to cash their check and maybe make a home payment," she said. "And now we have an investment department and an insurance department … and our whole lives have changed thanks to technology."
One thing, though, has remained the same.
"I have about 150 employees and I get to know all their gifts and all their special skills," she said. "That's exciting – figuring out she would be good here, he would be good there. They make their own career, but you get to help guide them a little bit."
– Katharine Carlon