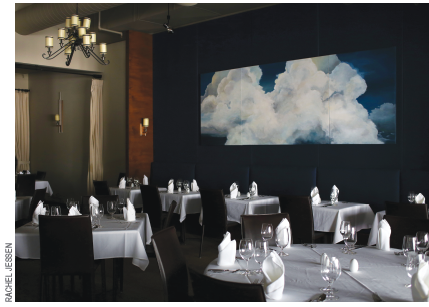 Increased business has become noticeable recently for a Corridor restaurant.
Zins, a popular downtown Cedar Rapids small-plates restaurant, was voted the Best Place for a Business Lunch and the Best Place for a Business Dinner by Corridor Business Journal readers.
That increase in business can be easily traced, said Zins owner Lee Belfield.
The Paramount Theatre, Theatre Cedar Rapids and the Cedar Rapids Convention Complex opening has increased foot traffic downtown, and the federal courthouse and other completed projects have brought in business during the day.
Along with Zins, and other downtown businesses, many of the entertainment venues sustained major flood damage in 2008. Now, Mr. Belfield said, the venues are beginning to bring life—and business—back downtown.
"It's been a challenge over the last five years. We we're tremendously fortunate to reopen," Mr. Belfield said."We knew we had guests coming from the (flooded) Five Seasons, we didn't know how many and the effect became obvious."
The restaurant, located at 227 Second Ave. SE, can seat about 125 people and has about 30 employees. Zins opened in November 2007, but was hit by the June 2008 floods. The business reopened about one year after the flood.
"The light bulb was pretty dim in 2009; 2010 it was at about 20 percent; in 2011 the light was 25 percent and 2012, 30 percent. As all these things fall into place the light bulb is now at 65 percent," he said.
The menu offers diners small-plate options, similar to Spanish tapas. Average customers have three to four small plates, which are about six to 12 bites. The restaurant also has several big-plate options.
The restaurant plans to unveil a new seasonal menu soon.
"I've seen the future and the future is very exciting," he said. "Third Street is going to change for the better, in my opinion it's changing for the better and not just for Zins."
Zins restaurant was among the first to pilot a new outdoor seating area that uses the parking area along Third Street SE in downtown Cedar Rapids to provide outdoor seating for bars and restaurants last week.
"The city is bending over backwards to improve the vitality of downtown, especially on Third Street," Mr. Belfield said.
The installation of the parklet was complete and ready for the public July 23. Additionally, Zins will be unveiling a new seating area indoors, within the bar area, he said.
Parklets were chosen by city council on May 14 as a cost-effective way to increase sidewalk and pedestrian gathering space downtown. A parklet is a moveable platform that does not require the expense of street reconstruction.
Four parkets were purchased and are proposed for the following locations: Zins – installed the week of July 15; Theatre Cedar Rapids – installed last week; White Star Ale House–installed week of July 22, outdoor service area is included in the city council meeting agenda on July 23; The Lost Cuban – installed last week.
-Pat Shaver