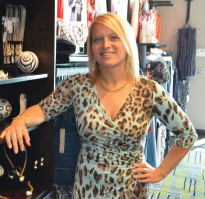 After only being open for two years, Jodi K's Boutique has again been voted as the Best Boutique for Professional Women in the Best of the Corridor survey, tying with Von Maur in the category.
"I had always thought people in Cedar Rapids needed more boutiques with specialty clothing. I just decided to go for it," said Jodi K. Cobb, owner.
The store opened March 1, 2011. Before opening Jodi K's, Ms. Cobb owned Rainbow Days pre-school. She recalls taking trips to Cedar Falls to shop at specialty boutique Jennifer's on Main with her mother when she realized that a similar boutique could work in Cedar Rapids.
"Women hate going to a party and three of them are in the same dress. It's the kiss of death," Ms. Cobb said.
Jodi K's does not keep more than six of one item in stock, making the collection of products unique.
"We do a little more of a specialty service than you'll find at bigger chains," she said.
The customer base continues to grow as people hear about the store, Ms. Cobb noted.
"We have more and more people learning about us; we have someone new coming in everyday," she said. "We try to give honest opinions, we'll tell ladies 'I don't know if I would do that.' But if people come in and want to shop on their own, we leave them alone and let them do their thing."
The store, located at 5300 Edgewood Road NE Ste. 400 in Cedar Rapids, has six employees.
Ms. Cobb said they are continuing to learn more about their shoppers. Discovering what a shopper buys during a trip, how often they come in and what kinds of items they go in looking for, is beneficial moving the business forward.
"We definitely cater to women 35-40 and above. But it seems women are coming in here for something unique and more fun so there's a pretty big mix of people who shop here," Ms. Cobb said.
The boutique's merchandise is hand-selected for professionalism, wearability and style. Clothing brands include Big Star, KUT, Cartise and many other choices found nowhere else in the Corridor. The store also sells shoes and accessories.
"Going forward, in five to 10 years, it would be awesome if I had to move to a bigger location," she said. "But right now we want to make a bit of money before we take a big step."
-Pat Shaver