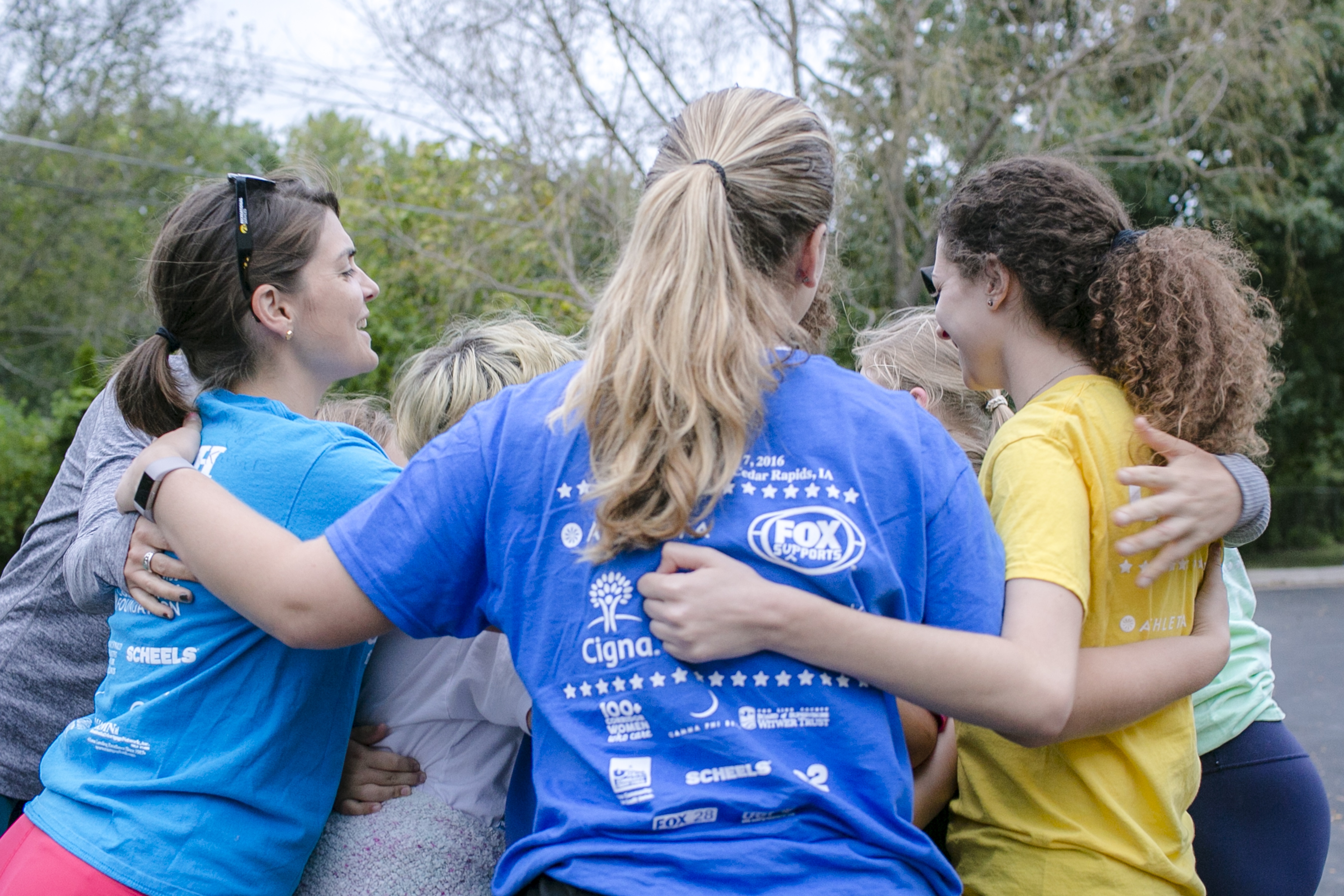 Eight-year-old Sophie Bergman's hand shoots up to answer a question about inner beauty.
"Don't judge a book by its cover," she said, adding that it's more important to be "nice on the inside."
The bubbly Horn Elementary third-grader is among a group of 10 at the Iowa City school who participate in Girls on the Run, a program that encourages preteen girls to develop self-respect and healthy lifestyles.
Sophie and the other participants don't just train for the end-of-season 5K during their twice-weekly after-school sessions in University Heights on the west side of Iowa City.
"It's definitely much more than a running club," said Kelly Teeselink, head coach for the group at Horn Elementary and board chairwoman for Girls on the Run of Eastern Iowa. "We inspire girls to be joyful, healthy and confident. We want to give these girls the tools they need to succeed later on in life."
The non-competitive format, interspersed with life lessons, healthy snacks – like pumpkin, oatmeal raisin muffins – and team-building exercises, makes the program fun for the third- to sixth-grade participants.
"I really like it," said Pavlina Steward-Tharp, 10, a sixth-grader who has been in the group for several seasons and also participates in orchestra, dance and swimming. "I really feel more positive about myself when I'm doing it."
Experts say that positive approach is important when it comes to children's health.
Nurse practitioner Seth Webb of UnityPoint Clinic Pediatrics – Westdale in Cedar Rapids said finding an activity the whole family can enjoy together is a good place to start when it comes to developing healthy habits at a young age.
Obesity epidemic
The State of Obesity Report from the Trust for America's Health and the Robert Wood Johnson Foundation notes that nearly 30 percent of Iowa children ages 10-17 are considered overweight or obese.
That number is significant, given that numerous studies have shown overweight children are more prone to becoming overweight adults.
Along those lines, a study released this fall from Iowa State University demonstrated that a child's health, grades and behavior suffer when they are allowed to have a TV or video game system in their bedroom.
The study, published in the journal Developmental Psychology, showed that having media in the bedroom makes it easier for children to spend more time watching TV or playing video games, which displaces other beneficial and healthful activities, leading to a greater risk of obesity.
According to the study, increased screen time was also associated with higher body mass index, physical aggression and symptoms of video game addiction.
Mr. Webb agreed that limiting screen time is important. Children should be limited to 30-60 minutes per day, he said, including cell phones, tablets, video games and television, with no screen time at all for children 18 months and under.
He also advises parents to focus on healthy choices in food and activities.
"Following the USDA guidelines for My Plate is a good place to start, as well as knowing good meal portions and being active 30-60 minutes a day," he said.
When parents voice frustration about their child not eating everything on their plate – particularly their fruits and vegetables – Mr. Webb encourages them not to force their child to eat fruits and veggies at every meal, but to always offer them and make sure there is variety of options.
"Eventually, children will see them as possibly something they may want to try instead of something they are being forced to try," he said. "Once children learn that they are not all bad, they will start to try more."
Overall, he added, the healthy habits parents instill in their children when they are young will benefit them in the long-term.
"It's important to educate children to keep active at a younger age so that it can carry forward into their adult years," he said. "Making healthy food choices and being active now can help to prevent many health problems in the future."