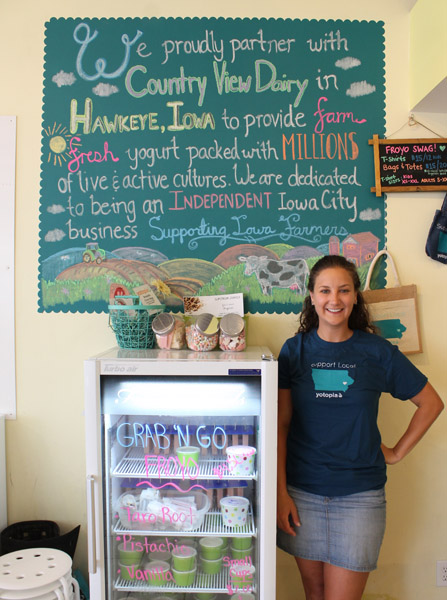 Owner Veronica Tessler stands inside Yotopia on a recent morning. She founded the yogurt shop six years ago as an excuse to "eat frozen yogurt whenever I wanted." PHOTO ADAM MOORE
By Christine Hawes
news@corridorbusiness.com
Veronica Tessler is thrilled to be living a lifelong dream: She's running a business that supports her personal beliefs.
Ms. Tessler is the sole proprietor of Yotopia, Iowa City's original frozen yogurt shop, located on Clinton Street at the edge of the Pedestrian Mall.
She has her frozen yogurt shipped weekly from Country View Dairy, a small farm about an hour north in Fayette County. There, on the family-owned farm, 200 'free range' cows help produce Yotopia's product.
"Local food has always been important to me, so it's been a real joy to put my money where my mouth is," Ms. Tessler said. "I feel a lot better supporting local farms than cutting a check to corporate headquarters."
The 31-year-old launched Yotopia in 2011, inspired by her love of the light, creamy dessert, known for being low in calories, sugar and cholesterol.
"That's half the reason I started Yotopia – so I could eat frozen yogurt whenever I wanted," she joked.
When a friend connected her with Bob Howard of Country View Dairy in 2013, a mutually beneficial collaboration began.
By filling Ms. Tessler's frozen yogurt needs every week, Country View has gained a strong and growing foothold in the Iowa City market. Ms. Tessler, in turn, gets to capitalize on a trendy market niche and live out her dream of supporting local producers each day.
"It's really been a nice relationship," Mr. Howard said. "She helps promote our business, and we help however we can to promote hers, too. She's done such a good job of getting word out there in Iowa City."
Country View was the first Eastern Iowa business with which Ms. Tessler collaborated, and it won't be the last. Molly's Cupcakes provides the cake balls found in the Molly's Middles toppings at Yotopia, while Dumpling Darling, which recently opened blocks away on Iowa Avenue, is working with the shop to create a candied rice topping. Yotopia also procures its fresh blueberries – one of eight fruit toppings offered – from a Lone Tree farm.
The constant pursuit of local connections, even if it takes extra time or money, is a labor Ms. Tessler is happy to take on.
"I make time for what I think is important," she said.
She often works nearly around the clock, especially during staff transitions, which are frequent in a college town. She jokingly calls herself Yotopia's "CEO and chief operating janitor."
"I have to admit I wasn't prepared for how much the business would require of me personally, as a sole proprietor," Ms. Tessler added. "You never get to clock out, you don't get to call in sick … you work 12-15 hours a day. Even if I'm not in the store on any particular day, I'm still really clocked in."
Her new business partner, Talya Miller, credits several of Ms. Tessler's shining qualities as the keys to her success.
"She isn't afraid to hit the ground running, and I think that's really important in the startup world," said Ms. Miller, an Iowa City-based graphic designer who is partnering with Ms. Tessler on a new T-shirt screen printing business called Persisted Tees. "There are a lot of people who hesitate and overquestion. But Veronica has a great quality of not being worried about failing. It's more about the process and the doing."
Ms. Tessler also avoids that trap of being the "jack of all trades, master of none," Ms. Miller said, and instead focuses on being a connector of talents and skills in the community. Yotopia's Facebook page is evidence of that, with the small shop counting more than 8,800 "likes" online.
"She really understood [the power of social media]," Ms. Miller said. "There are a lot of people who don't understand, even though you can't get away with that anymore. She was really telling her story."
With her days already packed to the hilt, Ms. Tessler is set to take on two new challenges, one of which is Persisted Tees.
The duo describe the fledgling business as a producer of "intersectional and inclusive tees with a vintage vibe for the modern activist," and one that's already gaining traction amid the current political environment. Ms. Tessler and Ms. Miller often take Persisted Tees "on the road," creating customized shirts for regional events like PrideFest and Earth Day.
The other centers around the continued growth of Yotopia's brand, with the shop's frozen yogurt soon to be available in local grocery stores in Iowa City.