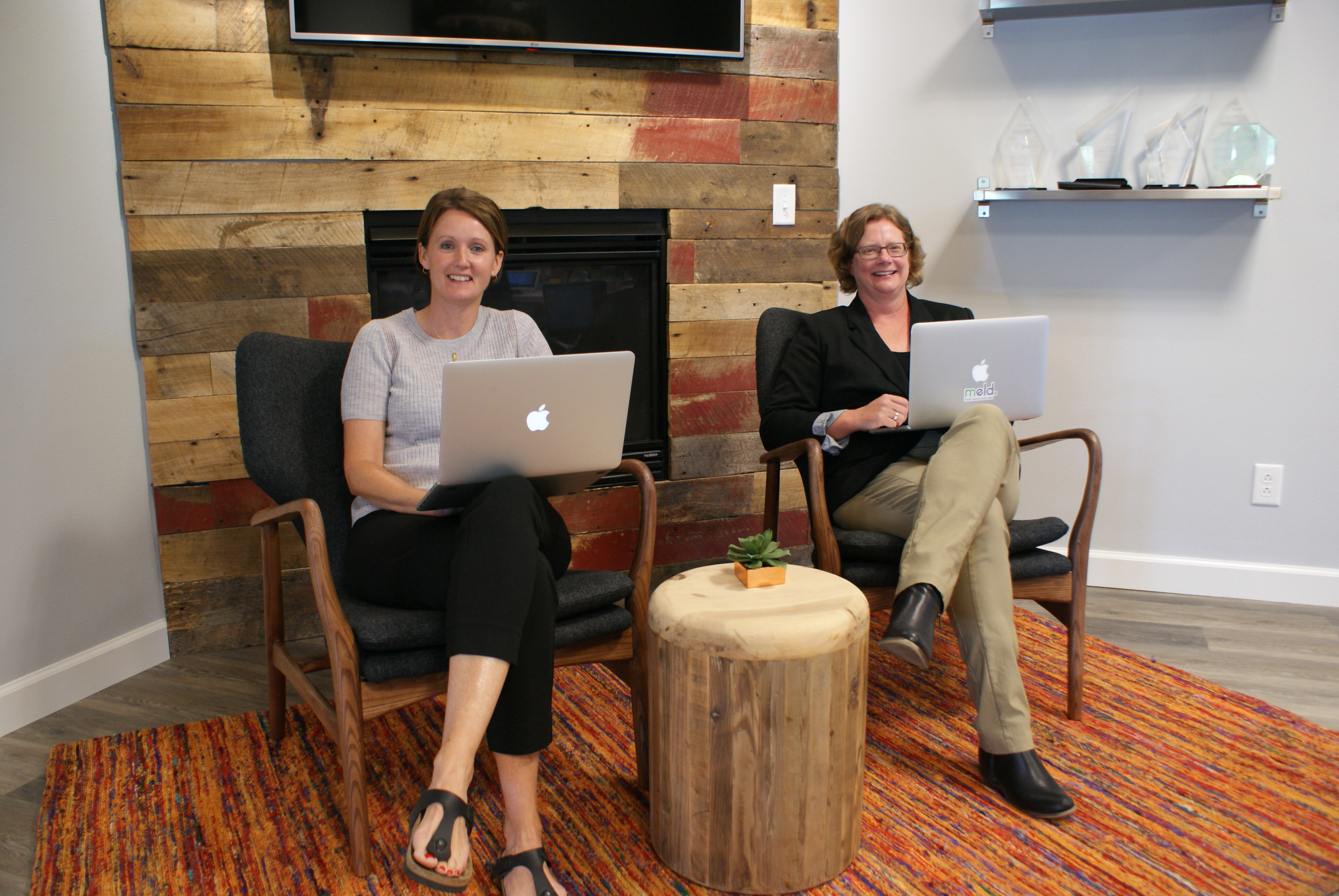 BluPrairie CEO Michelle Bates (left) and Meld CEO Melinda Pradarelli sit together in their companies' shared office in Coralville on a recent afternoon. PHOTO EMILY BETTRIDGE
By Christine Hawes
news@corridorbusiness.com
The mood, ambiance and attire at the home of Meld and BluPrairie are refreshingly laid-back.
Jokes fly through the air at a regular clip, neon and rainbow-tinged artwork adorns the walls and nearly all 17 employees report to the office in shorts and jeans. But don't let that fool you into thinking the work done by these two "sister" companies is lightweight.
Meld and BluPrairie are busy doing everything from marketing and branding to data storage and tech automation for a growing list of notable Corridor companies and nonprofits. It's a non-stop swirl of leaning on "tried and true" marketing and PR strategies, while also applying new media breakthroughs and tackling clients' most complex technology challenges. And CEOs Melinda Pradarelli and Michelle Bates are reveling in it.
"I love the pace of change," said Ms. Bates, who heads BluPrairie. "I love what technology does for business enablement. And I'm passionate about keeping technology talent here in the Midwest."
Ms. Bates founded BluPrairie in 2015 after decades of guiding technology growth for Rockwell Collins, where she served as director of IT architecture services. She ran BluPrairie out of her home for more than a year, providing technology and data storage solutions for major clients like the University of Iowa Community Credit Union.
Ms. Pradarelli founded Meld in 1999 as a "strategy-first," full-service marketing firm. Since then, it has worked with Fortune 500 companies, Ivy League universities and local brands such as Urban Acres and Kalona Organics, winning dozens of regional and national awards along the way.
While Ms. Bates tends to focus her talk on the cutting-edge, Ms. Pradarelli speaks more in terms of "the long haul," and the value of providing businesses with a single vendor able to handle virtually all of their tech and communication needs.
"We want to partner with our clients for as long as they'll have us," Ms. Pradarelli said. "We're very mindful of how we go about that. We spend a lot of time on the front end making sure we're aligned with those goals."
The duo became friends while serving the same clients, and Ms. Pradarelli's firm handled marketing for Ms. Bates' company. They decided to unite their companies last fall and formally joined forces at the start of 2017.
Meld and BluPrairie remain separate companies, but share CEOs, staff and facilities from their home just off Oakdale Boulevard.
"We share decision making, and the cost at the top end." Ms. Pradarelli said. "And there are so many pluses to that. We have two minds together, two people who respect each other and what the other has already done."
The two leaders spent a lot of time hashing out exactly how to unite their companies' efforts. That included recruiting Katy Brown, formerly of Iowa City-based marketing firm Sculpt, as their president and communications guru.
To find their current home, they researched 20 different locations before landing on an open-space plan in Coralville. There, teams cluster in a conference room that can easily convert into a classroom, or around a whiteboard and notecards that are often identified with the Agile method of project management. Both Macs (for creative work) and PCs (for tech-focused work) can be found among the crew, which is in seemingly constant interaction.
The neon-highlighted artwork depict scenes representative of the founders' careers and roots. For example, a Ringling Brothers piece is a nod to one of Ms. Pradarelli's earliest projects, working with the esteemed New College honors college in Sarasota, Florida, which used to be home to the legendary circus.
Another piece of art, showing white-hatted Amish women dressed in colorized clothes, memorializes Ms. Bates' roots as a Kalona native. Her father ran his own company in Kalona for 55 years and was a huge inspiration, she said.
Both executives were selected by readers for inclusion on the CBJ's Most Influential list in 2016. Ms. Bates was also a finalist last year for the Technology Association of Iowa's Women of Innovation Award.
Ms. Bates aims to make technology more simple and accessible for companies. She describes the cloud as "a utility, like electricity," where users can make use of systems already built, rather than each building their own.
A big part of her role is to help businesses transition from on-site legacy systems to the cloud, which frequently saves time and virtual space.
"A lot of companies know they have to do something, but they don't know where to go," Ms. Bates said. "And often, we'll see people who start to spend money on technology and will go halfway through the process, only to find out it doesn't do all the things it said it would do."
Ms. Pradarelli is a published author of two books and has contributed to a third. Her firm has worked with more than 100 clients, including Cimba Italy, several departments at the University of Iowa and Von Maur. She leads Meld in helping companies figure out their distinguishing characteristics and market them successfully and comprehensively across all platforms.
Both leaders say they rarely think about the fact that they are one of the rare companies with two female chief executives. They simply focus on what they have worked so hard to build – a flexible, family-friendly company that knows how to get things done.
"Everything comes from such a feeling of transparency, connectedness and respect," Katy Brown said. "It's the way that these two have worked with one another: you respect each other. And that 'people first' respect has built an extremely healthy environment here."