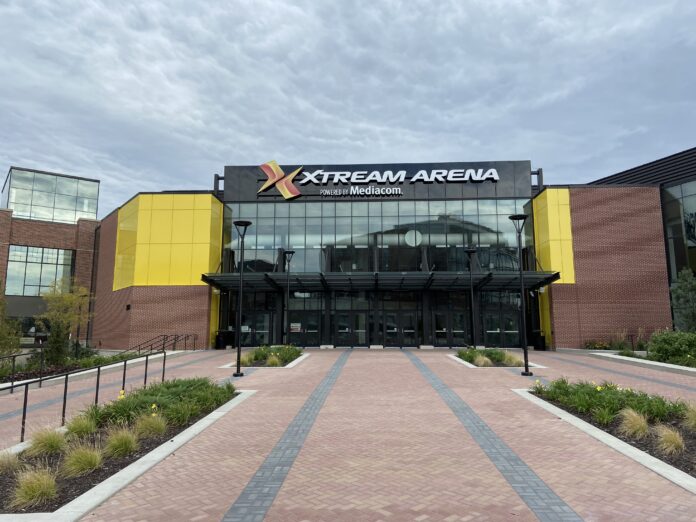 A new wrestling tournament is coming to Coralville.
On Wednesday, May 11, the Iowa City Area Sports Commission, Think Iowa City and City of Coralville announced the creation of Soldier Salute, which will take place Dec. 29-30 at the Xtream Arena.
The event will include both a women's and men's open division with 100% of the tournament proceeds being split between the United Service Organizations (USO) and a development fund targeted toward the continued advancement of girls and women's wrestling. This new fund will be guided by the participating coaches from the women's division of Soldier Salute.
"We are very excited about the creation of this new annual tradition that will honor our nation's finest men and women. Soldier Salute has been an idea we have floated around for more than a decade with Coach Brands and his staff," said Luke Eustice, director of the Iowa City Area Sports Commission, in a news release.
Nathan Eichorst, a former NCAA official and USAF veteran, will serve as co-director of the tournament.
The Iowa Hawkeyes will bring a full squad to the event that will be co-headlined by Army, Citadel and Virginia Military Institute. They will be joined by several other D1 programs and athletes. Columbia University and the University of Wyoming have announced their intention to participate. Life University, Central Methodist University, Iowa Wesleyan University, Indiana Institute of Tech, Simpson College and William Penn University will highlight a few of the women's programs that will be in attendance.
The newly announced Iowa Women's Wrestling program will also be represented, albeit wrestling unattached in this inaugural year. The University of Iowa program will officially begin competition in the fall of 2023.
"We are continuing to connect, almost daily, with coaches from many men's and women's programs. We expect a strong field," said Mr. Eustice.
More information on the tournament will be made available in the coming months via the Soldier Salute social media channels @SoldierSaluteIA on Twitter, Instagram and Facebook.