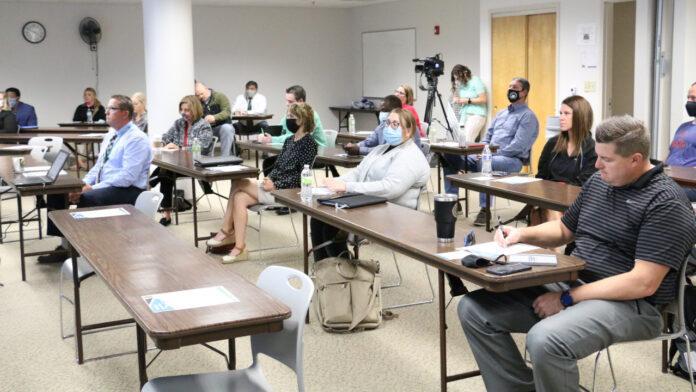 Numerous resources are available from local and state agencies to help workforce leaders deal with employee shortages and skills development, and many aren't aware of the full depth and breadth of those resources, employment leaders stressed at a workforce roundtable Monday morning at the IowaWorks office in Cedar Rapids.
As Scott Mather, operations manager of the Iowa Workforce Development office in Iowa City, discussed just one of those programs – the industry-led Sector Board program, which provides information for workforce development strategies and training in high-demand fields – he, in fact, noted the multitude of programs available and the difficulties many employers encounter when attempting to discern which programs could benefit their specific workplace situations.
"There's just a lot of these funding availabilities," Mr. Mather told a group of about 30 attendees at the Sept. 27 event. "We have all these different programs, and employers can't can't keep track of everything. So that's really (about) having a point of contact locally that can bring it all together. Hopefully that's something we can do for you."
Leaders from IowaWorks, the Workplace Learning Connection at Kirkwood Community College and the Cedar Rapids Community School District joined with representatives of local employers and nonprofit organizations to recap significant employment issues in the Corridor, including child care challenges, work-based learning opportunities (including apprenticeships and internships) and field office resources.
Much of the discussion centered around pandemic-related employment challenges, including an ongoing shortage of qualified and available workers to fill key workplace roles.
Workplace Learning Connection director Kristine Bullock said her group, which provides an intermediate network to help students explore career options while still in high school, is a vital link in Iowa's workforce future – a future that's challenged, as some attendees noted, by population trends that lag well behind the state's employment needs.
"The situation we're in now is that, if we don't give these students these experiences of job shadows and internships that are connected to local opportunities, we're going to lose a generation of kids to be outsourced somewhere else," Ms. Bullock noted. "So, it's really important that we make that available."
Kris Pine, business marketing specialist at IowaWORKS' Cedar Rapids center, reviewed a number of services and grants available to employers and job seekers, many of which aren't widely known, including access to data on local labor markets, grants and other funding opportunities, and job fairs and hiring events.
"We can help make those connections," she said. "It is truly amazing to watch job seekers self-select not to follow through on things because they don't understand what's going on or they're not sure. When we have that more individualized information, we can help coach them through that process and get them connected."
"We're here to help," Mr. Mather added. "When you talk about perception, I think a lot of people think we just help people with unemployment. We do a lot more than that, so we have to help get the public aware of all the things that we can help them with, so that we can connect them to you (employers) once we've worked with them."
For more information on state business services and employer incentives, go to iowaworkforcedevelopment.gov