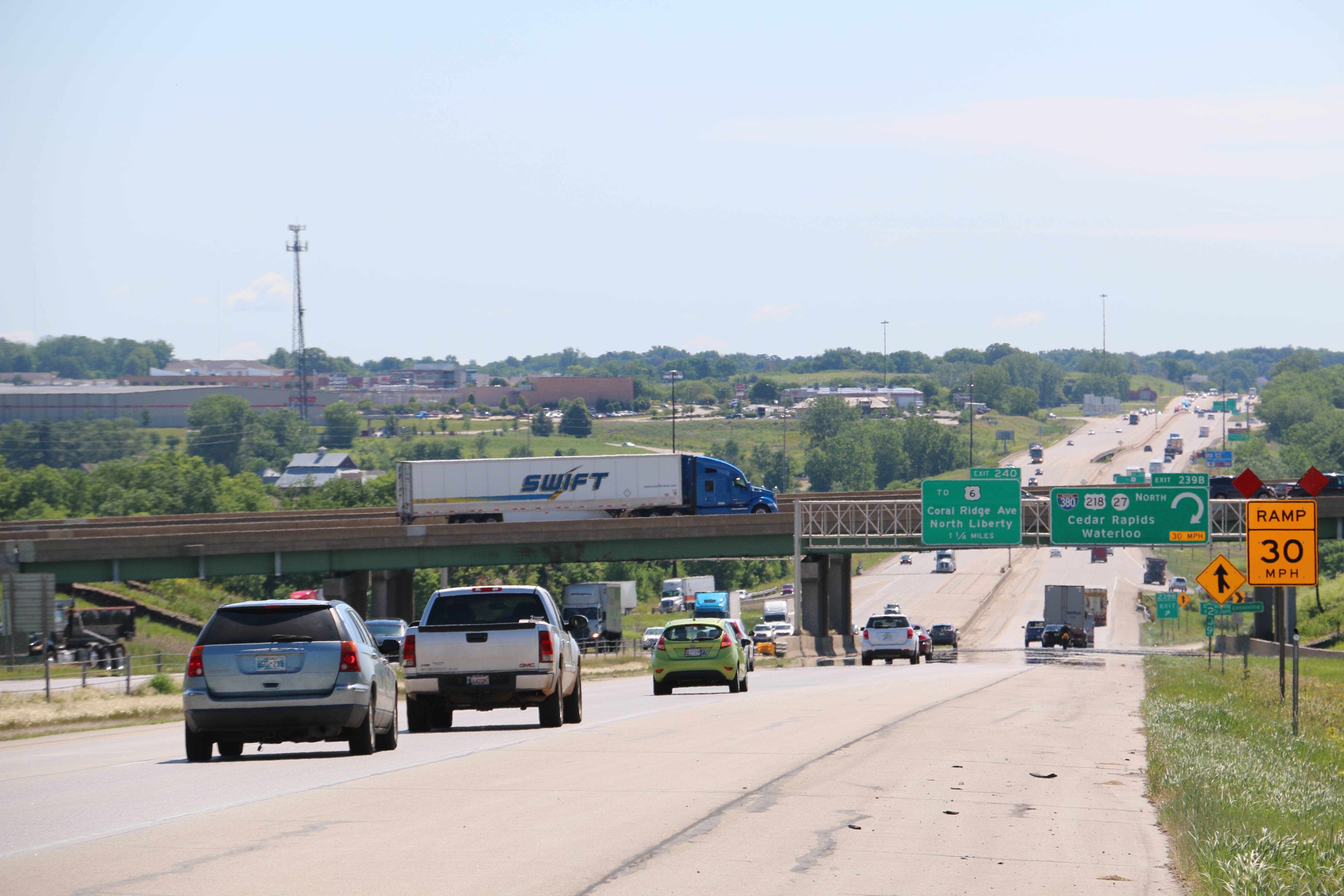 I-80 traffic moves freely at mid-morning on June 17 past the I-80/I-380 interchange in Coralville, which is slated for replacement in a five-year project. That will begin with utility relocations this year. PHOTO DAVE DEWITTE
By Dave Dewitte
dave@corridorbusiness.com
Work is beginning on a long-awaited series of highway interchange projects in the Corridor, with state transportation engineers warning of a heavy construction schedule that will impact daily commutes.
Construction will begin next year on a new I-380 interchange at Forevergreen Road in North Liberty, and on the early stages of a much longer and more complicated project to replace the I-80/I-380 cloverleaf with a sophisticated turbine interchange.
The city of Coralville, meanwhile, hopes to gain state approval for replacement of the First Avenue interchange several miles to the east on I-80. That project would help reduce congestion as some big developments go up in the city's Iowa River Landing district.
Further north on I-380, $15.4 million was incorporated into the state's five-year highway plan for the new Tower Terrace Road interchange on the north side of Hiawatha in 2022. Still awaiting final approval by the Federal Highway Admin-istration, the Tower Terrace interchange would be part of an alternate or detour route when the state eventually reconstructs the Boyson Road interchange.
There's much more than just inter-change work planned over the next five years. Projects will begin in 2021 to expand I-80 to six lanes east to West Branch from the existing six-lane section in Coralville/Iowa City, while I-380 will get the six-lane treatment from I-80 to Forevergreen Road.
For employers and commuters in the Corridor, this is the time to plan ahead for traffic disruptions, according to Cathy Cutler, the DOT District 6 transportation planner in Cedar Rapids.
She said the DOT is funding the Corridor Rides transit system, a park-and ride program and upcoming inter-city bus service with the aim of reducing traffic on I-380 and I-80, and to help commuters during construction periods.
"We know there will be backups," Ms. Cutler said. "There will be crashes in the work zone. These things just happen. That's the reason for the commuter bus. That's also the reason for the park-and-rides and the Corridor Rides vanpool."
Employers can help, Ms. Cutler said, by offering telecommuting, remote working and staggered start times that will reduce the amount of interstate congestion during peak commuting hours.
Detours for long durations are not expected for I-380 traffic between Cedar Rapids and Iowa City, according to the DOT, however short-duration detours on nights and weekends will occur during construction stages such as demolition, moving bridge beams and tying in temporary pavement sections.
Communications with commuters and employers will be "very, very vital" during such an intensive construction period, Ms. Cutler said. Transportation planners have already begun talking with some of the biggest employers, particularly the University of Iowa Hospitals and Clinics, about steps they can take to help commuters. The DOT has also hired international consultancy HDR to help phase construction and minimize disruption.
The big one
In terms of potential disruption, the replacement of the interchange at I-80/380 with a $300-million turbine-style interchange towers above the other projects planned. It's a major junction point for two busy interstates carrying heavy truck traffic, in addition to local traffic. The turbine design will reduce truck tipovers on tight curves, and reduce the need for heavy vehicles to rapidly slow and accelerate.
Work on utility relocations for the project began this summer, and crews will begin grading work in the fall of 2019. Early fall 2020 through late fall 2023 is expected to be the period of greatest impact to commuters.
"It's an immense project in terms of staging," Ms. Cutler said. "We've compressed it [the project timeframe] to five years, mainly due to the number of structures. We chose the turbine design because traffic doesn't have to slow down as much as the driver is required to in order to change directions."
Nevertheless, Ms. Cutler said, there will be some temporary interstate closures, especially when the bridge sections of the new interchange are lowered into place. During those closures, interstate traffic will be detoured on local roads such as Ireland Avenue in Tiffin and Melrose and Coral Ridge avenues in Coralville to reconnect with I-380 at what will then be the Forevergreen Road interchange.
Local needs
Corridor communities made pitches for more transportation funding in conjunction with their projects when the Iowa Transportation Commission came to Coralville for its June 12-13 meeting.
"The I-380/Forevergreen Road interchange is extremely important to us," North Liberty City Administrator Ryan Heiar told the commission. "We have traffic backing up onto the interstate to get into town. We think this additional interchange will help with that, and so we're excited to see it come to fruition."
Mr. Heiar also said North Liberty has a "large office project" just north of Forevergreen Road and will be looking to accommodate it. That project is a new GEICO call center on Landon Road, Mr. Heiar later told the CBJ, and the city plans to ask the state for funding assistance to pave a gravel section of Kansas Avenue connecting Landon to Forevergreen Road in order to provide better ingress and egress to the area that includes the University of Iowa Community Credit Union and the CBJ.
Coralville City Administrator Kelly Hayworth said congestion is already becoming a problem at the busy First Avenue/I-80 interchange, and it's going to get a lot worse with more than $200 million worth of projects in the area, including a sports arena, a Trader Joe's grocery and a second University of Iowa Health Care outpatient facility.
Mr. Hayworth said the state has already approved plans for a diverging diamond interchange to provide more capacity than the existing interchange, but the project is still awaiting approval at the federal level and state funding.
The project is unlikely to begin before the I-80/I-380 project is finished in five or six years, because the combined projects would create a longer construction zone than the Iowa Department of Transportation generally prefers, Ms. Cutler noted.
Cooperation between Coralville, North Liberty and the DOT are expected to help ease interstate congestion during the inevitable detours. Among the areas of cooperation are new traffic signals on Highway 965 connecting the Coral Ridge Mall area to North Liberty. The joint project modernized the traffic signal system with a unified system that can be remotely taken over by DOT traffic engineers during emergencies that require it to be used as a detour route for interstate travelers.
Local planning efforts with the DOT to reduce interstate congestion were discussed by Doug Elliott, executive director of the East Central Iowa Council of Governments (ECICOG).
Mr. Elliott said the Corridor Rides vanpool program was launched in October 2016 with a large public outreach campaign. He said ECICOG is also coordinating a carpooling program, after using Kirkwood Community College as the test subject. A simple email system is used to overcome one of the biggest anxieties of potential users, he said, which is being matched with a stranger who proves to be unstable or dangerous.
"People use their Kirkwood email domain to register and are only matched with people at Kirkwood," Mr. Elliott said. "It will be the same with Rockwell Collins, which we recently met with, and with Mount Mercy [University]."
Mr. Elliott said $385,000 has been invested in the vanpool and $128,000 invested in rebranding existing initiatives, including recasting the former East Central Iowa Transit as Corridor Rides. He said the next step will be to implement an express bus between Cedar Rapids and Iowa City.
"Now we feel we have an initial infrastructure and will shift from installation to promotion," Mr. Elliott said.