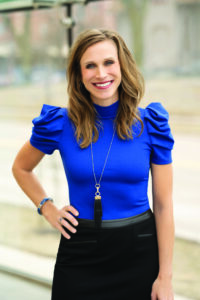 It's often said that having a dream job would consist of doing what you love and getting paid for it.
Kristin Roberts says her entire career has led her to that point with United Way of East Central Iowa, where she's served as president and CEO since February 2020.
Born in Waterloo, Ms. Roberts moved to Denver, Iowa ("the mile-wide, not the mile-high," she jokes) at age 10 and dreamt of a career as a college football reporter.
"Back in the day, the (ESPN) sideline reporters were Bonnie Bernstein or Lesley Visser," she said. "That's what I wanted to do when I grew up."
In pursuit of that dream, Ms. Roberts graduated from Wartburg College in 2000 with a degree in communication arts, then worked on-camera for nearly five years, first as a news reporter and anchor for KIMT-TV in Mason City, then as a sports anchor and reporter at WKBT-TV in La Crosse, Wisconsin.
After moving to Cedar Rapids with her husband, Ms. Roberts worked for another two years in television news, as a consulting associate for Frank N. Magid Associates.
"But at some point I just wanted to get out," she said. "TV was a part (of my life), but I realized my dreams of being a sideline reporter were not going to happen. I remember wrestling with the idea of 'what skill sets do I have? I know how to write, I know how to edit tape, I can talk to a wall, I can ask people hard questions.'"
An acquaintance then suggested Ms. Roberts pursue a fundraising position at Coe College.
"'You're good with people. Why don't you apply?'" Ms. Roberts recalled being told. "I had no background, but I had been doing voluntary fundraising for nonprofits. I just put my name in the hat, and I've always said that Dick Meisterling (then Coe's vice president of advancement) took a chance on me, even though I literally had only volunteer experience. And I found that I had a skill set that worked with it, and it translated well."
After about four years at Coe, Ms. Roberts noticed a job posting for executive director of what was then known as the Ronald McDonald House (now Ronald McDonald House Charities of Eastern Iowa and Western Illinois).
"I remember saying to somebody 'I could get paid for what I'm doing voluntarily,'" she said. "That's amazing. But I only had three out of the four or five qualifications that they were looking for. As women, we always feel like we have to check every single box in order to apply. But I was told 'who cares? Just apply.'"
Following stints as chief advancement officer at Four Oaks and at the Mercy Medical Center Foundation, Ms. Roberts said she discovered her love of service.
"I absolutely loved being at Mercy," she said. "It was the first faith-based organization that I worked for, and I think it came down to me knowing that I went to Wartburg College, which is focused on service and giving back to the community, and if I can use my skill sets to enhance the community as a whole, that's what drove me, and what really propelled me into taking this position (at United Way)."
Ms. Roberts says she continues to find satisfaction at United Way by helping others make connections and leading by example.
Being named a Woman of Influence, she said, "is about helping young girls and young women, having great conversations with them and being able to help them go through the balance of society's expectations and reality. The word balance is always thrown out there, and it's a hard thing to do. I enjoy being able to help and coach and mentor them along the way, along with the community as a whole."
Kari Cooling, senior vice president and managing director of brokerage services at Holmes Murphy & Associates, nominated Ms. Roberts, describing her as "a focused professional who truly is a team player and a leader with unlimited potential.
"Her integrity and sincere desire to contribute to our community are strong attributes at a time when Eastern Iowa needs her leadership most," Ms. Cooling wrote. "Kristin has had the amazing ability to balance her work life and community involvement. An energetic advocate in giving back, Kristin is dedicated to improving the lives of others. We need people with a strong moral compass to be leaders in the community, and Kristin is a great example of that. She has shown how you can be a wonderful mom, passionate community leader and true professional."  
---
This profile was originally published in the CBJ's 2023 Women of Influence publication. The 2023 Women of Influence are an inspiring group of community leaders who have each overcome adversity, taken chances and challenged themselves to make a positive impact in their community, despite demanding schedules in their personal and professional lives.
The CBJ will host the 2023 Women of Influence banquet from 5-8:30 p.m. Thursday, May 4, at the Hotel at Kirkwood in Cedar Rapids. Tickets are still available to this event, which includes networking, dinner and remarks from the winners. To learn more and purchase tickets, visit https://corridorbusiness.com/event/women-of-influence/